Weather forecast for BMW PGA Championship
The European Tour's flagship event looks set to be blessed by good weather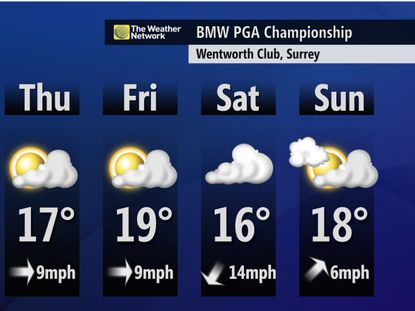 The European Tour's flagship event looks set to be blessed by good weather
The European Tour's flagship event looks set to be played in mainly warm, dry conditions.
This is good news for both the top-class field competing and the bumper crowd expected - advance ticket sales running at their highest level ever, the organisers have had to provide extra capacity for spectators.
Nine Major champions will be teeing it up on Thursday on Wentworth's West Course in Virginia Water in Surrey - Rory McIlroy, Justin Rose, Ernie Els, Martin Kaymer, Graeme McDowell, Paul Lawrie, Padraig Harrington, Darren Clarke and YE Yang.
All but three of last year's winning European Ryder Cup team will be competing.
Here is the weather forecast for BMW PGA Championship at Wentworth this week, (opens in new tab) courtesy of The Weather Network (opens in new tab):
Overall: It is looking largely dry for this year's PGA Championship at Wentworth Club in Surrey with just the small chance of an isolated shower this weekend.
Thursday: A largely dry and fine day is expected with spells of sunshine and variable amounts of cloud. Feeling warmer than earlier in the week with highs of 17°C and just a gentle westerly breeze.
Friday: Another dry day is expected with lengthy spells of sunshine, although there could be slightly more cloud into the afternoon. Feeling warm in the sunshine with temperatures approaching 20°C.
Saturday: A dry morning with some bright spells, although it will be mainly cloudy by the afternoon. The cloud could be thick enough for the odd light shower but it is likely to remain largely dry. A slightly cooler day with a moderate north-easterly breeze. A high temperature of 16°C.
Sunday: Plenty of sunshine during the morning, but it will turn largely cloudy into the afternoon. There is the small chance of some patchy rain spreading down from the north towards the end of the day. Gentle south-westerly winds and a max temperature of 18°C.
Contributing Writer Golf courses and travel are Roderick's particular interests and he was contributing editor for the first few years of the Golf Monthly Travel Supplement. He writes travel articles and general features for the magazine, travel supplement and website. He also compiles the magazine's crossword. He is a member of Trevose Golf & Country Club and has played golf in around two dozen countries. Cricket is his other main sporting love. He is the author of five books, four of which are still in print: The Novel Life of PG Wodehouse; The Don: Beyond Boundaries; Wally Hammond: Gentleman & Player and England's Greatest Post-War All Rounder.