PGA Tour Rules Official Clears Up Charlie Woods Tee Box Confusion
Saga over where Charlie Woods will tee-off from shows what 13-year-old will have to deal with in golfing career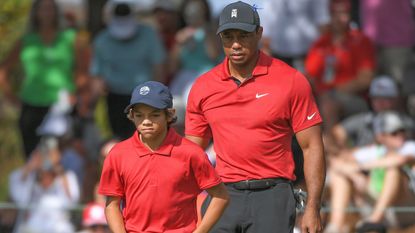 (Image credit: Getty Images)
If Charlie Woods wanted an early insight into what life would be like for Tiger Woods' son playing professional golf, then he's certainly getting a crash course in it by all the media attention surrounding what tee boxes the 13-year-old will play off at the PNC Championship.
He's not just any 13-year-old playing golf with his dad though, or even a 13-year-old playing with his Major champion dad in this special PGA Tour event – no, he's the 13-year-old son of arguably the greatest golfer to ever stride the fairways.
And while you can argue the point on whether Tiger is the true GOAT of the game or not, nobody has even garnered as much attention or felt that burning glare of the spotlight more than the 15-time Major champion.
Now, young Charlie is getting a taste of it as it became big news that he was reportedly moving back two tee boxes from where he played the PNC Championship from last year, to tackle the course at the Ritz-Carlton Orlando at 6,754 yards in length.
That would've put Woods teeing off on the same tees as the likes of John Daly and Nelly Korda, but it then emerged that he was in fact just going off the tees made for his age group, some 300 yards shorter at around 6,452 yards.
However, it now seems that it was all a storm over nothing, as the PGA Tour's chief referee Joe Terry says the plan was always for Charlie Woods to play off the shorter tee boxes – and that the previous report was ill-informed speculation.
"The thing is, there's no change," Terry told GOLF.com. (opens in new tab) "We had heard that Tiger might wish for Charlie to play a longer golf course. But I had scheduled Charlie to play the tee box for his age with the 13-year-olds. So there's been no change — he will play from the 13-year-old tees.
"If Tiger requested it, we would certainly honour that request. The committee does have the authority to allow a change if someone wants to play a longer golf course. Just because he's playing better and he's Charlie Woods - we're not going to punish him because he's 13."
Social media had been all over the tee box saga, especially given Tiger's recent revelation that Charlie had outdriven him off the tee for the first time ever in a recent round.
Charlie will, then, tee off on Saturday at the PNC Championship where a 13-year-old should be teeing off from, but this mini-saga all over where he puts his peg in the ground serves as an early reminder, if anyone needed it, that this is no ordinary 13-year-old young golfer starting out.
Tiger has already talked about how he's preparing Charlie for life on tour and dealing with mind games from competitors, but dealing with the constant stream of media coverage will be another major life lesson his legendary golfing father will have to teach him.
Looking for the perfect gift for the festive season? Check out the best Christmas Golf Gift Ideas
Paul Higham is a sports journalist with over 20 years of experience in covering most major sporting events for both Sky Sports and BBC Sport. He is currently freelance and covers the golf majors on the BBC Sport website. Highlights over the years include covering that epic Monday finish in the Ryder Cup at Celtic Manor and watching Rory McIlroy produce one of the most dominant Major wins at the 2011 US Open at Congressional. He also writes betting previews and still feels strangely proud of backing Danny Willett when he won the Masters in 2016 - Willett also praised his putting stroke during a media event before the Open at Hoylake. Favourite interviews he's conducted have been with McIlroy, Paul McGinley, Thomas Bjorn, Rickie Fowler and the enigma that is Victor Dubuisson. A big fan of watching any golf from any tour, sadly he spends more time writing about golf than playing these days with two young children, and as a big fair weather golfer claims playing in shorts is worth at least five shots. Being from Liverpool he loves the likes of Hoylake, Birkdale and the stretch of tracks along England's Golf Coast, but would say his favourite courses played are Kingsbarns and Portrush.