FootJoy 2019 Apparel Collection Unveiled
Four new ranges as well as returning favourites make up FJ's latest performance clothing line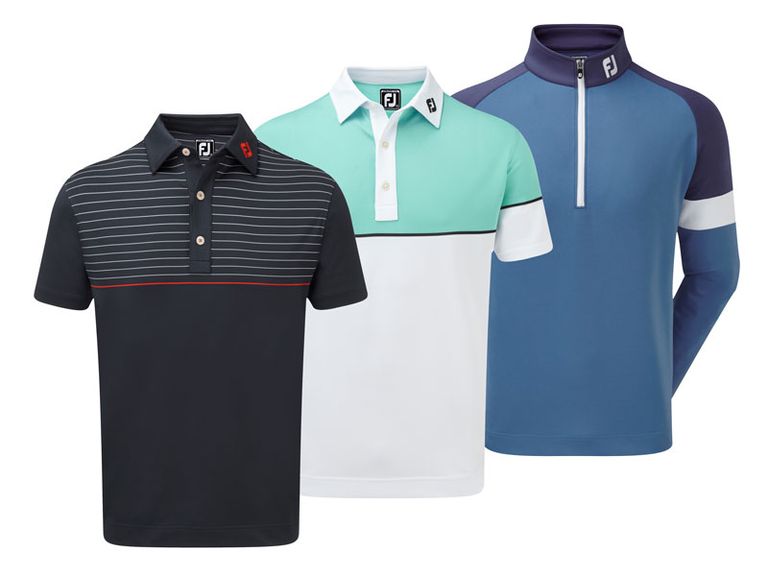 By Joel Tadman
FootJoy 2019 Apparel Collection Unveiled - Four new ranges as well as returning favourites make up FJ's latest performance clothing line
FootJoy 2019 Apparel Collection Unveiled
For Spring/Summer 2019, FootJoy has launched its most varied performance range of clothing to date.
The range features four new collections: Nautic, Verso, Ocean, Prosper; each offering complementary pieces throughout.
Available now, the collections feature performance fabrics and varied fits to ensure the golfer remains comfortable in a range of weather conditions and unrestricted throughout the swing.
Sitting alongside the four new collections is the Essentials range, designed to complement the rest of the SS19 range, including favourites like Stretch Lisle and Stretch Pique Polo Shirts in new colourways and a large selection of the Chillout Pullovers.
The Nautic collection features the traditional maritime colours red, navy, sky blue and white. Along with a selection of classic and modern polo shirts like the Stretch Lisle Engineered Pinstripe (above, RRP £60), the Nautic collection presents the golfer the opportunity to layer-up with coordinating Chill-Out Pullovers and Vests.
A fun and seasonal collection, Verso features aqua, white and black throughout the colour story. Along with polo shirts like the Colour Block Stretch Pique (above, RRP £55), each collection also includes complementary caps and the popular braided belts.
Ocean is a collection infused with colours inspired by the colours of the sea: Blue Martin, Citrus, White and Twilight. One polo from the collection is the Engineered Birdseye Pique (below, RRP £55)
The Prosper collection features calm grey tones with splashes of watermelon, notably in the Smooth Pique with Graphic Stripes polo (below, RRP £50).
Each of the four collections also coordinate with pieces in the essential range to allow golfers to easily layer and match complete outfits.
FootJoy's women's GolfLeisure collection offers women the blend of on-course performance needs with off-course comfort and styling, highlighted by the Micro Interlock Colour Block Polo Shirt, alongside the continuation of the popular Smooth Pique with Pin Dot Print Polo Shirt.
"We're proud to launch what we believe to be our best-looking range to date, there is something to appeal to every golfers' taste," Paul O'Hagan, FootJoy European Marketing Manager, told GM.
"It's great to hear a lot of positive feedback from our FJ Brand Ambassadors on tour, including Rafa Cabrera-Bello and newly signed stars Paul Dunne and Bernd Wiesberger, so we're excited to see golfers across the country wearing it too."