New To Golf In 2023? Here Are 12 Things You Need To Know
It's a great time to take up golf, so here are our top tips to help get you started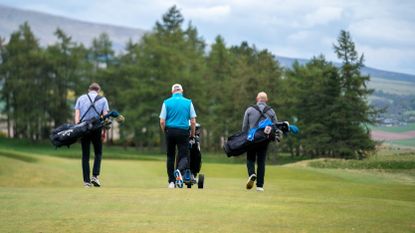 (Image credit: Kenny Smith)
With golf experiencing a bit of a surge in popularity of late, there has arguably never been a better time to take up the game, especially now that many of the stuffy traditions have been rightfully consigned to the past.
That being said, there is still a lot to get your head around if you're a beginner golfer, including some basic rules that are important to know and other hints and tips that will generally just make your life easier.
With that in mind, we have put together a list of 12 of the most important things to know if you're new to golf in 2023 or if you're considering taking the plunge.
1. The basics
Most newcomers will start out at the driving range instead of the course, which is probably the way to go. However, the range is also a place where bad habits can form early and take root, stifling your future progress and potential.
At this early phase, it's really important to get on top of the basics, like how to grip a golf club, how far to stand from the ball and how wide your stance should be with each club. There are also other things like setting the perfect ball position and honing the proper golf swing posture.
Getting a good grasp of the set-up fundamentals right from the off will save you hours of pain in the long-run and help you lay the foundations of a solid golf swing.
2. You don't need all the gear
It's very easy to catch 'the bug' when starting out and that can lead people to think they need all the latest equipment to fit in and improve. However, that is not the case. In fact, falling for this trap can actually make it harder to get better.
To begin with, all you need is a half-set, whether you plan on spending most of your time at the range or on the course. The reason this works so well as it gives you a chance to develop your skills as well as a sound technique. Need to hit a shot 100 yards and only have, say, a 7-iron? Well you'll have to find a way to play the shot, and once you do, you'll be amazed at how often this ability will come in handy.
3. How the ball goes up
Golf can be described as a game of contradictions and this one might be the most valuable to grasp straight out the gate. As you've probably seen on TV, the ball is supposed to go up in the air and fly a certain distance depending on the club. However, to achieve the desired hang time, you need to hit down on the ball.
All too often, beginners lean back and try to scoop the ball into the air, which results in poor strikes and a lack of distance. Instead, follow this general rule of thumb: hit down for the ball to go up. That will help you use the loft on the club to launch the ball in the air and optimise distance and spin. The only exception is with the driver because the ball is on a tee.
4. What to wear
This is a topic that splits opinion, but thankfully, golf has made huge strides to modernise its dress code. For example, some of the best golf hoodies are regularly seen at tour events, something that would have been scoffed at as recently as a decade ago.
However, it is still worth checking what is allowed, both inside the clubhouse and on the course, if you're going to play somewhere new. Generally, most places will have quite a relaxed policy but there will be some clubs that still enforce quite strict and archaic dress code rules.
5. Be patient
Even taking on board the advice above plus any other information at your disposal, at the end of the day, golf is extremely hard. There are a rare few who have a knack for it and pick it up quickly but for the vast majority, it will take time, and plenty of it, to start hitting good shots regularly.
Therefore, it requires a great deal of patience. If you expect to pick up a club for the first time and hit the ball as well as your friend who has been playing most of his life, you are in for a rude awakening. Take your time and enjoy the small wins as they come.
6. Course etiquette
This covers a few things that are for the good of everyone who plays golf. The first relates to pace of play. There is nothing worse than being stuck behind a slow group, so don't let this be you and keep moving at a decent pace where you can.
The second follows on from that theme. If you are struggling and are holding up the group behind, just let them play through. It's better for everybody.
Thirdly, take care of the course. A little effort when it comes to replacing divots, raking bunkers and repairing pitch marks goes a long way.
Lastly, don't deliberately put people off when they're hitting a shot. It's disrespectful and will quickly leave you playing a lot of solo golf.
7. You don't have to play 18
A typical round of golf consists of 18 holes but that does not need to be your norm. There are plenty of nine-hole and par-3 courses so it's worth checking what's available in your local area. Or, you can always make up a composite layout at your usual 18-holer provided it's quiet enough to jump about here and there.
Alternatively, with the tech installed at various driving ranges nowadays, there are plenty of fun games to be played that will offer a challenge akin to what you'd face on the course. It's not the real thing, but it's pretty close. Choose the best option for you and have at it.
8. How to improve
There's no doubt there is more fun to be had as you get better at golf but it can be hard to know where to look for the best advice. Here are our top tips. First, learn the basics as described above. This will make it as easy as possible for you to get started.
Second, don't neglect the short game. It can be difficult to resist the temptation of going to the range to smash the ball as far as you can, but there is just as much enjoyment to be found in developing a killer short game. Devote some time to practising your pitching, chipping, bunker play and putting.
Lastly, we would always recommend going for lessons with a qualified coach to gain an understanding of your unique swing ID. With the amount of information in the ether, this will help you know what to work on that best applies to your game.
9. Be realistic
Don't set your expectations too high at the beginning. As mentioned already, golf is really hard so cut yourself some slack. If you don't, you're doomed to fail. Even if it means playing from forward tees to make it easier, building confidence early is as important as anything else.
10. The rules
We're not saying you need to go out and memorise the Rules of Golf but knowing the basics will be helpful for when you venture out onto the course. For example, understanding what to do when you hit your ball into a hazard or out of bounds will come in very handy. As will knowing how to drop your ball should you need to.
As you find yourself in more and more scenarios, try and remember the rule applied and you'll quickly know near enough everything you need to.
11. It can be expensive
This is one of the drawbacks. While golf is moving on from some of the things that have held it back in the past, it remains a rather expensive endeavour. There are ways to minimise the costs, however, like shopping in the second-hand market for things like the best used golf drivers and the best used golf irons.
On the upside, if you make a smart purchase a set of clubs can last for years at a time, so think of it more as an investment in your future. Just make sure you do your research before committing.
12. It's supposed to be fun
Lastly, remember you're supposed to be having fun. Whether that means taking it seriously and figuring out how to get a golf handicap so you can compete in competitions, or if it's just playing with friends and lapping up all the social aspects of the game, it's important to enjoy what you're doing. Life's too short and all that!
A lifelong golf fan, Andy graduated in 2019 with a degree in Sports Journalism and got his first role in the industry as the Instruction Editor for National Club Golfer. From there, he went on to enjoy a spell freelancing for Stats Perform producing football reports, and then for RacingNews365 covering Formula 1. However, he couldn't turn down the opportunity to get back into the sport he grew up watching and playing and now covers a mixture of equipment, instruction and news for Golf Monthly's website and print title.
Andy took up the game at the age of seven and even harboured ambitions of a career in the professional ranks for a spell. That didn't pan out, but he still enjoys his weekend golf at Royal Troon and holds a scratch handicap. As a side note, he's made five holes-in-one and could quite possibly be Retief Goosen's biggest fan.
As well as the above, some of Andy's work has featured on websites such as goal.com, dailyrecord.co.uk, and theopen.com.
What's in Andy's bag?
Driver: Callaway Mavrik Sub-Zero (9°)
3-wood: TaylorMade M1 (15°)
Driving iron: Titleist U500 (17°)
Irons: Callaway Apex Pro '19 (4-PW)
Wedges: Titleist Vokey SM9 (50°, 54° and 58°)
Putter: Titleist Scotty Cameron Newport 2.5
Ball: Titleist Pro V1