How To Repair A Pitch Mark Correctly
A badly repaired pitch mark will do more harm than good, so it's important to learn how it should be done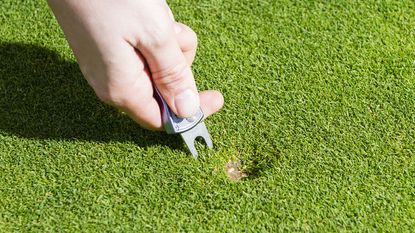 Golf Monthly Newsletter
Golf tips and expert instruction, golf club reviews and the latest golf equipment.
Thank you for signing up to . You will receive a verification email shortly.
There was a problem. Please refresh the page and try again.
A badly repaired pitch mark will do more harm than good, so it's important to learn how it should be done
How To Repair A Pitch Mark Correctly
If you repair a pitch mark badly it can actually do a lot more harm than if you had just left it alone, so it's essential you know how to do it correctly. The video that accompanies this article shows you exactly how it should be done.
It's not just for the sake of the greens either. There is nothing more infuriating for a golfer than to see a perfect putt knocked off line, especially through no fault of their own.
But it is alarming how many golfers seemingly neglect to repair a pitch mark, don't know how to repair a pitch mark in the correct way, or perhaps think they are not allowed to because of the Rules of Golf.
As you can see below, the end product of a badly repaired pitch mark is an ugly brown scar left on the green that not only looks awful, but also affects the roll of yours and other peoples' putts. It will also take weeks for the blemish shown in the images here to full repair.
Successfully repaired pitch marks, however, can heal in half the time of one that's been given a half-hearted once over, and will look more like the images below:
To achieve the ideal look, you need to push the earth inwards as demonstrated above, rather than lifting it upwards, which is what causes the unsightly scarring.
Once you have circled your pitch mark, gently push the earth inwards towards the centre of the crater and then tap down any excess material with your putter to leave the smoothest possible surface. The video that comes with this article shows you how this can be done.
Are there rules on repairing things on the green?
There are things you can and can't do when on the green involving pitch marks, spike marks and loose impediments, so here's Jeremy Ellwood to explain what is within the Rules of Golf and what isn't.
Related: 10 Golf Rules Myths
For any golfer, knowing exactly how to repair a pitch mark correctly is an essential element to keeping the course in as good a condition as possible.
Location: Bath GC
Russell has an incredible CV with his students having notched up wins in the Spanish, French, Dutch, Scottish and English Amateur Championships and St Andrews Links Trophy. In 2021 he was awarded the PGA Specialist Coach and Professional he has been the Somerset head coach since 2013. He can also boast to having eight consecutive years with a pupil in the England Men's squad.
A typical lesson:
All sessions are at least 60 minutes and no tuition will happen until the pupil is fully warmed up. Hardware information is gathered along with video while questioning the client on both their practice habits and performances since the last session. When we are both on the same wavelength, we will move forward to diagnosing any problems they may be seeing and set to work on educating them on the best way forward.
I will always question them on their understanding of what they have heard and how they interpret that information. Then we move onto dedicated practice patterns and how to practise are discussed and managed into their notes for after the session. The final stage is to clarify the amount of time before the next session and, if at all possible, book it in there and then. Notes will then follow after the session via WhatsApp, sequentially in order of importance, quantity and how did look for feedback (whether that be positive or negative).
Students learn best when…
They understand the process and the content being delivered. There is nothing more disconcerting than 'frown lines'. If I see them, I pounce and ask questions to probe why they frowned or showed confusion in the instruction/knowledge given. I cannot move beyond that stage without knowing they are clear in the next steps to be taken. Whether that be technical, conceptual or strategic.
Describe the greatest teacher you have ever known:
Hugh Marr. For me Hugh is one of the most impactful coaches of my generation and someone who I respect enormously. Unknown to many but hugely respected by the people who know him.