How Far To Stand From The Golf Ball
PGA Professional Alex Elliott offers tips on exactly how far to stand from the golf ball with every club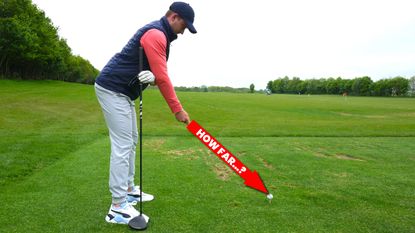 (Image credit: Future)
Knowing how far to stand from the golf ball and then repeating it, every time you hit a shot will undoubtedly help the consistency and accuracy of your ball striking. It is one of the most important fundamentals in the game. My tips in the video and article below will provide you with a routine you can use, from 9-iron to driver, so you get this key aspect right every time.
Start by setting the ball on the ground, a couple of metres in front of you. Stand upright with your back straight and your feet around shoulder width apart. Then take your normal golf grip with your arms out in front of you so the shaft of the club is running parallel to the ground (the video with this article reveals exactly how it is done).
Keeping your legs straight, tilt forwards from the hips so that your upper body is set into the correct golf swing posture. Then slightly bend your knees - the sole of the club should naturally sit on the ground now and your arms should be hanging straight down from your shoulders. From here, keeping your hands the same distance from your thighs, simply shuffle yourself forwards until the club is behind the ball. I find this simple routine really helps golfers get into the right position.
Of course, there are some other checkpoints you can use as well. At address, are your armpits over your toes and is your bum over your heels?
You can run through this same process with every club from 9-iron to driver. Of course your ball position changes for the different clubs and so does your stance width (so remember to factor those elements in) but the distance between your hands and your body remains constant. It is the length of the club shaft that determines how far you are stood from the ball - the longer shafts in your driver and woods will mean that you are stood further from the ball at address.
Location: Mottram Hall
Alex spent a great deal of time learning the game from fellow northwest golfer, Andrew Murray, who was a European Tour regular from 1979 to 1995. He spent three years on the European Tour caddying for Andrew's son, Tom, before taking his PGA qualifications. His passion for the game and personality in front of the camera has helped him to create a thriving social media platform on Instagram and YouTube, where he offers a whole host of tips and advice to help viewers shoot lower scores.
Most significant influences on your teaching:
Mike Bender's book, 'Build The Swing Of A Lifetime', which I read during my PGA qualifications. He uses so many different tools to help students deliver the club better when hitting the golf ball. Andrew Murray, too. He helped form the way I interact with golfers and simplified what can be a complex game for a club golfer.
Advice for practice:
I like to get students to work in sets of five golf balls – three drills shots to two course shots. The drill shots have no consequence, but with the two course shots, I ask the student to create a green or fairway and go through a full routine.
Greatest success story:
One of my students hadn't played golf for ten years - he'd lost his love for the game. After watching my online Instagram and YouTube content, he came for several golf lessons and has now joined a local golf club. Knowing I've helped get someone back into golf... you can't beat that.