Need A New Putter? Christmas Is A Great Time For Superb Discounts On Flat Sticks
High quality putters don't have to be expensive, so I've found a ton of great deals on some of the best flat sticks on offer during the festive period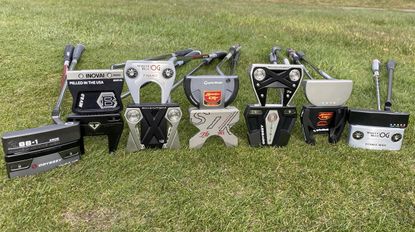 (Image credit: Golf Monthly)
Need A New Putter? Christmas Is A Great Time For Superb Discounts On Flat Sticks
The festive season is fast approaching, which means there are tons of amazing deals to be had on all kinds of golf equipment, including putters! Putters can be one of the best items to get a discount on during the Christmas period, and are one of the best Christmas golf gifts (opens in new tab) you can also give to any golf-obsessed relative.
A brand new flat stick can set you back a lot of money, with some premium offerings (opens in new tab) costing well over $200! That's a large sum of money to part with, even if the putter is the most important club in your golf bag!
In short, it's crucial that that you have a good and reliable flat stick, as they can really help you save shots on the course. For that reason, I advise you to take advantage of the fantastic deals I've found below on some of the best golf putters on the market. From beginner putters (opens in new tab) to the best mallet putters (opens in new tab), I've sourced a range of deals that cater to all kinds of players. Check them out below!
US Putter Deals
UK Deals
Ed has been playing golf for as long as he can remember and is obsessive about the sport. He is regularly sought after by family members and friends for advice on what equipment to buy and uses his background, having written extensively on golf in the past, to produce equipment orientated content for Golf Monthly.
Having obtained a Masters in Law with Medicine from the University of Liverpool, Ed has recently changed paths into journalism and just last year achieved his NCTJ Sports Journalism Diploma with the Press Association.
He has written for a variety of media outlets over the years and has interviewed some big names in sport, including Premier League managers, All Blacks Coaches and Grand Slam tennis superstars. He has also worked on some huge sporting events, including the 2021 Australian Open and the 2022 FIFA World Cup. And when he's not writing for Golf Monthly, you'll find him producing news and feature articles for the MailOnline's sports desk, where he covers everything from football to rugby union.
During his weekends off, you'll likely find Ed heading out for a round at one of his local golf clubs with his friends, and was, up until recently, a member at the Leatherhead Golf Club in Surrey. Ed also plays the saxophone, can tell you some pretty terrible dad jokes and can knock up a very tasty carbonara!