Best TaylorMade Fairway Woods 2022
Check out the best fairway woods that TaylorMade has on the market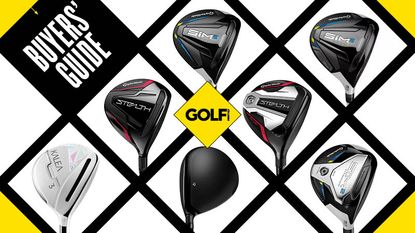 (Image credit: Future)
Golf Monthly Newsletter
Golf tips and expert instruction, golf club reviews and the latest golf equipment.
Thank you for signing up to . You will receive a verification email shortly.
There was a problem. Please refresh the page and try again.
Best TaylorMade Fairway Woods
Given how many top players are signed to TaylorMade, and also how many non-contracted players use its woods, we feel very confident saying that TaylorMade makes some of the best fairway woods in the game.
Although hitting a fairway wood is arguably one of the toughest shots in golf, it can give the player the most satisfaction when struck correctly. What's more, there are a number of options out there to try, such as the best Callaway fairway woods, or perhaps the best Ping fairway woods.
In this piece though, we are taking a look at the brand TaylorMade, with the company consistently pushing the boundaries of performance year on year, as well as making some of the best fairway woods on the market.
Why not check out the best options available below, with factors like cost, performance and looks all taken into consideration.
Best TaylorMade Fairway Woods
Power meets playability
Specifications
Lofts: 15°, 16.5°, 18°, 21°, 24°
Reasons to buy
+
Serious distance and impressive accuracy
+
Very forgiving on off-centre hits
+
Premium looks
Reasons to avoid
-
Non-adjustable, lack of custom shafts may put better players off
In 2022, TaylorMade introduced the eye-catching Stealth and Stealth Plus, with the 190cc Stealth Head featuring in five options from 3-wood through to 9-wood. Ranked as one of the best fairway woods (opens in new tab) on the market, the first thing you'll notice at address is the premium looks, with the red and black head featuring a Fujikura Ventus shaft which leads to a striking carbon coated head.
Along with the looks, there is the inclusion of the trusted TaylorMade tech, which includes the V Steel sole, Twist Face and Speed Pocket, with the striking 3D carbon coated head featuring a new laser-etched alignment aid on the clubface which makes it easy to line up.
The Stealth model was a clear winner in our recent testing, even outperforming the Stealth Plus, hence why it is included in our 2022 Editor's Choice Awards. Leading several data categories on average, including clubhead speed (103.7 mph), ball speed (150.9) and spin rate (3780 avg), it was also forgiving on mishits and had the tightest dispersion of all the new 2022 fairway releases.
Easy to launch
Reasons to buy
+
Stand-out looks and high shelf appeal
+
Carbon inspired innovations can unlock bigger straighter hits with proper fitting
+
Easy to launch
Reasons to avoid
-
HZRDUS Smoke RDX stock shaft won't suit faster swingers
-
Expensive compared to the competition
As well as the TaylorMade Stealth, there is also the addition of the TaylorMade Stealth Plus, which encourages a higher launch thanks to carbon in the crown. This helps free up weight to be moved lower in the clubhead, thus reducing drag and creating the desired higher launch.
Available in three different lofts, as well as an extensive range of shaft options, the Stealth Plus, when tested on a launch monitor, confirmed that it was producing more launch and spin at impact. However, like any club, it shows how important a custom fitting is, as, fully dialled in, this club would undoubtedly be hard to beat.
Consistent performer
Reasons to buy
+
Incredibly hot off the face
+
Produced a higher-than-average launch off the deck
+
Consistent long carries
Reasons to avoid
-
It's as expensive as a lot of drivers
Despite being replaced by the Stealth range for 2022, the SIM2 Ti is still a phenomenal fairway wood that offers a consistent and fantastic performance.
Looks wise, behind the ball, golfers will be pleased to see the notably slim white strip at the front of the crown. This contrasts with the face to highlight the face angle arguably more vividly, therefore giving you more confidence at the address position.
Another huge positive is that the strike almost gives out a driver-like feel, with the golf ball shooting off like a rocket and fizzing through the air with penetration and a powerful flight. Importantly, there were no problems in launching the ball from the deck, which certainly enhances the versatility.
TaylorMade SIM2 Max Fairway Wood
Strategic technology
Reasons to buy
+
Oversize profile boosts confidence over the ball.
+
Very easy to align
Reasons to avoid
-
Larger head makes it harder to flight off the deck from iffy lies.
Easily one of the best fairway woods (opens in new tab) to emerge in the 2021 market, the SIM2 Max builds on the success of the previous SIM Max range. Offering a slightly larger head for the higher handicap golfer, it also has a more traditional 15-degree loft, that features TaylorMade's Twist Face technology, a technology that was introduced in the M3 and M4 driver series that reduces the effect of off-centre shots in the toe and heel.
TaylorMade SIM2 Max D-Type Fairway Wood
Draw bias
Reasons to buy
+
Fast and forgiving with built in draw-bias
+
Clean turf interaction
Reasons to avoid
-
Minimal gains over last year's model
For high handicappers who struggle to get fairway woods up in the air quickly and easily, the SIM2 Max D fairway wood is an ideal solution that can be used to equal effect off the tee and off the deck. As a result, it ranks as one of the best fairway woods for high handicappers.
TaylorMade has put the centre of gravity in this club as low as possible, the lowest in any of its fairway woods in fact, which allows you to launch the ball high with little extra effort. What's more, it features a larger 195cc head, which means increased area for even more forgiveness.
There is also a cleverly placed draw bias weight in the heel of the club to encourage the right-to-left ball shape that most higher handicappers struggle to achieve. This club won't automatically mean you start hitting a big draw shape, but it will certainly stave off a big slice or a leaky fade.
Easy usability
Reasons to buy
+
Ease of use
+
Exceptional quality
+
Performs well off the tee and from the deck
Reasons to avoid
-
Faster swingers may prefer Stealth woods
Featuring in three loft choices (3, 5 & 7 woods), the emphasis in the design of the Kalea Premier has been placed on distance without compromising forgiveness. It does this by a weight-saving carbon crown, which combines with a flexible Speed Pocket behind the face to make them lighter, faster and longer.
At address, it is confidence inspiring, with TaylorMade boosting the clubhead size by a significant 37% on the original Kalea. What's more, the woods have a shimmering blue finish with a subtle 't-shape' pattern like a honeycomb. It's eye-catching rather than distracting in bright sunlight and we liked the bold, white edging as it frames the ball nicely.
User friendly fairway wood
Reasons to buy
+
Looks good and offers plenty of launch assistance
+
Very user friendly
Reasons to avoid
-
Faster swing speeds need not apply
Along with the new model, there is also the original Kalea, which TaylorMade first introduced at the end of 2015. Aimed at the mid to higher handicapper, this fairway wood features an ultra-lite shaft, along with the Speed Pocket technology to increase your trajectory and ball speed. It also has a low, deep centre of gravity so you won't struggle to get the ball in the air, making the Kalea extremely forgiving.
What is also great about the range is how well it compliments each other, with the Kalea's designed to have a gapped system so every club is optimising distance and control, therefore allowing you to use every club across your bag.
How we test fairway woods
When it comes to Golf Monthly's testing procedure, we use the same ethos and methodology for all golf products to make sure they are as insightful, honest and comprehensive as possible.
When it comes to golf clubs, we usually attend product launches so we can meet with the manufacturer's R&D experts to understand the new technology.
After we have an understanding here, our first port of call when hitting clubs is usually the indoor simulator at Foresight Sports, where the team can test in a controlled environment using premium balls and the GCQuad launch monitor. We also use TrackMan at golf facilities across the UK.
We then do outdoor testing, usually on ranges at West Hill Golf Club, Surrey, The Wynyard Club in Teesside and at Brancepeth Castle Golf Club in Durham. We then put the clubs into play out on these golf courses.
Specifically for fairway woods, product testing is headed up by Matthew Moore (opens in new tab), a 1-handicapper with many years of experience in the golf industry. He is ably assisted by technical editor Joel Tadman (opens in new tab), and digital editor Neil Tappin (opens in new tab).
All three have been testing clubs for many years, and can efficiently test the vast majority of the biggest product releases and convey the pros and cons eloquently.
What to consider when buying a fairway wood
Loft - Figure out the specific gap to be filled in your golf bag. Ask yourself how far does my driver go, and how far do your longest irons or hybrids go? Knowing this will dictate the ideal loft for your fairway wood.
Forgiveness - Some fairway woods are more forgiving than others, especially because many manufacturers create different models for different levels of player. For example, there are four different Cobra LTDx fairways with different head sizes, shapes and they are designed for different golfers. If you need as much help as possible, the LTDx MAX (opens in new tab) will work for you, whilst if you are a better player and strike is more consistent, then forgiveness may not be a key factor for you.
Adjustability - Most modern fairway woods come with a degree of adjustability, whether that's loft, moveable weights or shaft fittings. Think about how important adjustability is to you, because you can change the characteristics of a club's performance with a turn of a wrench. Or, you can keep things simple and opt for a non-adjustable model with a stock shaft you hit well.
Versatility - Fairway woods must work well off the tee, on the ground from different lies and even around the green. If you have a model that works in only one of these areas, then there may be plenty of improvement and flexibility in upgrading your fairway woods.
Looks - You have to like how a golf club looks, especially when looking down on the golf ball. The fairway wood is one of the most difficult clubs to hit, which is why you need something that gives you confidence and may even spark a pang of jealousy in your playing partners. Our advice is go and pick several models, see how they look and feel in your hands and test them in a variety of situations and lies.
Budget - Be aware of your budget. You can go for more premium models, such as the TaylorMade Stealth Plus or Callaway Rogue ST LS (opens in new tab) or you can opt for cheaper designs like the Wilson Launch Pad. Wherever you fall in budget, our guides will present you with good advice on buying a new fairway wood.
FAQ's
What degree fairway wood should I get?
When it comes to which degree fairway wood you should get there are a number of factors that need considering. Firstly, what distance are you looking to cover with it? You don't want your 3-wood going further than your driver, but you also don't want to leave a large distance gap between your driver and irons.
Personally, we would recommend a fitting at your local pro shop to really explore what yardage area you are wanting to cover. Once you determine that aspect then it all comes down to hitting a few fairway woods that are of different lofts.
On average, your driver should be around 20-30 yards further than your 3-wood so, with that in mind, you will need to find out how long the driver goes first before experimenting with different degrees of fairway woods.