Best Golf Gloves For Women 2022
When it comes to golf gloves there are plenty of options on the market. Here we take a look at the best golf gloves for women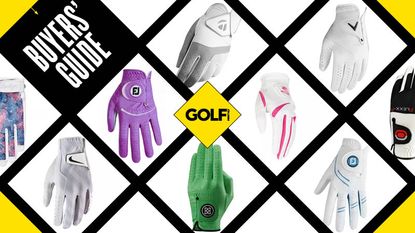 (Image credit: Golf Monthly)
Golf Monthly Newsletter
Golf tips and expert instruction, golf club reviews and the latest golf equipment.
Thank you for signing up to . You will receive a verification email shortly.
There was a problem. Please refresh the page and try again.
Best Golf Gloves For Women
The phrase 'it fits like a glove' really should apply to your golf glove because if it is too tight or too loose it will affect the quality of your grip and ultimately your performance. Comfort, flexibility and breathability are key words that manufacturers throw around as these features all combine to provide the perfect fit. It's important that players have a good grip of the club so they can make a confident swing without hesitation.
Bearing that in mind, below we have taken a look at some of the best golf gloves for women. Additionally, make sure you give our other golf glove guides a read - such as the best wet weather golf gloves (opens in new tab), best golf gloves for winter (opens in new tab), or, if you are shopping for a junior, the best kids golf gloves (opens in new tab).
Best Golf Gloves For Women
When it comes to gloves, FootJoy produces some of the best golf gloves (opens in new tab) on the market. With the Spectrum, you see this quality, as the company showcases not only its famous performance, but also a sense of style with plenty of variation.
We see the quality with its Cabretta leather material and FiberSof back. This gives a premium feel with maximum breathability and flexibility, making it ideal for all weather conditions.
Available in 10 vibrant colors, it is showcased in a range of dark and bright themes; there are also camo prints, tartan and floral, which will really make you stand out on the course.
adidas Light And Comfort Glove
Made from 100% polyurethane imitation leather, the Light and Comfort Glove provides superb comfort with simple style and looks.
When purchasing a golf glove there are a number of factors that should be considered, above all else though it needs to be comfortable, with the glove not wanting to be too loose during your swing. Thanks to an ergonomic, angled hook-and-loop closure tab, as well as stretch-knit fabric on the knuckles, there are no such problems.
When it comes to a golf glove, Cobra may not be the first brand you think of. However, with the Pur Tech, it oozes comfort and breathability. Featuring a soft, high-grade Cabretta leather, the comfort comes in the form of smartly placed perforations and Lycra, with a tailored cuff providing optimal fit and feel.
Available in white/pink or white/grey, it also features an embossed logo and premium trim which gives the glove an upgraded look, something that is very understated.
G/FORE Women's Collection Gloves
Specifications
Sizes: S, M, M/L, L, XL, XXL
The Collection is G/FORE's flagship golf glove range and it is offered in 12 amazing colours that are refreshed each season. This means that there is always going to be a color and style to suit your outfit.
Crafted from premium AA Cabretta leather, as well as an embroidered patch detail on the tab, it provides a snug fit and great feel that will make you stand out on the golf course.
Callaway Tour Authentic Glove
Callaway is worn by some of the most recognised female professionals on the planet and, with this Tour Authentic Glove, you can see why, as the Cabretta leather construction is infused with Griptac.
Because of this, it has the fit and feel of a second skin with a 20% increase in tackiness for the best grip performance. It is also highly breathable and, because of an adjustable closure, provides a secure fit that is extremely comfortable.
TaylorMade Women's Kalea Gloves
Complementing TaylorMade's women's range, which includes some of the Best Golf Drivers For Women (opens in new tab), this glove is made from Cabretta Soft Tech leather that provides high-performing grip capabilities.
Along with the leather, it also incorporates a four-way stretch insert and contoured wristband with moisture wicking enhancements. This provides stunning comfort and fit out on the golf course and practice area.
Constructed with an allsoft premium Cabretta leather in the palm, the Sport Ladies Glove features a large Lycra area over the knuckles for comfort and breathability.
Along with its premium construction, the glove also has moisture-wicking SensorCool Technology in the wrist band, as well as finger vents and perforations to optimize breathability, something that is crucial for when you are tackling the most extreme elements.
The Nike Tech Glove is made up of a combination of premium Cabretta leather, spandex and Nike's Dri-FIT technology, making it a superb performer out on the golf course.
The Dri-FIT technology helps keep the user dry and comfortable, with the tapered closure allowing for a natural range of motion throughout the swing. There are yet more signs of comfort and adaptability, with a low-profile, hook-and-loop closure providing an adjustable fit.
The 'One Size' ZOOM weather glove fits like a second skin and offers remarkable grip in the wet or dry. This ingenious glove incorporates Lycra Flexx Fit zones that mould to any size hand, giving a comfortable fit and feel on the grip.
Featuring in an array of colours, 11 to be precise, you will have no problems finding one that will suit your taste, with 'Shape-Fit' meaning there are 80% fewer wrinkles. As a result, you are guaranteed a perfect fit over the lifetime of the glove.
How we test golf gloves
In terms of testing golf gloves we should say our process is similar to all the other golf gear reviews we produce in that manufacturers cannot pay for a good review, and we tell it how we see it.
We seek to try and be as comprehensive as possible in testing and reviewing the product which means we have used it over a number of rounds, in different conditions, because this often gave us great insight into things like durability, fit, quality and so on.
We should say that everyone in the Golf Monthly team are golfers at a variety of levels which we feel gives an honesty and integrity to the reviews we produce. For more information on how Golf Monthly tests its products (opens in new tab), click here.
What to look for in a golf glove
You may not think the golf glove is that important compared to other pieces of equipment however it really is, after all, it is the only part of the body that remains connected with the club throughout the swing. So what are the things you need to think about when looking into purchasing a new golf glove? Well below are some factors and pieces of advice to consider.
Which hand? - For the beginners out there, a golfer who plays right-handed will typically wear a golf glove on their left hand. This is because the left hand is the lead hand in the swing provided the player has a conventional grip. Golfers who play left-handed typically wear a glove on their right hand.
Related: Which Hand Do You Wear A Golf Glove On?(opens in new tab) (opens in new tab)
Type - First things first, know what type of glove you want. You may be after premium leather model which will perform totally differently to a synthetic, or even a wet weather model. These do different things and more importantly feel different so have a think about what you like to feel when wearing a golf glove and hoose acordingly.
Material - The material will also be important too. The top premium leather models are designed to feel soft whilst also giving you good feel of the grip during the swing. They are essentially designed to be like a second skin. Some gloves also have synthetic parts on them which are designed to offer more stretch especially along the knuckles. These synthetic gloves also might be more durable than the leather designs. Finally the wet weather gloves are more about protection than feel. The material on most all-weather models offers more grip the wetter they get so if you play in an area with a lot of rain, definitely consider a model designed to deal with it.
Fit - We can hear you asking how should a glove fit? Well the golf glove should feel like a second skin with no excess material either across the palm of the hand or at the end of the fingers. Make sure there's a snug fit across the palm and there's no loose material at the end of the fingers. But you also don't want a glove to be so tight that it feels like it's cutting off the blood supply. You should be able to stretch your fingers and make a ball with your fist without the glove pulling or over-stretching.
FAQs
Is it necessary to wear a golf glove?
When out on the course, golf gloves are not required. However, it is highly recommended that you do wear one to maximise your game. They provide you with ample more grip than if you weren't wearing one and, as a result, you can commit to your shots more as you have more confidence.
Should a golf glove be loose or tight
A proper fitting golf glove should fit like a second skin. This means that it is tight across the palm and fingers, with no loose material. You should also have no extra material at the top of your fingers, if you do, you may want to go down a size.