Justin Thomas Shoots US Open Record, Brian Harman Leads By One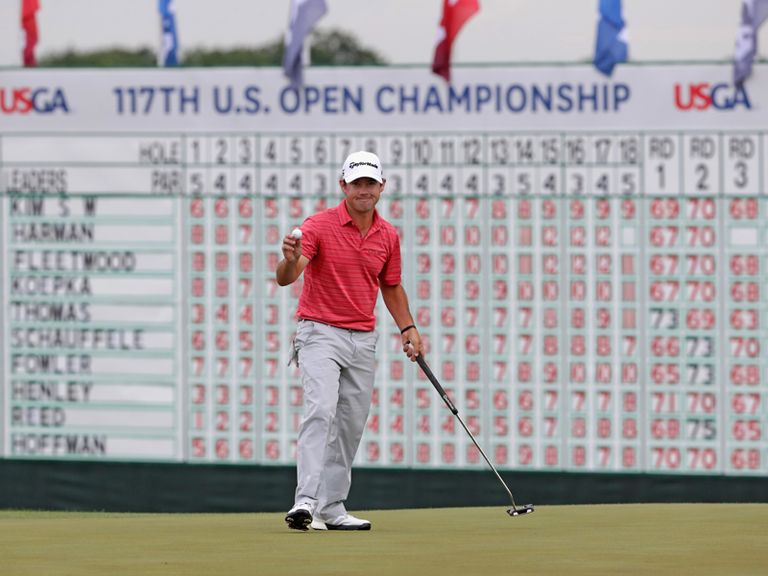 (Image credit: Getty Images)
By Tom Clarke
Brian Harman leads by one shot going into the final round of the US Open, but the big story of the day during round 3 at the US Open was Justin Thomas shooting a 63
Justin Thomas Shoots US Open Record, Harman Leads By One
Brian Harman leads by one shot going into the final round of the US Open, but the big story of the day during round 3 at the US Open was Justin Thomas shooting a 63 the lowest round in the history of the tournament.
Nine birdies and an incredible eagle on the final hole, as well as two bogeys took Thomas from within the pack to the top of the leaderboard for a good few hours.
Left handed Brian Harman is the man who stands alone at the top of the leaderboard after shooting his second 67 of the tournament, he looked comfortable out on course and it will be interesting to see how he copes being in the final group on Sunday.
What we can almost guarantee is that there will be a new Major winner crowned on Sunday evening, the nearest players to have won a Major to the leaders is Louis Oosthuizen and Sergio Garcia and they are eight shots back.
England could well be cheering on a champion on Sunday evening, Tommy Fleetwood showed no fear on Saturday shooting a wonderful round of 68 and the man from Southport will be off in the penultimate group this evening.
Expand US Open Tee Times 2019 – Round Four
US Open Tee Times 2019 – Round Four
Woodland and Rose are out at 10.30pm BST
Expand US Open Weather Forecast 2019
The weather forecast will play a vital role…
Expand US Open Golf Betting Tips 2019 – Final Round
US Open Golf Betting Tips 2019 – Final Round
Who will survive the toughest test of the…
There was also some disappointed players on Saturday night, Paul Casey (75), Jordan Spieth (76) and Martin Kaymer (75) all look to have blown their chances this weekend.
With the US Open weather looking like it could have winds of up to 16 mph and with gusts of around 25mph – scoring should be a little trickier in the final round.
US Open Leaderboard End of Third Round
It should be a fascinating final round from Erin Hills this evening