Chambers Bay hole-by-hole guide: hole 17
A guide to hole 17, named 'Derailed', at Chambers Bay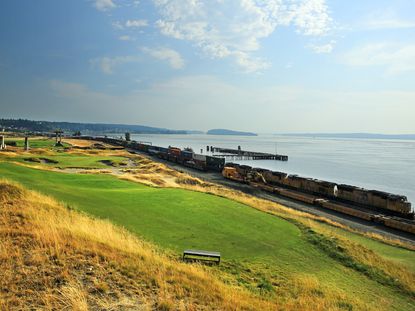 A guide to Chambers Bay's hole 17 ahead of the 2015 US Open.
Chambers Bay hole 17 - Derailed - Par 3 - 172 yards
For most golfers, knowing that the hole you were about to tee off from is called 'Derailed' might just tip your game over the edge. That is, of course, if you're still on for a good round by the time you make it to hole 17.
The name is a nod to the railroad that runs alongside the right side of the hole, which possibly isn't too reassuring for the train driver either.
The hole itself has two teeing areas, with a different, measured approach required for each one. The lowest of the two tees will require the likes of Rory McIlroy and Jason Day to clear a substantial combination of bunker and waste area lining the right side of the hole. If they end up too far left a bunker lies in wait just before the green.
If players do come up short of the green, there is only a small patch of fairway in which to land without going into a bunker.
1 | 2 | 3 | 4 | 5 | 6 | 7 | 8 | 9 | 10 | 11 | 12 | 13 | 14 | 15 | 16 | 17 | 18
Get the Golf Monthly Newsletter
Tips on how to play better, latest equipment reviews, interviews with the biggest names and more.
Will Medlock graduated from UEA with a degree in Film and Television before completing a Masters in Sports Journalism at St Mary's in London. Will has had work published by The Independent and the Rugby Paper.