Chambers Bay hole-by-hole guide: Hole 7
A guide to hole 7, named 'Humpback'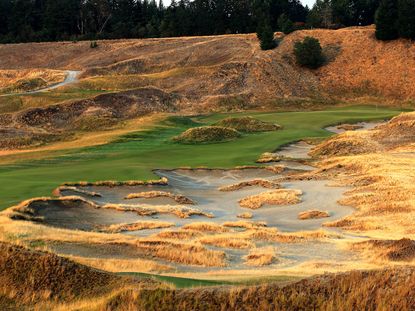 A guide to Chambers Bay's hole 7 ahead of the 2015 US Open.
Chambers Bay hole 7 - Humpback - Par 4 - 482 yards
This uphill hole moves from left to right and requires players to hit well left off the tee in order to avoid the bunker that runs alongside the right of the hole.
There's a little rough to the left of the fairway, which players may end up in as they attempt to carry their shot away from the right-hand bunker.
The name of the hole gives you an indication as to what comes next. An approach to the green will need to be wary of the two raised dunes positioned one in front of the other just before the green. They're reasonably central, sitting just left of the hole, with sand to the right, creating a small gap for a shot that lands just short of the green.
1 | 2 | 3 | 4 | 5 | 6 | 7 | 8 | 9 | 10 | 11 | 12 | 13 | 14 | 15 | 16 | 17 | 18
Will Medlock graduated from UEA with a degree in Film and Television before completing a Masters in Sports Journalism at St Mary's in London. Will has had work published by The Independent and the Rugby Paper.