Chambers Bay hole-by-hole guide: hole 18
A guide to hole 18, named 'Tahoma', at Chambers Bay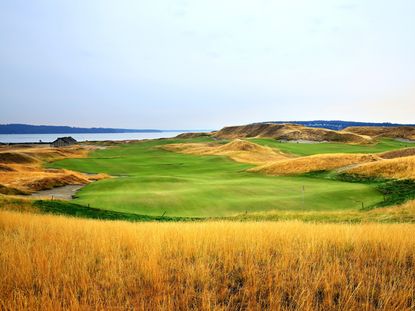 A guide to Chambers Bay's hole 18 ahead of the US Open 2015
Chambers Bay hole 18 - Tahoma - Par 4/5 - 525/604 yards
A long stretch of sand lines the right-hand side of Tahoma for almost half of its length. Aim left from the tee, however, and you'll be guaranteed to miss it.
At the risk of this being too easy, though, there are two smaller bunkers ready to swallow a long drive. There are also two more before you reach the one that guards the entire right side of the green.
The green has significant contours, ensuring any player attempting to secure a US Open victory on the final hole will need all their wits to be intact. The hole, which could be played as a par 4 or 5, is also uphill; just one more consideration for those still in contention come Sunday.
The hole's name comes from the Indian name for Mt. Rainier, situated in Pierce County, Washington.
Peter Uihlein made an eagle here in the 2010 US Amateur Championship, chipping in from just off the green.
1 | 2 | 3 | 4 | 5 | 6 | 7 | 8 | 9 | 10 | 11 | 12 | 13 | 14 | 15 | 16 | 17 | 18
Will Medlock graduated from UEA with a degree in Film and Television before completing a Masters in Sports Journalism at St Mary's in London. Will has had work published by The Independent and the Rugby Paper.