Chambers Bay hole-by-hole guide: hole 9
A guide to hole 9, named 'Olympus'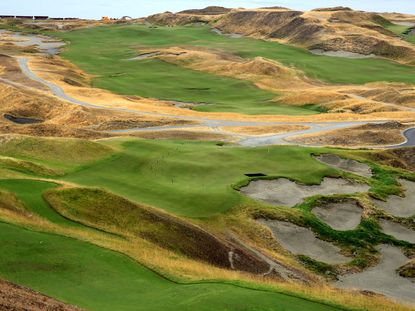 A guide to Chambers Bay's hole 9 ahead of the 2015 US Open.
Chambers Bay hole 9 - Olympus - Par 3 - 217/224 yards
You can almost see the glint in the eye of the people who devised these hole names. Hole 9's name owes to its height, as it towers over the green, just over 200 yards in the distance.
There isn't a huge section of fairway to hit before the green, given its position, with the rest of the land around surrounded by waste areas and bunkers. If a player should send their tee shot into one of the downhill bunkers, they'll need an almighty chip up onto the green. To hit those bunkers would likely be the result of very bold play, though.
However, all players will be aiming left in order to hit the green in one or two. Another tee has been put in place, on the other side of the hole, which demands players clear the bunker with their tee shot. It will be fascinating to see which tee is used on certain days.
1 | 2 | 3 | 4 | 5 | 6 | 7 | 8 | 9 | 10 | 11 | 12 | 13 | 14 | 15 | 16 | 17 | 18
Will Medlock graduated from UEA with a degree in Film and Television before completing a Masters in Sports Journalism at St Mary's in London. Will has had work published by The Independent and the Rugby Paper.