Chambers Bay hole-by-hole guide: hole 2
A guide to hole 2, named 'Foxy', at Chambers Bay.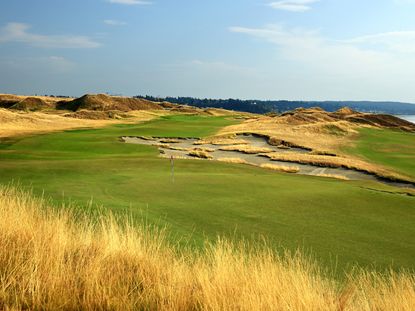 A guide to Chambers Bay's hole 2 ahead of the 2015 US Open.
Chambers Bay hole 2 - Roxy - Par 4 - 395 yards
This par 4 offers little width in the way of fairway, but a good opportunity to get to the green without encountering the bunker closest to it.
Even if the ball hits one of the undulations just before the bunker, it will roll in the opposite direction, rather than towards the nearby sand.
If players aim a shot to the right of the green, this will reduce the chances of sending the ball too close to the bunker, although pin position may dictate they head closer to it than they'd like.
There is a significant slope off the green to the left, leading towards the bunker. But it would need to come off the slope with some pace to go into the bunker. Similarly, there's a small bunker to the right of the green that players distracted by the bigger one may end up in.
The hole name is a reference to the 14th at Royal Dornoch.
1 | 2 | 3 | 4 | 5 | 6 | 7 | 8 | 9 | 10 | 11 | 12 | 13 | 14 | 15 | 16 | 17 | 18
Will Medlock graduated from UEA with a degree in Film and Television before completing a Masters in Sports Journalism at St Mary's in London. Will has had work published by The Independent and the Rugby Paper.