Chambers Bay hole-by-hole guide: hole 6
A guide to hole 6, named 'Deception Point', at Chambers Bay.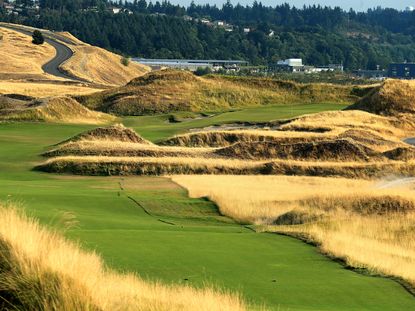 A guide to Chambers Bay's hole 6 ahead of the 2015 US Open.
Chambers Bay hole 6 - Deception Point - Par 4 - 495 yards
This isn't the only hole at Chambers Bay to have a name that makes you think twice from the tee.
This par 4 bends slightly from left to right, with a fairway that widens after a narrow start. Tee shots will likely land in the wider part of the fairway, but a shot that sits to the right will mean an obscured view of the green.
Enter deception point. There are two bunkers that hug the green, with one just in front. Players will of course know the bunker's positioning, but it doesn't mean it won't take a few balls throughout the four rounds.
There's a slope just in front of the green as well which might hinder any attempts to score under par if not read properly.
1 | 2 | 3 | 4 | 5 | 6 | 7 | 8 | 9 | 10 | 11 | 12 | 13 | 14 | 15 | 16 | 17 | 18
Will Medlock graduated from UEA with a degree in Film and Television before completing a Masters in Sports Journalism at St Mary's in London. Will has had work published by The Independent and the Rugby Paper.