Chambers Bay hole-by-hole guide: hole 11
A guide to hole 11, named 'Shadows'.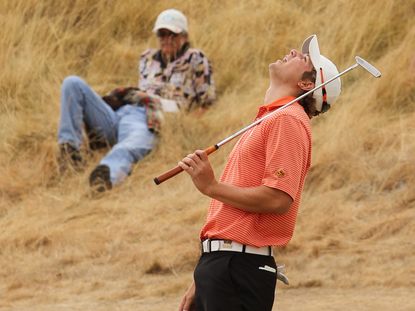 A guide to Chambers Bay's hole 11 ahead of the 2015 US Open.
Chambers Bay hole 11 - Shadows - Par 4 - 500/537 yards
There are slight curves to this long par 4 that should keep all players on their toes. A waste area sits just in front of the tee, but beyond that it's a simple enough route to the green, with a bunker lying in wait just before it to the right.
Once at the green, there is a right to left slope, with not much room for error. There is an area to the left of the green which players will probably aim to hit in order to give themselves a chance to chip on.
Of course, the undulations must be taken into consideration, meaning the aforementioned route to the green is easier said than done. The undulations are, however, the reason the hole is called Shadows, due to the light and shade the uneven surface provides when hit by the sun.
1 | 2 | 3 | 4 | 5 | 6 | 7 | 8 | 9 | 10 | 11 | 12 | 13 | 14 | 15 | 16 | 17 | 18
Will Medlock graduated from UEA with a degree in Film and Television before completing a Masters in Sports Journalism at St Mary's in London. Will has had work published by The Independent and the Rugby Paper.