Bryson DeChambeau: "I Don't Care As Much, I've Already Won It."
Bryson was reflecting after an 8-over par back nine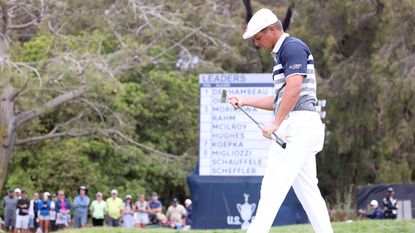 (Image credit: Getty Images)
Bryson was philosophical but defiant when asked how long it will take him to shake off his disastrous back nine at the US Open.
Bryson DeChambeau: "I Don't Care As Much, I've Already Won It."
Bryson Dechambeau has been reflecting on a back nine at the US Open that saw him card a double bogey and quadruple bogey to dramatically take him out of contention on a hotly contested final day.
The 2020 US Open champion reached the turn at 5-under par for the tournament - which saw him capture the co-lead alongside South Africa's Louis Oosthuizen - as he entered the difficult back nine at Torrey Pines.
Things were only went downhill from there for the American, and a 8-over par back nine quickly ended his chances and led to an eventual T26th finishing position.
When asked how long it might take him to shake off such a chaotic and uncharacteristic nine holes, Bryson sounded unphased.
"Right now. I don't even care. People think that I've changed a lot, attitude-wise and everything. It's frustrating in the moment when it's happening, but afterwards for me now, I don't really care as much. I've already won it."
Related: Sensational Jon Rahm Claims Maiden Major Title
"I've had plenty of times where I hit it way worse than today and I won."
"It's just one of those things where I didn't have the right breaks happen at the right time. I could have easily gotten to 7-, 8-under today. I just wasn't fully confident with the golf swing and just got a little unlucky in the rough and a couple other places."
After bogeys on 11 and 12, the real chaos started at the 13th.
Firstly, he slipped while hitting his drive - not for the first time in the week - putting him a long way back in the thick rough down the right of the long par-5.
It was the start of a messy hole in which he carded a double bogey 7.
Related: Streaker Interrupts Play At US Open
"Well, I slipped twice on 13. I mean, that was really weird. I don't know what happened. But that's the game. I've got to be better at not slipping because I've done it before but never to that extent. Two times in a row on the same hole, it was kind of weird."
"Put myself in a bad place, and then I hit it up - we had a bad line, and hit it in the right rough, and you just can't be there and you're dead."
A streaker then made his way onto the 13th hole as DeChambeau and his playing partner Scottie Scheffler made their way to the green.
"I didn't know until I saw him, so it was kind of weird. Ultimately then there was a streaker that came around, and I had no idea what happened with that. I'm just glad an officer clotheslined him. That was fun. Then took him down and got him out like he should be."
Bryson's chances were all but over after the 13th and as the likes of McIlroy, Morikawa and Koepka also fell back of the leaders.
It left the way for a shootout between Spain's Jon Rahm and South Africa's Louis Oozthuizen, with Rahm winning by 1 shot on a dramatic final day at the 121st US Open.