US Masters Prize Money 2019 - Winner Gets $2 Million For The First Time
The winner this year will pocket the biggest prize in the tournament's history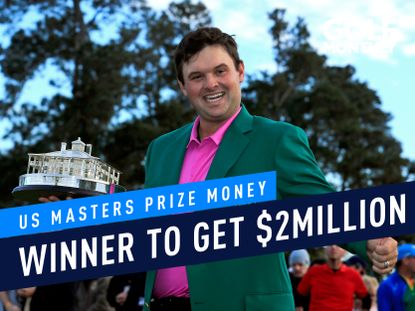 The first Major of the year has a purse of $11.5 million with $2 million going to the winner on Sunday
US Masters Prize Money
The first Major of the Year is upon us in the form of the 2019 US Masters at Augusta National Golf Club.
US Masters Prize Money 2019
The prize fund has been announced for the 2019 US Masters and it is a whopping $11.5 million.
For the first time the winner will receive over $2million - $2,070,000 to be precise – if you are unfortunate enough to come second you still walk away with over $1.2million in the bank.
Full US Masters Prize Money 2019 break down below
1st $2,070,000 2nd $1,242,000 3rd $782,000 4th $552,000 5th $460,000 6th $414,000 7th $385,250 8th $356,500 9th $333,500 10th $310,500 11th $287,500 12th $264,500 13th $241,500 14th $218,500 15th $207,000 16th $195,500 17th $184,000 18th $172,500 19th $161,000 20th $149,500 21st $138,000 22nd $128,800 23rd $119,600 24th $110,400 25th $101,200 26th $92,000 27th $88,550 28th $85,100 29th $81,650 30th $78,200 31st $74,750 32nd $71,300 33rd $67,850 34th $64,975 35th $62,100 36th $59,225 37th $56,350 38th $54,050 39th $51,750 40th $49,450 41st $47,150 42nd $44,850 43rd $42,550 44th $40,250 45th $37,950 46th $35,650 47th $33,350 48th $31,510 49th $29,900 50th $28,980
The remainder of the professional will receive cash prizes ranging downward from $28,290 depending on their scores.
Last year Patrick Reed took home $1,980,000 for his victory at Augusta, and this increase to $2million means that the Masters is not only a historic and prestigious place to play, it is also has the money to back it up!
Related: US Masters Golf Betting Tips
The Masters places second in terms of the four Majors total prize money, with the US Open offering the most with $12 million. Last year's champion Brooks Koepka picked up a whopping $2.16 million as he claimed his maiden major title.
The Open Championship offers the least with just below the USPGA's total prize pool - although that could change this year.
The first winner of the Masters back in 1934 was Horton Smith and he won $1,500 - while the first time the winner's prize hit a million dollars was when Tiger Woods won the event back in 2001 - could he take home the first $2 million prize as well???
Don't forget to follow Golf Monthly on Facebook, Twitter and Instagram for all the latest from the US Masters at Augusta.
Tom Clarke joined Golf Monthly as a sub editor in 2009 being promoted to content editor in 2012 and then senior content editor in 2014, before becoming Sports Digital Editor for the Sport Vertical within Future in 2022. Tom currently looks after all the digital products that Golf Monthly produce including Strategy and Content Planning for the website and social media - Tom also assists the Cycling, Football, Rugby and Marine titles at Future. Tom plays off 16 and lists Augusta National (name drop), Old Head and Le Touessrok as the favourite courses he has played. Tom is an avid viewer of all golf content with a particularly in depth knowledge of the pro tour.