LIV Golf - All You Need To Know About The Saudi-Backed Tour
All we know about the Saudi-backed LIV Golf, one of golf's biggest talking points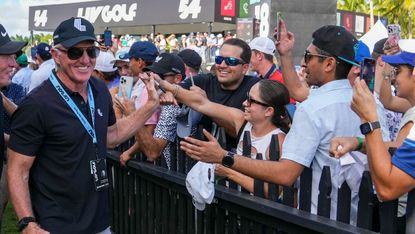 (Image credit: Getty Images)
If 2022 was defined by the emergence of LIV Golf, 2023 seems certain to be dominated by its efforts to become an established player at the top of the game's hierarchy.
Once the speculation had subsided last year and the action began, June's $25m curtain-raiser at London's Centurion Club saw South African Charl Schwartzel secure the $4 million first prize. Six other regular-season events followed, each offering the same attractive purse. That enabled it to secure more high-profile signings as the season progressed, building up an impressive roster to add to the likes of Dustin Johnson and Phil Mickelson from the initial intake.
By the time October's season-closing Team Championship began, the likes of Cameron Smith, Brooks Koepka, Patrick Reed and Bryson DeChambeau had all signed too. Eventually, Johnson was crowned Individual Champion and scooped a $18m bonus for his efforts, while it was his 4 Aces team that won the finale at Trump National Doral in Florida.
With that inaugural season now behind us, a US TV deal secured and the schedule for the 2023 season confirmed, we take a detailed look at everything we know about LIV Golf, how it has impacted the golf world as we once knew it, and what to expect in 2023.
What Is The LIV Golf League?
After the eight-tournament Series of 2022, the Greg Norman-fronted circuit expands to an ambitious, $405m 14-tournament League for 2023.
Each of the regular events features three rounds with no cut, and with play commencing by shotgun start. There is also a team format with no more than 48 players making up 12 teams of four, while the action in each tournament takes place over 54 holes rather than the more traditional 72.
The concept of a breakaway league is not new to golf or in fact, Greg Norman. The former World No.1 put forward his own plans for a World Golf Tour in 1994, a lucrative, eight-field event that would showcase the game's best players as independent contractors, unfettered from the PGA Tour.
Norman's path to 'growing the game' never came to fruition but you sense there has always been a determination to challenge golf's status quo. And so here we are, 29 years later with the game on the precipice of civil war and now an official league to rival the established ecosystem.
The Australian is confident in the future success of his product, describing the Series as "a carrot too hard to resist." It has already taken a monumental financial investment to get the circuit off the ground and with Major champions including Cameron Smith, Dustin Johnson, Brooks Koepka, Patrick Reed and Bryson DeChambeau having opted to leave the PGA Tour for LIV Golf, it seems only a matter of time before more high-calibre players go down the same path.
LIV Golf League Schedule
The 14-tournament 2023 League takes place across Mexico, the USA, Australia, Singapore, Spain, England and Saudi Arabia, and runs from February to November.
February 24-26: Mexico - El Camaleon Golf Club
March 17-19: Arizona, USA - The Gallery Golf Club
March 31-April 2: Florida, USA - Orange County National
April 21-23: Australia - The Grange Golf Club
April 28-30: Singapore - Sentosa Golf Club
May 12-14: Oklahoma, USA - Cedar Ridge Golf Club
May 26-28: Washington DC, USA - Trump National Golf Club
June 30-July 2: Spain - Real Club Valderrama
July 7-9: England - Centurion Country Club
August 4-6: West Virginia, USA - The Greenbrier
August 11-13: New Jersey, USA - Trump National Golf Club
September 22-24: Illinois, USA - Rich Harvest Farms
October 20-22: Florida, USA - Trump National Doral
November 3-5: Jeddah, Saudi Arabia - Royal Greens Golf & Country Club
LIV Golf League Prize Money
The first 13 'regular' events each carry a total purse of $25m, comprising $20m in individual prizes and $5m for the top three teams. In each event, the winner will receive a cheque for $4m. However, one of the big attractions for players - aside from reports of huge signing on fees - is that, unlike the PGA Tour, even finishing last in an individual event guarantees $120,000. In contrast, missing the cut at a PGA Tour event ensures a player will go home with nothing.
The League will also crown an 'Individual Champion' with a bonus pool of $30m for the top-three performers of the season - Dustin Johnson earned the title of Individual Champion in the inaugural season, pocketing an $18m performance bonus - taking his earnings in excess of $30m.
The season-ending LIV Golf Team Championship Finale will feature a huge $50 million purse. The winning team will split $16 million four ways, with $10 million awarded to second place and $8 million to third.
In short, the financial riches of LIV Golf is almost impossible for anyone to keep up with and by and, despite the PGA Tour's attempts to do so by offering increased purses for several of its events, it comfortably eclipses the money on offer on the more established circuit.
LIV Golf League Players
For a long time before the 2022 season, LIV Golf participants were shrouded in mystery with multiple reports that players had signed non-disclosure agreements prohibiting them from talking about the venture.
Greg Norman teased that 36 of the top-150 in the Official World Golf Ranking, former World No.1 players, Major champions and Ryder Cup stars were either included, or to be included in future, which led to a barrage of speculation as to who had committed.
Trusted sources reported the names of many but the surprise inclusion ahead of the inaugural event was Dustin Johnson - who had reportedly been offered $125m after pledging his allegiance to the PGA Tour just a few months prior.
Johnson was joined by the likes of Phil Mickelson, who returned from a self-inflicted hiatus for the inaugural event after anti-Saudi comments were made public, Sergio Garcia, Lee Westwood, Ian Poulter, Louis Oosthuizen and Graeme McDowell also joined, with Norman adding Major champions Bryson DeChambeau, Patrick Reed and Brooks Koepka to the ranks at a later date.
Henrik Stenson was a name that grabbed the headlines when it was announced he had joined the venture. The Swede, who was set to captain the European Ryder Cup in Rome in 2023, reportedly met with DP World Tour officials and informed them of his decision to join the breakaway circuit. In return, Stenson was stripped of the captaincy. Stenson made his debut at the Bedminster event, pocketing a combined $4.375 million for winning the individual format and coming second with the Majesticks.
Whilst they each hold their own importance, the acquisition of Cameron Smith is perhaps the most significant. Not only did the Australian win the 2022 Players Championship - the PGA Tour's flagship event - but he followed that up by winning his first Major, the 150th Open at St Andrews last July. Another player who signed last year but didn't play due to injury is Bubba Watson. He will be expected to tee it up as a regular this year.
As for the 2023 season, six new signings have been made. Chilean Mito Pereira and Colombian Sebastian Munoz join Joaquin Niemann's Torque GC team. Elsewhere, American Brendan Steele joins Phil Mickelson's Hy Flyers GC and Dean Burmester completes the all-South African Stinger GC. New Zealander Danny Lee is another new signing, and he starts the season with Kevin Na's Iron Heads GC. Finally, six-time DP World Tour player Thomas Pieters joins Bubba Watson's Range Goats GC for the season opener.
Below is a list of players who competed for LIV Golf in 2022:
LIV Golf Players
ABRAHAM ANCER
OLIVER BEKKER
RICHARD BLAND
ITTHIPAT BURANATANYARAT
LAURIE CANTER
PAUL CASEY
EUGENIO CHACARRA
RATCHANON "TK" CHANTANANUWAT (AM)
BRYSON DECHAMBEAU
HENNIE DU PLESSIS
OLIVER FISHER
SERGIO GARCIA
TALOR GOOCH
BRANDEN GRACE
JUSTIN HARDING
SAM HORSFIELD
CHARLES HOWELL III
YUKI INAMORI
DUSTIN JOHNSON
MATT JONES
SADOM KAEWKANJANA
MARTIN KAYMER
PHACHARA KHONGWATMAI
SIHWAN KIM
RYOSUKE KINOSHITA
CHASE KOEPKA
BROOKS KOEPKA
JASON KOKRAK
JINICHIRO KOZUMA
SHERGO AL KURDI
ANIRBAN LAHIRI
PABLO LARRAZABAL
MARC LEISHMAN
VIRAJ MADAPPA
GRAEME MCDOWELL
PHIL MICKELSON
JEDIAH MORGAN
KEVIN NA
JOAQUIN NIEMANN
SHAUN NORRIS
ANDY OGLETREE
LOUIS OOSTHUIZEN
WADE ORMSBY
CARLOS ORTIZ
ADRIAN OTAEGUI
PAT PEREZ
TURK PETTIT
JAMES PIOT
IAN POULTER
DAVID PUIG (AM)
PATRICK REED
JC RITCHIE
CHARL SCHWARTZEL
CAMERON SMITH
TRAVIS SMYTH
IAN SNYMAN
HENRIK STENSON
HUDSON SWAFFORD
HIDETO TANIHARA
CAMERON TRINGALE
PETER UIHLEIN
HAROLD VARNER III
SCOTT VINCENT
LEE WESTWOOD
BERND WIESBERGER
BLAKE WINDRED
MATTHEW WOLFF
KEVIN YUAN
How Is LIV Different From The PGA Tour?
Several factors differentiate LIV Golf from the PGA Tour, aside from the incredible financial backing. The format of each tournament is fundamentally different and more streamlined. Instead of a 72-hole tournament played over four days, LIV Golf events take place over three days and 52 holes.
There is also a shotgun start in LIV events, meaning all the players are one the course simultaneously. Another significant difference is the far smaller fields, which comprise just 48 players. Finally, there is an individual competition and team element to each regular LIV Golf event - with the team element expected to gain increasing prominence as a franchise model is introduced, allowing the 12 teams, led by one established captain, who can build their team franchise to gain the greatest fan followings and sponsor interest.
Will LIV Golf Be On TV?
One of the big wins LIV Golf needed to ensure its financial viability was a lucrative TV deal. The 2022 season was show free on the LIV Golf official website and via YouTube, but it was hardly ideal for the start-up, and appeared to suffer from poor viewing figures at times.
As the 2023 season approached, it was finally announced that it had struck a multi-year TV deal with the CW Network, which will offer live coverage in the US, with confirmation to follow as to how to watch the action in other regions. As part of the agreement with the CW Network, weekend tournaments will air live on Saturdays and Sundays on both TV and on the app, while coverage on Friday will be available only through the app.
Who Owns LIV Golf And Why Is It Controversial?
From an operational perspective, the LIV Golf League is pioneered by LIV Golf Investments with Greg Norman as its CEO. LIV Golf Investments is financially backed by Saudi Arabia's Public Investment Fund, one of the world's largest sovereign wealth funds. Assets included, it is said to be worth in excess of $620 billion - which includes Newcastle United Football Club after a consortium-led purchase in 2021.
The chairman of the Public Investment Fund is Mohammed bin Salman, colloquially known as MBS. He is a Saudi Arabian politician who is the crown prince, deputy prime minister, and minister of defence of Saudi Arabia. He also serves as the chairman of the Council of Economic and Development Affairs and chairman of the Council of Political and Security Affairs.
Yasir bin Othman Al-Rumayyan is the Governor of the PIF, serving directly under MBS. Al-Rumayyan also serves as the Chairman of Newcastle United Football Club and Chairman of state-owned petroleum company Saudi Aramco. Majed Al Sorour acts as an Advisor to the PIF as well as CEO of Golf Saudi, Saudi Golf Federation and Director of Newcastle United Football Club.
Despite the financial backing of the Public Investment Fund, Norman has insisted that he "does not answer to Saudi Arabia" and that they (including MBS) are not "his bosses." The former World No.1 described LIV Golf Investments as "independent" to the Public Investment Fund.
As well as the financial backing of the LIV Golf League, the Public Investment Fund has invested a separate $300m with LIV Golf Investments in a 10-year deal with the Asian Tour and its International Series. This has already seen the Saudi International, which was previously sanctioned by the DP World Tour until the threat of a breakaway tour emerged, formally recognised as an Asian Tour event.
The Public Investment Fund extended its financial backing to LIV Golf last July, with plans to transition into a fully fledged League for the new season, with 48 players and 12 established team franchises competing in an expanded 14-tournament schedule – and an enormous $405m total prize purse.
Much of the controversy surrounding LIV Golf has stemmed from the origin of its finances, with many advocacy groups accusing players of sportswashing human rights atrocities within the Kingdom.
Attention has also been drawn to the murder of Saudi Arabian journalist Jamal Khashoggi, who was killed inside the Saudi consulate in Istanbul. America's Central Intelligence Agency concluded that MBS ordered the killing of Khashoggi, adding tension to the relationship between the United States and Saudi Arabia, including calls for the US to sever diplomatic ties with the Kingdom.
Norman also sparked outrage when he claimed that "we've all made mistakes" as he attempted to rebuff questions over Saudi Arabia's human rights abuses and the murder of Khashoggi, while former President of the United States, Donald Trump, endorsed the Saudi investment. This led to further public tension given Saudi Arabia's links with the September 11 attacks as 15 of the 19 hijackers involved in the tragedy were Saudi nationals.
Lina al-Hathloul, a Saudi democracy activist, penned an open letter to the LPGA Tour urging they re-consider their arrangement with Saudi Arabia. The letter was released during the Aramco Series, funded by the Kingdom's state-owned petroleum company, and after LPGA Tour Commissioner Mollie Marcoux Samaan hinted that she would engage with the controversial circuit if it could help promote the women's game.
How Have The PGA Tour And DP World Tour Responded To LIV Golf?
The threat of a breakaway circuit put the DP World and PGA Tour on guard, with Jay Monahan, the PGA Tour Commissioner, repeatedly warning any player who sided with a rival league would face suspension.
In a memo sent to players in May, the PGA Tour officially denied its members conflicting-event releases to play in the LIV Golf Series opener at the Centurion Club. The memo stated that granting release would "significantly and unreasonably harm the PGA Tour and Tour sponsors" before affirming that "your participation in the event is not authorised under the Regulations."
Norman, who accused the PGA Tour of bullying, has repeatedly insisted that PGA Tour players are independent contractors and that the Tour does not have the legal right to deny their entry to tournaments.
Those that took part in the inaugural event at Centurion Club did so without the pre-requisite permission from the PGA and/or DP World Tour and were therefore met with sanction.
The PGA Tour suspended all players that took part who didn't tender their resignations first, and has promised it will continue to do so in future, whereas the DP World Tour suspended players for three co-sanctioned events and imposed a £100,000 fine. Ian Poulter responded with legal action against the DP World Tour and his suspension was "temporarily stayed". The Englishman then played in the Scottish Open, one of the tournaments he was initially suspended from.
The PGA Tour excluded all LIV Golf players from its new FedEx Cup points list, as to ensure that "suspended members do not negatively impact other players' tournament eligibility, positioning on the priority rankings or eligibility to compete in the FedEx Cup playoffs."
In response, 11 LIV Golf players filed an antitrust lawsuit against the PGA Tour. That number has since dropped after Carlos Ortiz, Abraham Ancer, Pat Perez and Jason Kokrak, among others, withdrew from proceedings. The motion says: "The Tour's conduct serves no purpose other than to cause harm to players and foreclose the entry of the first meaningful competitive threat the Tour has faced in decades."
Additionally, Talor Gooch, Matt Jones and Hudson Swafford issued a temporary restraining order against the PGA Tour in a bid to allow them to compete in the upcoming FedEx Cup playoffs.
The PGA Tour responded via its attorneys and claimed "LIV is not a rational economic actor, competing fairly to start a golf tour. It is prepared to lose billions of dollars to leverage Plaintiffs [the 11 LIV Golfers raising the case] and the sport of golf to 'sportswash' the Saudi government's deplorable reputation for human rights abuses.
"If Plaintiffs are allowed to breach their Tour contracts without consequence, the entire mutually beneficial structure of the Tour, an arrangement that has grown the sport and promoted the interests of golfers going back to Arnold Palmer and Jack Nicklaus, would collapse.
"Despite knowing full well that they would breach Tour Regulations and be suspended for doing so, Plaintiffs have joined competing golf league LIV Golf, which has paid them tens and hundreds of millions of dollars in guaranteed money supplied by Saudi Arabia's sovereign wealth fund to procure their breaches."
Judge Freeman found there was "no irreparable harm" as "LIV contracts are based upon players' calculation of what they were leaving behind" and therefore denied the restraining order. Gooch, Jones and Swafford were therefore denied entry to the FedEx Cup playoffs.
LIV Golf joined the antitrust motion against the PGA Tour, in which it described the organisation as "an entrenched monopolist with a vice-grip on professional golf." Judge Beth Labson Freeman has set the date for the summary judgement for July 23 next year, with the trial to begin on January 8, 2024.
The battle between LIV Golf Investments and the PGA Tour is sure to continue; especially with the future of world ranking points, Major championships and the Ryder Cup called into doubt. The 2022 Presidents Cup was the first team event to feel the effects of the tension, with LIV Golf defectors not permitted to take part.
As the divide between LIV Golf and the established eco-system appears to grow, the DP World Tour and PGA Tour entered into, and strengthened, their "strategic alliance" with the the key focus on "enhancing and connecting the ecosystem of men's professional golf through a number of areas, including global scheduling, prize funds and playing opportunities for the respective memberships".
It was also revealed that three events will be co-sanctioned, meaning they will count towards both the FedEx Cup and Race to Dubai. These are: the Barbasol Championship, the Barracuda Championship and the Genesis Scottish Open.
A total of 75 DP World Tour members had access to the Barbasol and Barracuda Championships for the first time, while the Irish Open was also given a major boost, with its prize purse set to nearly double to $6million for its 2022 staging.
Most recently, on 6 February, a five-day hearing began in London to determine whether LIV Golf players could continue on the DP World Tour, with the outcome expected to be announced in the weeks to follow.
Does LIV Golf Get Official World Golf Ranking (OWGR) Points?
As it stands, LIV Golf does not award Official World Golf Ranking (OWGR) points for its events, but that's not for a lack of trying.
The Greg-Norman fronted venture submitted a formal application to the OWGR Board, which includes PGA Tour Commissioner Jay Monahan and DP World Tour CEO Keith Pelley, ahead of the 150th Open Championship at St Andrews.
On face value, one of the expected pushbacks was that the LIV Golf format remains at odds with certain qualifying criteria. Among others, there are no 36-hole cuts and the average field size is less than the 75 required.
The application received the support of the Asian Tour, which is of significance as all applications require a "nomination from an established full-member Tour."
Norman himself was said to be "growing impatient" at the "slow progress" since the application was submitted and subsequently entered into a strategic alliance with the Middle East and North Africa (MENA) Tour in the hope it would "immediately qualify" for ranking points. That however, was denied by the OWGR board on the grounds of "insufficient notice", saying that "only after the review is complete will a decision be made on awarding points to the MENA Tour's new "Limited Field Tournaments" [the LIV Golf Invitational Series]."
That decision was met with dismay by MENA Tour Commissioner David Spencer, who reasoned LIV Golf should be granted the status, saying: "None of this communication pointed towards any technical reason for the LIV Golf Invitational Bangkok to be treated any differently to any MENA Tour event, every one of which has received OWGR since we were accepted into the OWGR framework in 2016."
Prior, 50 LIV Golf players signed a letter addressed to OWGR chairman Peter Dawson urging a decision in LIV Golf's favour whilst Norman questioned the validity of the OWGR without the Saudi-backed venture being able to award its players points.
OWGR recognition is one of many subjects surrounding LIV Golf that has divided opinion. Graeme McDowell insisted LIV Golf player are "getting hurt the longer this game is played" whilst Viktor Hovland claimed "you can't just make up new rules as you go."
Meanwhile, as the impasse continues into 2023, several key figures in the game have called for the OWGR to be scrapped, claiming it has lost any credibility, while LIV Golf players continue to slide down the world rankings, leaving their futures in Majors in jeopardy - at least as time goes on.
Which Players Won't Be Playing In The LIV Golf League?
Despite the overwhelming amount of money on offer, many players have stated that they will remain with the PGA Tour. Tiger Woods said: "I've decided for myself that I'm supporting the PGA Tour. That's where my legacy is. I've been fortunate enough to have won 82 events on this Tour and 15 Major championships and been a part of the World Golf Championships, the start of them and the end of them. So I have an allegiance to the PGA Tour".
Four-time Major champion, Rory McIlroy, also agreed, with the Northern Irishman stating that the league is "nothing more than a money grab". His European counterpart, Jon Rahm, said: "I don't do this for the money. They throw numbers at you and that's supposed to impress people. I'm in this game for the love of golf and the love of the game and to become a champion."
Jordan Spieth, who is among the most popular players after he become the youngest player since Tiger Woods to win the Masters, said he is "supportive of and happy on the PGA Tour."
Collin Morikawa confirmed his future is with the PGA Tour, while Patrick Cantlay added that the chance to pick up a huge appearance fee for playing in the Saudi International was "very tempting" but he ultimately "wasn't swayed".
Former World No.1 Scottie Scheffler is another that has publicly distanced himself from the Series. The Masters champion said that playing in the venture is "definitely not" something "we" want the PGA Tour members to do.
PGA Champion Justin Thomas has reiterated his loyalty to the PGA Tour and has told prospective players to "go". Thomas also drew on comments and actions from the Tour's Commissioner: "I think Jay's made it very clear from the start of what would happen or, you know, I think a lot of people are probably like, 'I can't believe you did this' or, 'Wow, you went through with it'. But I mean this is what he said was going to happen all along," he said.
Outside of a playing capacity, Jack Nicklaus revealed in an interview with the Fire Pit Collective that he turned down "in excess of $100m" from the Saudis to do a job he described as "probably similar to the one Greg Norman is doing." Nicklaus said: "I turned it down. Once verbally, once in writing. I said, 'Guys, I have to stay with the PGA Tour. I helped start the PGA Tour.'"
Can The LIV Golf League Co-Exist With Other Circuits?
So, what's next? Well, if it's anything like the last few months, who knows?
What we do know is that the speculation is over and there is a Saudi-backed league muscling its way to the top of the game's eco-system - one that is holding events with extended plans into the future and plenty of financial backing.
The PGA Tour has responded with heavy sanctions and suspended those that have taken part. It has also promised suspend anyone that takes part in future; which will almost certainly be met with legal challenge.
The DP World Tour responded in a less severe manner when it suspended for the three events it co-sanctions with the PGA Tour. It also added a £100,000 financial penalty. A legal challenge temporarily resulted in the players favour but a full hearing is set to take place in February 2023.
Between the PGA Tour and LIV Golf Investments, one party insists that it is lawful in denying releases as per its regulations, whilst the other insists it is not lawful as the players are independent contractors with the legal right to play where they wish. Both believe they are right and both seem to have a legal basis; but of course, there can only be one 'winner'.
Reports had suggested the Major championships will look to ban LIV Golf players, although so far there is encouragement for the rebels, with the R&A, which governs the Open Championship, stating that "is not in their nature" and Augusta National allowing LIV Golf players to compete in the 2023 Masters.
While the Ryder Cup is yet to make an official statement, United States captain Zach Johnson dealt a blow to the LIV Golf players looking to take part. "In order to play on the Ryder Cup team whether you're top 6 or a pick, you must garner Ryder Cup points through the PGA of America. In order to garner Ryder Cup points through the PGA of America you have to be a member of the PGA of America. The way that we're members of the PGA of America is through the PGA Tour. I'll let you connect the dots from there."
On the opposite side of the Atlantic, Team Europe captain Luke Donald has also hinted that LIV Golf stars' Ryder Cup days are over.
We are still very much at the beginning but with the second season upon us, we have a small glimpse into the future of professional golf and can begin to ask ourselves the question - does LIV Golf compliment the current ecosystem that will ultimately satisfy the needs of both the player and spectator, or is this the beginning of an out-and-out rivalry with the intent to knock the PGA Tour off its perch? Time will tell.
Mike has over 25 years of experience in journalism, including writing on a range of sports throughout that time, such as golf, football and cricket. Now a freelance staff writer for Golf Monthly, he is dedicated to covering the game's most newsworthy stories.
He has written hundreds of articles on the game, from features offering insights into how members of the public can play some of the world's most revered courses, to breaking news stories affecting everything from the PGA Tour and LIV Golf to developmental Tours and the amateur game.
Mike grew up in East Yorkshire and began his career in journalism in 1997. He then moved to London in 2003 as his career flourished, and nowadays resides in New Brunswick, Canada, where he and his wife raise their young family less than a mile from his local course.
Kevin Cook's acclaimed 2007 biography, Tommy's Honour, about golf's founding father and son, remains one of his all-time favourite sports books.