New adidas Tour360 Golf Shoe Revealed
All the details on the new adidas shoe worn by Dustin Johnson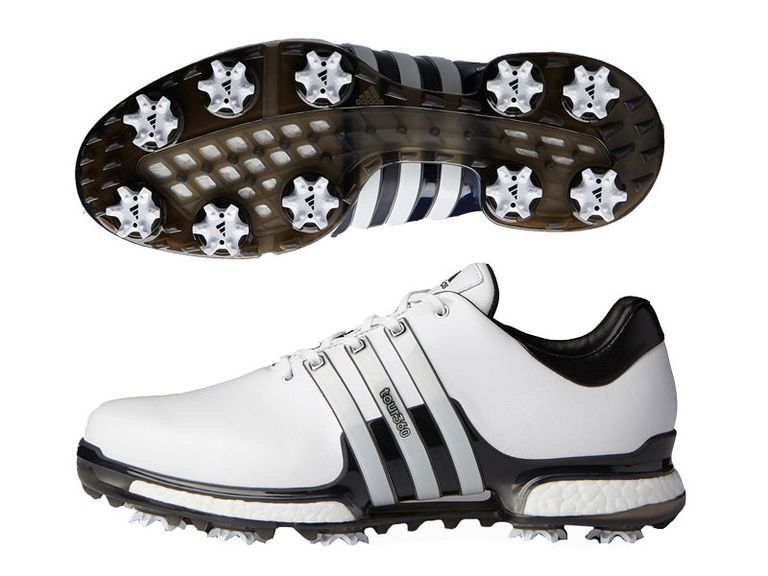 By Joel Tadman
New adidas Tour360 Golf Shoe Revealed - World No.1 Dustin Johnson's new shoe benefits from a raft of design updates that improve comfort and performance
New adidas Tour360 Golf Shoe Revealed
adidas Golf's most popular shoe on tour is getting an upgrade in the form of the new Tour360, which features design improvements to give golfers improved comfort coupled with enhanced grip and stability.
This new shoe was worn by Dustin Johnson when he won The Northern Trust Open, the first leg of the 2017 FedEx Cup playoffs.
An upgraded outsole top plate allows the shoe to accommodate the natural foot movement that occurs during the golf swing. Based on swing study testing and analysis, the plate wraps higher on the lateral side of the foot, but was designed to be soft enough to still provide stability as golfers transition their power in the follow through.
Related: Best Golf Shoes Of 2017
As an added measure of support, adidas used a proprietary Sprintskin technology on the inside of the upper lining of the shoe. This ultra-lightweight microfiber helps add additional support and stability in the upper section of the shoe.
The leather upper creates a traditional toe-down look that is visually free of distraction. The clean toe also helps add comfort while saving some weight in the shoe versus the centre toe seam used in the previous Tour360. This change came as a result of feedback from players like Johnson and Masters Champion Sergio Garcia.
The heel now features a more classic shape with premium leather throughout. By enveloping the heel with a premium leather lining, it adds comfort and durability and will keep golfers locked-in during the swing without sacrificing walking comfort.
adidas improved the TPU outsole by making the density of the material softer and more malleable, which is another component that contributes to added comfort and increased flexibility throughout the swing. Golfers should also find this help to decrease foot fatigue and make it more lightweight.
The new Tour360 will continue to benefit from Boost cushioning for comfort and will feature 10 CenTraXion and thintech cleats to offer improved stability and grip.
The Torsion Tunnel offers independent flexibility and control between the heel and forefoot. The new tongue along with the fitfoam GEO collar combine to offer added comfort on the top and around the foot.
The new Tour360 shoe will continue to feature a 2-year waterproof warranty and have an RRP of £149.95. It will be available from the start of October in three colourways. Additional colourways will become available in 2018.