Should You Use A Fat Grip On Your Putter?
Thick putter grips have soared in popularity over the past few years, but how do they work?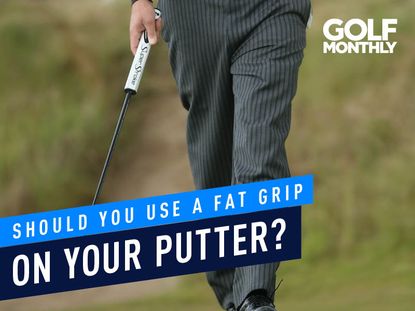 Thick putter grips have soared in popularity over the past few years thanks to the likes of Phil Mickelson, Sergio Garcia and Justin Rose all using them to win on tour,
Should You Use A Fat Grip On Your Putter?
Fat golf grips and grips with different designs have become all the rage these days as professionals look to find the perfect stroke for them. Additionally club golfers have looked at implementing this into their games.
But how do they actually help you hole more putts?
Should You Use A Fat Grip On Your Putter?
Well it's all to do with making your hands less active and getting your shoulders level at address.
One of the chief benefits is that your fingers don't wrap all the way round a thick putter grip and so naturally relax more than when using a traditional grip. This means they are far less likely to manipulate the face angle as you make your stroke, leading to better accuracy.
It's this benefit that has wooed the likes of Sergio Garcia, a notoriously nervy putter who has tried every style going, and it's this same benefit that will help any of you who struggle with putting yips, alignment on short putts or who regularly three putt.
How do I select a fat putter grip?
Before you make a change, it's worthwhile gathering some simple data so you can later evaluate whether or not switching to a thick putter grip has improved your stroke. So try noting down stats like putts per round, putts per green in regulation and average length of putts made.
Next you need to find a grip that has a shape and size that you find comfortable.
Don't rely on sizing charts alone or what tour players are using; trust your own judgement and go with what gives you the most confidence.
What about swing weight? Before you remove your current grip, measure your putter's swing weight. You can then make the necessary adjustments later on to get the swing weight back to your preference.
Now that you have your new grip, get out and practice with it. Once you're happy, start collecting some more data to find out if the new grip has made a positive difference to your game.
How do I use a fat putter grip?
With a conventional putter grip, your right hand sits below your left, causing a small shoulder tilt at address. This position can encourage the right hand to become more dominant and flick at the ball, and the left wrist to break down, both of which lead to missed putts.
One option with a thick putter grip is to hold the club with your thumbs side-by-side and your hands cupped at the back. This brings your shoulders paralel to the ground so you can then rock them back-and-through in the ideal pendulum motion for a more consistent action.
You can also implement other types of grip here such as Justin Rose using the claw grip on his fat grips.
Are there any drawbacks?
Thick putter grips are great for encouraging a smooth pendulum motion with a two-thumb grip, but on long putts and on slow greens you'll find this style of stroke requires a much longer swing.
Because a thick putter grip can reduce your feel during a longer stroke, you may find they're not ideal for the winter when the greens are slower, or if you leave yourself lots of long putts.
Don't forget to follow Golf Monthly on Facebook, Twitter and Instagram.
Jake O'Reilly specilaises in equipment coverage, and joined the Golf Monthly team in 2013. Before this he graduated from the University of Huddersfield with a Sports Journalism and Media degree, and worked at a number of British golf magazines. Follow Jake on Twitter
@jake0reilly