Best Golf Grip For Sweaty Hands 2023
Find out what grips you can reply on when things get a bit hot and sweaty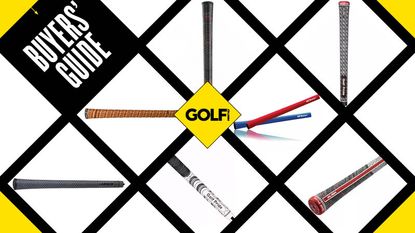 (Image credit: Golf Monthly)
Whether you are prone to sweating hands or you play a lot of your golf in some hot (or wet) climates, the last thing you want to be worrying about is your grips and whether they're going to let you down just at the wrong moment. Playing with wet hands can sometimes be a nightmare as it is all too easy to lose the grip on your club, forcing you to miss-hit your shot, or even worse, let go of the club entirely.
If you struggle to play golf with wet hands or suffer from sweaty palms, you may want to consider upgrading your current grips by looking at some of the offerings we have listed below. These grips all offer stable, tacky and firm grips on the club. They will give you peace of mind and could even give you a few extra yards. But if you're having issues with gripping your golf club, you may also want to think about checking out some of the best golf gloves for sweaty hands or our guide on the best golf grips (opens in new tab).
Best Golf Grip For Sweaty Hands
Why you can trust Golf Monthly Our expert reviewers spend hours testing and comparing products and services so you can choose the best for you. Find out more about how we test.
Specifications
Sizes: Undersize, standard, midsize, jumbo
Colors: 1
Reasons to buy
+
The tacky feel is outstanding
+
Grip can be fitted both ways
+
Oversized one great for arthritis
Reasons to avoid
-
These are so unique that they might not appeal when you first pick them up (but don't let that put you off)
First pick in this sweaty grips guide is the CPX from Golf Pride. It looks like it might be like a javelin in the wet, but it's anything but. The water seemed to wick any moisture away and I'd be far more confident if/when the heavens open with these than my previous, more corded grips. The new tech behind this includes the company's first-ever raised EXO diamond-quilted pattern. This soft and tacky material features a 45-degree pattern that has been inspired by the grips on BMX bikes.
So, with the elevation in design, it maximizes your contact area with the club. This is complemented with Golf Pride's Control Core technology which is located at the top of the grip where the greatest amount of swing pressure is received so you get the best of both worlds here; maximum softness and maximum control. Why not pair these up with one of the clubs on our list of best irons for low handicappers. (opens in new tab)
Superstroke Traxion Wrap Club Grip
Specifications
Sizes: Undersize, Standard, Midsize, Oversized
Colors: 4
Reasons to buy
+
Cool collection of colors
+
Durable
Reasons to avoid
-
Traditional look might not be for everyone
These are very cool looking and they offer four different colors including a retro brown. This polyurethane wrap-style grip is soft and tacky but not squishy. The X-shaped Traxion threads are placed around the grip to enhance feel and the feedback is great with some suggesting they've even picked up a few extra yards through a more even hand pressure. If you opt for the brown colorway above, you'll complete what is a very traditionalist look on this club that will provide superb traction and grip on the golf club. The other bonus is that it comes in four different sizes, making it perfect for golfers with big hands or golfers with small hands. Take a look at our guide on what size golf grip you should buy (opens in new tab) here.
Golf Pride ZGRIP ALIGN Grip
Specifications
Sizes : Standard. Midsize
Colors: 1
Reasons to buy
+
Brilliant all-rounder
+
Excellent moisture-wicking technology
+
Very cool pattern
Reasons to avoid
-
Two layers to help feedback may not be great for players looking for less vibrations
This comes in standard or midsize and is the firmest grip in the ALIGN family. It combines two layers of texturing for feedback and the ZGRIP is a deep Z'shaped texture pattern that winds vertically around the grip for control while a heavy cord helps with the much-needed moisture management, making it perfect for players with sweaty hands. As for its aesthetics, it's a great-looking grip with a white end cap and white paint body fill which will grab the eye of most golfers.
Iomic Sticky 2.3 Grip
Reasons to buy
+
Super sticky, as it sounds
+
Vibrant color options
+
Excellent for wet weather golf
Reasons to avoid
-
Not so good for golfers with big hands
These are waterproof so they don't soak up water in wet weather or when your hands become too sweaty. But if you're planning on playing a lot of wet weather golf, you should take a look at our guide on the best golf waterproofs (opens in new tab). There is also a particularly low torque or twisting with this grip so you won't struggle to square the club face. These were developed in Japan and therefore designed for Asian golfers who have smaller hands, the 2.3 was brought out to meet the European demand and is simply a standard size.
Reasons to buy
+
Soft but tacky feel
+
Good for golfers who don't wear a glove
+
Promotes improved clubface control
An industry pioneer, Lamkin enjoyed a close association with Arnold Palmer, and it continues to be an innovative leader in golf grips to this day. The Sonar+ Tour Calibrate Grip is packed with heaps of technology. It The Calibrate is a pronounced reminder strip to promote better hand placement, clubface awareness, feel, and results. So, rather than a round grip, there is a strip on the underside of the grip that it puts the hands in the right place. Combine that with one of our best irons for high-handicappers (opens in new tab) and you'll have a very forgiving club that will help you play more consistent shots.
Specifications
Sizes: 1
Colors : 2 (Red/White/Black; Green/White/Black)
Reasons to buy
+
Great for control
+
Looks excellent
+
Perfect for wet weather golf
Reasons to avoid
-
Not the best for low-handicap golfers
This is a similarly excellent offering for when your hands are clammy or wet. The beauty of the ridge is that you probably won't even notice it and it will certainly get you into some better habits and, when it does start raining, then you will have a much more secure hold on the club. The all-weather control comes from having a brushed cotton cord in the upper hand to wick away any sweat or moisture.
Lamkin UTx Grip
Specifications
Sizes: Standard. midsze
Colors: 1
Reasons to buy
+
Brilliant traction
+
Sleek black look
+
Durable
Reasons to avoid
-
Not great for golfers who prefer a natural feel on their shots
On the Lamkin website there is an equally useful grip selector questionnaire - do you play in mostly dry or wet conditions, soft or firm grips, swing speed, less or more tacky, lower or higher surface traction? Alternatively, click on 'Grips' and you can see which grips tick the 'most tacky' box.
The Lamkin UTX scores brilliantly for tackiness and traction. This combines that tacky feel with cord and allows you to have a softer bottom layer, made from an ACE compound for enhanced comfort and feel, while the top layer mixes in the cord which gives you more stability. With that much stability and grip, you may want to think about pairing it with one of the clubs on our list of the most forgiving drivers (opens in new tab).
Winn Dri-Tac 2.0 Grip
Specifications
Sizes: Midsize, standard, ladies and oversize
Colors: 1
Reasons to buy
+
Premium polymer material
+
Soft to your hands
+
Perfect for wet weather conditions
This comes in midsize, standard, ladies and oversize so you should be catered for. This is the next generation of Dri-Tac grips and the technology is based on being the first manufacturer to bring premium polymer grips into the game. Winn invented multiple polymer compounds that are slip-resistant in every weather - this, they say, is the 'perfect grip for keeping your hands dry during all-weather play'. For more golf gear for wet weather play, take a look at our list of the best waterproof jackets you can buy right now (opens in new tab).
Lamkin Crossline Full Cord Grip
Reasons to buy
+
Good for high swing speeds
+
Works good also as a driver grip
+
Great for people with sweaty hands
This scores full points for feel, high swing speeds, playing in wet weather and traction. This is a big favorite in the Lamkin range and is their best-selling Crossline pattern – it features a full-cord coverage and the firmer material limits torsion at impact. This is made from a highly synthetic rubber compound that will last you for years.
How we test golf grips
When it comes to product testing, our reviews and buyers' guides are built upon a rigorous testing procedure as well as the knowledge and experience of the test team. Product reviews are headed up by Golf Monthly's Technical Editor Joel Tadman (opens in new tab), who has 12 years of experience in the industry and is currently playing with a set of TaylorMade P770 irons.
Other members of the Golf Monthly team contribute to club grip testing too. All of our writers are able to efficiently test the vast majority of the biggest product releases while conveying the pros and cons of each item eloquently. Getting into specifics, we test club grips outdoors on premium golf clubs, to get a thorough understanding on the design features, feel and grip each item offers.
Ultimately, we aim to be as insightful and honest as possible in our reviews, so it is important to acknowledge that no manufacturer can buy a good review. This is because our team tells it how it is. To learn more about our methodology, see how Golf Monthly tests products (opens in new tab) in our guide.
What to consider when buying a golf grip
Your grip is one of the most important things to get right when picking out a new golf club or if you're looking to upgrade your current clubs. It acts as the point of contact between you and the club and gives you the traction you need on the club shaft to keep the clubface open through impact. With the wrong grip or one with minimal tackiness, you'll struggle to swing through the ball and keep your shot on line. For that reason, having the right grip on your irons, fairway woods, hybrids and driver can seriously help you play better shots and ultimately take shots off your round.
As there are many different types of grip available, golfers can be overwhelmed by the amount of choice they have when picking the right grip for them. Don't fret, though, as we have set out below a list of things to consider when you're purchasing a new club grip.
Size
The first thing to think about is how big your hands are. You'll want to do some research on what the ideal corresponding grip size would be for your hands. As we explain in our guide on how to get the right grip size for your hands (opens in new tab), the wrong grip size can stop your hands from working properly on the club. Different grip manufacturers use different measurements when designing their club grips, with some, like Ping, basing their grip sizes around two key hand measurements. One is the distance between the most prominent wrist crease on your hand to the tip of your middle finger. The other is the length of that longest finger alone. Ultimately the best thing is to take both measurements and pick the club grip that corresponds to that size.
Different grip manufacturers also design their grips in different shapes too. Generally, golf grips come in three different kinds; round grips, ribbed grips or alignment grips. Most golfers will have played with a round grip before, as they are the most common grip you are likely to find on a golf club. If you're planning on putting your golf grips on yourself, round grips are perhaps the easiest to apply as they require little alignment because their circular shape means they have the same diameter all the way around.
Ribbed grips, also known as reminder grips, help golfers keep their hands set at the same position each time they grasp the club. They feature an internal ridge or rib that runs along the spine of the shaft, which helps players feel the bottom of the club grip, so they know where to place their hands for each shot. Alignment grips, also known as calibrated grips, are a more comprehensive version of the ribbed grip that provides golfers with a wider, more prominent rib on the grip to help players better locate where to set their hands on the club. Depending on your abilities as a golfer, the shape of the grip can play an essential part in how well you play your shots.
Tackiness
Having a tacky grip on your clubs is another crucial factor that all players should consider when purchasing a new set of irons, fairway wood, hybrid or driver. The better the grip, the more you can relax your hands when holding the club. The better the grip, the more you can relax your hands when holding the club. That can allow golfers to use their shoulders and arms to create a better more controlled and fluid stroke. Golfers are taught to have a relaxed grip on the club, so the tackier the grip, the better as that can improve how you swing through the ball.
Feel
Similar to when picking the iron or driver that is right for you, you're going to want to factor in how that club feels on impact. The same goes for when you're trialing different grips. You'll want to pick the grip that gives you the best responsivity, control and overall feel as you hit through the ball. Again that is subjective from golfer to golfer. For example, some players like to feel more vibrations coming up the club, while others would prefer that sensation to be dampened. Depending on what works best for you, trying out different types of grip can help you discover the best one for your needs as a golfer. So head down to your local club shop to try out more.
Moisture management
While feel and tackiness are significant factors to consider when picking a golf club grip, moisture management is something that many golfers forget about. Even if you don't get sweaty hands when playing golf, you're not always going to be playing golf in 30º of sunshine. The elements can change quickly on the course and for that reason, getting the grip that provides optimum moisture management will be vital in helping you hit sweeter, longer golf shots. Plus, if you suffer from sweaty hands, it is vital to get a tacky club grip, as even though your hands will be slippy, there is a greater chance of you swinging through the ball with a controlled stroke if your club grip is tacky enough to keep your hands in place.
Style
Style might interestingly be one of the most crucial things to consider when purchasing a new club grip. As golf is primarily a mental game, looking good on the course means feeling good. And if you're feeling good, then you are inevitably going to be higher in confidence. For example, standing over the ball while holding a club that looks the part, and makes you feel confident, can go a long way in helping you hit more consistent shots and reduce your scores. For that reason, pick a grip that not only feels good but looks good too.
If you're currently in the process of re-gripping a variety of clubs, why not check out our guides on the best golf grips for drivers (opens in new tab), best golf grips for irons (opens in new tab) and the best golf grips for putters (opens in new tab).
FAQs
What size golf club grip do I need?
Depending on the size of your hands, different golfers will suit various grip sizes. First, you should start by measuring the size of your hand by measuring the distance between the most prominent crease on your hand and your middle finger. Once you have that measurement, you should pick the corresponding grip size
1. Crease to fingertip: 0"-5" - Grip size: Small
2. Crease to fingertip: 5" to 6.5" - Grip size: Undersize
3. Crease to fingertip: 6.6" to 7.5" - Grip size: Small
4. Crease to fingertip: 7.6" to 9" - Grip size: Midsize
5. Crease to fingertip: 9.1" to 10" - Grip size: Large
How do I choose the right golf grip?
There are several factors to consider when choosing the correct golf grip for you. These include the size, the shape, the tackiness and the moisture-wicking properties of the grip. The only way to get a feel of which is the right golf grip for your game, though, is by trialing various golf grips at your local pro shop.
Are thicker golf grips better?
That depends on your skill level as a golfer and how you play your shots. For those players looking to improve on their swing, thicker grips can help you eliminate movement in your hands and stop you from pushing or pulling too much in your swing. Thicker grips can generally mitigate hand movement through impact, allowing players to generate a more fluid pendulum stroke.
Mark has worked in golf for over 20 years having started off his journalistic life at the Press Association and BBC Sport before moving to Sky Sports where he became their golf editor on skysports.com. He then worked at National Club Golfer and Lady Golfer where he was the deputy editor and he has interviewed many of the leading names in the game, both male and female, ghosted columns for the likes of Robert Rock, Charley Hull and Dame Laura Davies, as well as playing the vast majority of our Top 100 GB&I courses. He loves links golf with a particular love of Royal Dornoch and Kingsbarns. He is now a freelance, also working for the PGA and Robert Rock. Loves tour golf, both men and women and he remains the long-standing owner of an horrific short game. He plays at Moortown with a handicap of 6.