Best Sunscreen For Golf 2023
Our guide to the best sunscreen for golf covers creams and sprays that offer convenient protection when playing in the sunshine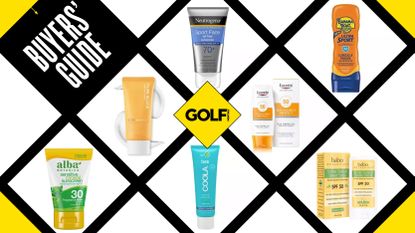 (Image credit: Golf Monthly)
Get the Golf Monthly Newsletter
Thank you for signing up to Golf Monthly. You will receive a verification email shortly.
There was a problem. Please refresh the page and try again.
Best Sunscreen For Golf
A good sunscreen is the most important item in your golf bag and is even more crucial than your driver or favorite putter. True, sunscreen won't help you play better golf, but sometimes the best golf accessories aren't about the swing. Sunscreen is so important because it protects your skin - and your health is what really matters. Read why golfers need to wear sunscreen if you're still skeptical.
It's probably fair to say, lots of golfers don't apply sunscreen in fear of getting a greasy grip. But plenty of the best sunscreens for golf won't cause you any issues in that department. Roll-ons are popular, too, although it doesn't mean sprays aren't effective - just avoid getting sunscreen in your eyes and nose, as this can be extremely uncomfortable. So, without further ado, here is our rundown of the best sunscreens for golf. For other protective equipment, why not also take a look at our best golf sunglasses guide, our best golf hats guide and our best golf umbrellas guide.
Best Sunscreen For Golf
Why you can trust Golf Monthly Our expert reviewers spend hours testing and comparing products and services so you can choose the best for you. Find out more about how we test.
How we test sunscreen
Here at Golf Monthly, we employ a rigorous testing procedure when reviewing any product on our website. All of our writers are experienced golfers who know and understand how to use golf equipment and can ably analyse the benefits and drawbacks of any golf product. Essentially, we look to test gear to help you make the most informed decision when purchasing a set of clubs or a pair of golf shoes. Specifically, when it comes to testing the best sunscreen for golf, we look to test each product in a variety of conditions from rainy days to sunny days out on the course to see how we found using each cream. We assess everything from the feel of the sunscreen to how easy it was to apply. It is important to note that no manufacturer can buy a good review.
What to consider when purchasing sunscreen
As sunscreen is one of the most important pieces of equipment to carry out on the course, it is wise to think about which one is right for you. That can sometimes be an overwhelming decision as there area many different types of sunscreen on the market that offer different types of protection. So what should you look out for when purchasing your next bottle of sunscreen for the course? Well, take a look at our handy list of tips below that will help you make the most informed choice.
1. Moisturizer and anti-oxidants
Many of the best suncreams on the market contain a variety of minerals and botanical ingredients that will help keep your face feeling fresh and moisturized on the course. That is a huge bonus of any cream and is something you should certainly look out for if you plan on spending a lot of time under the hot sun. Moisturizers can keep your face feeling smooth and supple after you've come away from the course too!
2. SPF rating
Now this is often subject from person to person. But no matter who you are you need to make sure you're getting the right SPF for you. This is the protective rating of the sunscreen, with higher SPFs lasting longer and giving greater protection from the sun. If you're someone with quite delicate skin, it is recommended you purchase a sunscreen with a higher SPF rating.
3. Feel
It's also best to avoid sunscreen that does not contain any oils, parabens or anything that would make it feel sticky or slippery on your hands. Look out for roll-on sunscreens or those that are non-greasy, as slippery hands are a golfer's worst nightmare.
4. Water resistance
As you never know when the heavens might open on the course, right? Sometimes too you can get a little sweaty on a hot day, so make sure to buy a sunscreen that offers adequate waterproof protection in order to ensure the layer of cream you have applied does not rub off.
5. Weight
One thing to keep in mind is not to buy a big bottle of sunscreen. The smaller the better, as this will be getting stashed in your golf bag and you don't want it to A) explode; or B) weigh your bag down unnecessarily.
It's also very important to stay hydrated when you're on the course so why not take a look at some of our guides on the best golf water bottles, best golf mugs and best golf hip flasks.
FAQs
Should golfers wear sunscreen?
Golf is an outdoor sport that people are more inclined to play on sunny days - so the risk factor is high. Most skin cancers are caused by exposure to the sun, and over the last 30 years melanoma rates have doubled in the UK. Despite the alarming numbers, recent research conducted by SMS on behalf of the Melanoma Fund found that only 42 per cent of surveyed golfers use sunscreen when the weather demands it. And a staggering 30 per cent admitted that they actively avoid sun protection in favour of a tan.
How do you protect yourself from the sun in golf?
Apply sunscreen 20 minutes before you go out and play and then once again every two hours. Shade and clothing are better than sunscreen at protecting your skin, especially those items with UPF sun protection threaded into the fabric. So in addition to using sunscreen, wear a had with a wide brim, sunglasses, long sleeves and try and schedule an early or late tee time to avoid the sun when it is at its harshest.
How often should I apply suscreen on the golf course?
Generally, you should apply sunscreen as regularly as possible when you're playing golf. While this may make your hands a little more slippery, it is very wise to ensure you're well protected from the UV rays of the sun.
Get the Golf Monthly Newsletter
Tips on how to play better, latest equipment reviews, interviews with the biggest names and more.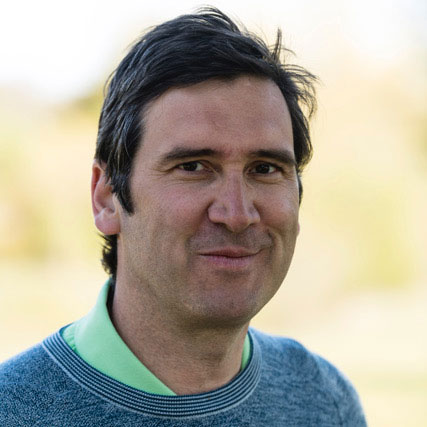 Mark has worked in golf for over 20 years having started off his journalistic life at the Press Association and BBC Sport before moving to Sky Sports where he became their golf editor on skysports.com. He then worked at National Club Golfer and Lady Golfer where he was the deputy editor and he has interviewed many of the leading names in the game, both male and female, ghosted columns for the likes of Robert Rock, Charley Hull and Dame Laura Davies, as well as playing the vast majority of our Top 100 GB&I courses. He loves links golf with a particular love of Royal Dornoch and Kingsbarns. He is now a freelance, also working for the PGA and Robert Rock. Loves tour golf, both men and women and he remains the long-standing owner of an horrific short game. He plays at Moortown with a handicap of 6.