Best Sunscreen For Golf 2022
Our guide to the best sunscreen for golf covers creams and sprays that offer convenient protection when playing in the sunshine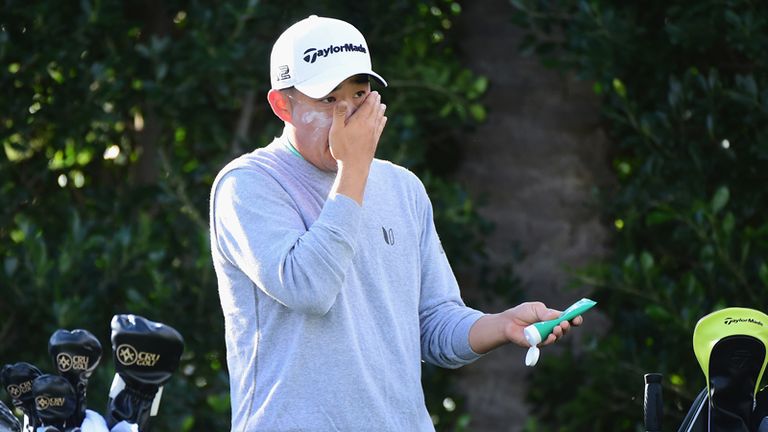 (Image credit: Getty Images)
Golf Monthly Newsletter
Golf tips and expert instruction, golf club reviews and the latest golf equipment.
Thank you for signing up to Golf Monthly. You will receive a verification email shortly.
There was a problem. Please refresh the page and try again.
Best Sunscreen For Golf
A good sunscreen is the most important item in your golf bag - even more crucial than your driver or favourite putter. True, sunscreen won't help you play better golf, but sometimes the best golf accessories (opens in new tab) aren't about the swing. Sunscreen is so important because it will protect your skin - and your health is what really matters - read Why Golfers Need To Wear Sunscreen if you're still skeptical.
It's probably fair to say, lots of golfers don't apply sunscreen for fear of getting a greasy grip - but plenty of the best sunscreens for golf won't cause you any issues in that department. Roll ons are popular, too, although it doesn't mean sprays aren't effective - just avoid getting sunscreen in your eyes and nose, as this can be extremely uncomfortable. So, here is our rundown of the best sunscreen for golf.
Alba Botanica Sunscreen SPF 30
This non-greasy, botanically moisturising lotion, made with mineral sunscreen ingredients as well as aloe vera and chamomile extract, will provide super protection, even for those with really sensitive skin.
COOLA Mineral Face Matte Sunscreen SPF 30
All products within the COOLA range are crafted with at least 70 per cent certified organic ingredients. There are plenty of tropical scents to choose from, and given we can work up quite a sweat in the heat of battle, this is not to be sniffed at - excuse the pun.
Supergoop! Matte Screen Sunscreen SPF 40
One of the brand's best-sellers, this 100 per cent mineral matte screen acts as a 'mattifying, make-up gripping primer'. In other words, it provides super defence from UV rays, as well as giving your skin a smooth and even look - because it's important to look good on the course, too.
All Good Mineral Sport Sunscreen SPF 30
Made from a reef safe blend of zinc oxide and botanical ingredients, this sunscreen is easy to rub in thanks to a blend of organic coconut oil, jojoba oil and shea butter. It sounds good enough to eat - but don't do that, of course. Instead, apply it 15-20 minutes before you tee off and pop the little tube in your bag to reapply once every two hours - which is the general recommendation.
Neutrogena Sport Face Sunscreen SPF#70+
Oil-free and non-greasy, there's no danger of losing your golf grip with this sunscreen. It's water resistant, too, handy if you want to dive into the pool straight after your round. And it's fragrance free - although who doesn't like the smell of sunscreen?
Sun Bum Mineral Sunscreen Lip Balm SPF 30
Sun Bum offers a wide range of excellent sunscreen products - but they're not just on the list for the attention-grabbing name and funky logo. Your lips are really sensitive, yet golfers tend to forget to apply sunscreen to this area of the body. Whether you live on the beach or the golf course, you can, as the brand says, "Trust the Bum".
Thinksport Sunscreen SPF 50+
You want to avoid chemical sunscreens with harmful ingredients such as homosalate and oxybenzone. This is another mineral-based sunscreen that uses natural zinc oxide, plus it contains a range of botanical ingredients to protect your skin from sunburn. Not only that, it will help protect your skin from premature ageing, which should especially appeal to those who spend many a long day out on the baking hot fairways.
Babo Botanicals Super Shield Sunscreen Sport Stick SPF 50
You can't go wrong with a 'Super Shield'. Babo products may originally have been created with babies and children in mind, but the brand has grown, and offers a range of products for the whole family. This award-winning sunscreen contains no oxybenzone or octinoxate. Just shake well and apply liberally 15 minutes before you head out.
EltaMD UV Pure Broad-Spectrum Sunscreen SPF 47
Sensitivity-free, fragrance-free, paraben-free, oil-free, dye-free, hormone-free, gluten-free and noncomedogenic - so all the boxes ticked. It glides on the skin, rubs in quickly, and its' easy to reapply - which should be done at least every two hours.
Badger Broad Spectrum SPF 30
The badger uses a mineral-rich formula with a zinc oxide base to protect the flesh. It might have a cute animal logo, but it's an effective sunscreen for the whole family, not just the little golfers out there with super sensitive skin.
FAQs
Should golfers wear sunscreen?
Golf is an outdoor sport that people are more inclined to play on sunny days - so the risk factor is high. Most skin cancers are caused by exposure to the sun, and over the last 30 years melanoma rates have doubled in the UK. Despite the alarming numbers, recent research conducted by SMS on behalf of the Melanoma Fund (opens in new tab) found that only 42 per cent of surveyed golfers use sunscreen when the weather demands it. And a staggering 30 per cent admitted that they actively avoid sun protection in favour of a tan.
How do you protect yourself from the sun in golf?
Apply sunscreen 20 minutes before you go out and play and then once again every two hours. Shade and clothing are better than sunscreen at protecting your skin, especially those items with UPF sun protection threaded into the fabric. So in addition to using sunscreen, wear a had with a wide brim, sunglasses, long sleeves and try and schedule an early or late tee time to avoid the sun when it is at its harshest.
Mark has worked in golf for over 20 years having started off his journalistic life at the Press Association and BBC Sport before moving to Sky Sports where he became their golf editor on skysports.com. He then worked at National Club Golfer and Lady Golfer where he was the deputy editor and he has interviewed many of the leading names in the game, both male and female, ghosted columns for the likes of Robert Rock, Charley Hull and Dame Laura Davies, as well as playing the vast majority of our Top 100 GB&I courses. He loves links golf with a particular love of Royal Dornoch and Kingsbarns. He is now a freelance, also working for the PGA and Robert Rock. Loves tour golf, both men and women and he remains the long-standing owner of an horrific short game. He plays at Moortown with a handicap of 6.