Best Golf Cooler Bag 2023
We take a look at the best golf cooler bags that are going to keep you hydrated and in good spirits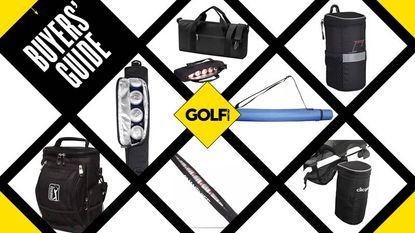 (Image credit: Golf Monthly)
Most of us have to wait until we get to the halfway hut before we can treat ourselves to a cold one or, if you're lucky enough to live somewhere hot or play somewhere nice, then you might be fortunate to have someone coming round on a cart. Either way it's not always ideal if you fancy a few drinks. It's a lovely summer's day, you've left the car at home and you're out with your friends and fancy a drink but don't want to stuff an already over-full golf bag with a few cans. A) there's no room and b) your drinks are going to be warm by the time you crack them open.
Well, there is one solution that comes to mind and it comes in the form of one of the best golf accessories (opens in new tab) ever invented. Of course, we're talking about the golf cooler bag. These are a fantastic invention that can keep any drinks or snacks you want to take with you on the course cool. Likewise, cooler bags don't just have to be used when playing golf. They can also be used for picnics, days out at the beach, or even if you're heading out on a long hike. There are many different kinds of golf drinks coolers available on the market, each offering golfers with a portable, ergonomic way to keep your drinks and snacks cool on the course. Take a look at some of the best drinks coolers you can currently purchase in our list below. And if you're looking for a bag to carry them in, why not also check out our guides to the best golf stand bags (opens in new tab), the best golf trolley bags (opens in new tab) and the best waterproof golf bags. (opens in new tab)
Best Golf Cooler Bag
Why you can trust Golf Monthly Our expert reviewers spend hours testing and comparing products and services so you can choose the best for you. Find out more about how we test.
Callaway Clubhouse Cooler Bag 2022
Reasons to buy
+
Top quality cooler bag
+
Can carry 18 cans
+
Cool design
Reasons to avoid
-
Quite a large cooler bag
The Callaway Clubhouse Collection Large Cooler Bag can carry a large number of cans, 18 to be exact, and is an excellent quality bag you can use to carry snacks and drinks on your round. It comes with several internal dividers, a zipper closure and a seam-sealed thermal lining that helps to keep your beverages nice and cold during the round. While it is a slightly larger bag, you can easily store this on a trolley or on the back of a buggy. You could even pair it up nicely with one of the fine stand-up golf bags available in the Callaway range (opens in new tab).
Coospy Golf Cooler Bag
Reasons to buy
+
Fits six cans
+
Easy to carry
+
Looks great
Reasons to avoid
-
Slightly larger than most other bags on this list
An excellent-looking cooler bag that has a durable zip and excellent leak-proof technologies that stops drinks from being spilled in the bag. It's lightweight and can fit in six cans or, if your tipple is wine, then a couple of bottles of vino. It's durable and can be folded down to next to nothing for travel purposes. And it's made with a layer of insulation so your drinks will be kept cold throughout your round.
Big Max Cooler Bag
Reasons to buy
+
Can carry a lot of cans
+
Easy to access drinks
Reasons to avoid
-
Can only be used on a trolley
A very ergonomic cooler bag, that you can easily attach to your trolley giving you easy access to your drinks and snacks. This back has a hook-and-loop fastener so you can easily attach this cooler to your trolley and it won't get in the way. There's plenty of room for all your refreshments and they'll be kept cool for hours and it comes with a two-way zip for ease of use. Why not pair this bag up with one of the trolleys on our list of the best electric golf trolleys (opens in new tab) currently on the market.
Dzine Travel Golf Cooler Bag
Reasons to buy
+
Easy to carry over shoulder
+
Could be slotted into a club divider if wide enough
Reasons to avoid
-
Tubular shape may not be for everyone
This is a very easy-to-carry cooler that can attach to a trolley or simply sling it across your bag via an adjustable shoulder strap. It holds up to six cans and has a dual zip opening, including a top zip so you can just grab your drink quickly and the blue colorway adds a bit of dash to the usual black offerings. It also features an easy-to-clean fabric which is a great addition if a can explodes in the bag. You may also be able to fit a drinks bottle (opens in new tab) into this cooler, making it a great bag not just for your beers.
7-Can Golf Cooler Bag
Reasons to buy
+
Can fit nicely in your bag
+
Keeps drinks cool for longer than a full round
+
Can house up to seven drinks
Reasons to avoid
-
Not easy to carry on its own
This is insulated and waterproof and will keep your drinks cold for 4-6 hours which is plenty of time during a round of golf. It has plenty of capacity, holding seven 12-ounce cans and it can easily fit in your bag when you move a couple of clubs around. And it zips open and shut easily, can be carried around on its own or simply hooked onto your trolley. Adding this additional weight onto your trolley may require you to work a lot harder if you use a push trolley, so if you're thinking about using this, you may want to purchase an electronic golf caddie. (opens in new tab)
PGA Tour Golf Cooler Bag
Reasons to buy
+
Inspired by the PGA Tour
+
Fits 12 cans
+
Perfect for the back of a buggy
Reasons to avoid
-
Quite a clunky cooler bag
-
Not the best to fit in your bag
This insulated cooler holds up to 12 cans with space for extra ice so it should serve the needs for a big group of players and is perfect to throw in the back of a buggy. It has two zippered pockets, a large one at the front and a smaller one on its side so there's space also for valuables and other essentials. It can also be clipped to your trolley, but as it will be heavy when full it is best used with a remote golf trolley. (opens in new tab)
Dofilachy Golf Cooler Bag
Reasons to buy
+
Easy to carry straps
+
Slender cooler fits nicely in bag
Reasons to avoid
-
The size of this bag means it can be quite clunky
This has a heavy-duty handle and adjustable shoulder strap that makes this very easy to carry and is made from the highly durable Oxford fabric so it will last for years. This cooler can hold two bottles of wine or at least six cans of beer and there is a small outside pocket to look after your bottle opener or any other snacks. If you participate or organize golf society days, this would be a great prize for any winner or runner-up (opens in new tab).
Clicgear Golf Cooler Bag
Reasons to buy
+
Clips nicely onto your trolley handle
+
Keeps drinks cool and warm
+
Easy to access
This is a much smaller cooler than some of the previous offerings on this list and attaches onto your trolley giving you easy access to a cold water bottle. It has a zip opening and a small outside pocket to keep a scorecard or the like. This can house two cans or a 32oz water bottle and it's made from waterproof nylon making it a great accessory for wet weather golf. Pair it with one of the best waterproof bags (opens in new tab) and you'll be able to keep all your equipment dry during your round.
Sun Mountain Golf Cooler Bag
Reasons to buy
+
Easily accessible
+
Attaches to your trolley
+
Great cooler to keep everything in your bag cold or hot
This cooler tube attaches to your trolley and is fully insulated to keep everything cold or hot. It has a single-zip top opener and can accommodate two cans or a one-liter bottle which you can access easily through the cooler's zip. It also has two mesh side compartments for any smaller belongings like tees or balls and is a very durable option that comes from the very reliable Sun Mountain brand, which makes some of the best bags (opens in new tab) in golf.
Jef World Of Golf Cooler Bag
Reasons to buy
+
Choice of colors
+
Holds six cans
+
Clips to the outside of your bag
You actually have a choice of colors with this product, which comes in red, black, blue or grey. It holds six cans and clips/hangs onto the side of your bag alongside the larger pocket on your stand/cart bag. This ticks a lot of boxes; has a detachable shoulder strap, is insulated and you should be able to match it to your bag. For examples of some of the best golf bags on the market, take a look at our guide on the best tour golf bags (opens in new tab).
How we test golf accessories
At Golf Monthly we test all golf gear with the same ethos; testing products properly and extensively to see if they are actually worth buying and then passing on our findings to you, the reader. That way, we can produce extensive reviews that help you make an informed decision on whether to buy a certain piece of equipment.
The Golf Monthly team are all regular golfers and with decades of experience, we look to understand new technology and design features on products. The best way of doing this is by simply using them regularly, especially when it comes to golf accessories. Take a look at our testing methodology (opens in new tab) if you want to find out more about how we test products out over a number of rounds.
What to consider when purchasing a golf cooler bag
Golf drinks coolers are a very handy piece of equipment to have on the course. Particularly if you fancy a few beers during your round, carrying around a cooler with a few cans in it can certainly make your round more enjoyable. But what should you consider when purchasing a new golf drinks cooler bag? Take a look at our pointers below.
1. Size
Different coolers come in different sizes, the majority of drinks coolers can house around six or seven cans, but you can buy smaller or even larger cooler bags as you will see on this list. Size in this case ultimately depends on your personal preferences. Are you going to be playing with a few friends and sharing a few drinks out during your round? Or are you going out alone and just want to take a can of soda with you during your round? Think carefully about your needs before you purchase your bag.
2. Features
Similarly, what are you going to be storing in this bag and what features do you want it to have? Do you want extra pockets to house a couple of bottle openers? Or are you looking for a bag that can store snacks as well as drinks? These are all factors to consider when purchasing a golf cooler bag.
3. How you're going to carry the bag
This is where you might want to consider the shape of the cooler bag. They come in a variety of sizes and shapes and that can alter how you carry each bag. Some are flat and can be tucked neatly into the larger pocket on your golf stand bag (opens in new tab) while others can be clipped onto the back of your electric push cart (opens in new tab). Think about how you will carry the trolley and make your selection on that basis.
4. Ease of access
No one likes faffing around on the golf course and as I'm sure you all know, equipment that makes your round much more efficient can help you have a much more enjoyable time on the golf course. Ultimately, you don't want to be faffing around trying to dig a can of soda or a beer out from your cooler that is tucked away at the bottom of your bag. For that reason, you're going to want to get a cooler that you can easily get access to, unzip and grab a cold one from.
5. How easy the bag is to clean
Spillages happen. Particularly if you're on the course and are moving around a lot, there is a good chance that a drink can fizz up and explode in your bag. Sometimes it can be a nightmare cleaning fabric materials, so to avoid the pain of having to spend hours cleaning your cooler, get a cooler bag that can be cleaned easily.
While you're in the market for a new cooler bag, why not check out some of the other cool accessories we have reviewed (opens in new tab), some of the cool accessories you can attach to your trolley (opens in new tab), or perhaps some of the best golf drinks bottles and mugs (opens in new tab) on the market.
FAQs
Can you bring your own drinks on the golf course?
That depends on the club you're playing at. Some clubs can ban players from bringing alcohol or drinks on to the course, so it is best to check whether you are allowed to do so before turning up with a full cooler of drinks.
How do you keep drinks cold inside a golf cooler bag?
Normally, most golf cooler bags are insulated so that if you put a cold drink inside a cooler bag, the bag will keep your drinks cool.
Can you store a cooler bag in your stand bag?
Yes, a lot of golf cooler bags are designed to be inserted inside your golf stand bag. Depending on the shape of the cooler, you can get drinks coolers that can be placed inside the larger pockets of your bag or even inside one of your club dividers.
Mark has worked in golf for over 20 years having started off his journalistic life at the Press Association and BBC Sport before moving to Sky Sports where he became their golf editor on skysports.com. He then worked at National Club Golfer and Lady Golfer where he was the deputy editor and he has interviewed many of the leading names in the game, both male and female, ghosted columns for the likes of Robert Rock, Charley Hull and Dame Laura Davies, as well as playing the vast majority of our Top 100 GB&I courses. He loves links golf with a particular love of Royal Dornoch and Kingsbarns. He is now a freelance, also working for the PGA and Robert Rock. Loves tour golf, both men and women and he remains the long-standing owner of an horrific short game. He plays at Moortown with a handicap of 6.