Best Driving Irons 2023
The best driving irons to give you a solid, straight and long, go-to option from the tee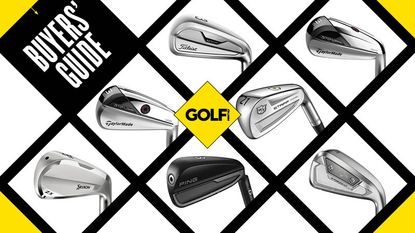 (Image credit: Golf Monthly)
Best Driving Irons
Getting the best golf irons for your game is imperative if you want to shoot lower scores and we think the same can be said of getting the right bag setup too. It seems many players just plump for a three-wood, five-wood configuration without thinking about the possibility of using a utility or driving iron which we think is a possible mistake.
The best driving irons can help you to find more fairways (opens in new tab), avoid disasters and produce lower scores. Finding the right "go-to" fairway-finding club could give you great confidence, help you to relax and enjoy your game. For many golfers, the tee shot is the most daunting in golf and that feeling is exacerbated when facing a narrow fairway or a hole where trouble lurks on either side.
On those tee boxes, driver (opens in new tab) may well not be the right play. Even a fairway metal might be too much of a risk. When you absolutely must find the fairway, and gain a little distance to boot, the driving iron can be your saviour. Bearing this in mind, below are some of the best driving irons on the market that you should definitely consider adding to your setup. We recommend taking a look at our guides on the best golf hybrid clubs (opens in new tab) currently on the market or the best golf irons (opens in new tab). We have also produced a guide on the best utility irons golf clubs (opens in new tab) too.
Best Value Driving Irons
Everyone likes a good deal with the best performance so here are the driving irons that we feel represent best value for money.
Specifications
Lofts: 18˚(2), 21˚(3), 24°(4)
Shaft: KBS Tour Hybrid Graphite
Reasons to buy
+
Pleasing shape
+
Impressive ball speeds and strong flight
Reasons to avoid
-
Dirt gathers in screw on sole
The Wilson Staff Model driving iron delivers a combination of distance, reliability and forgiveness through the positioning of 7g of weight low in the clubhead for improved launch.
The high-strength maraging steel face produces impressive ball speeds and notable distance. It's a versatile club and we found it to deliver a reliable, penetrating ball flight. In testing out on the course, it gave us a useful and accurate option off tees on tight par fours, and it was proficient from the turf too.
Specifications
Loft: 17°(2), 19°(3), 22°(4), 22°(5) adjustable +/- 1.5°
Shaft: MCA MMT Hybrid, KBS $-Taper Lite
Reasons to buy
+
Very forgiving from low strikes
+
Easy to flight and shape
+
Solid distance
Reasons to avoid
-
No loft/lie adjustability
Throughout the past few years we have been seriously impressed with a number of Cobra utility irons. For 2023, it's no different, with the Cobra King Tec Utility Iron providing users with a forgiving club with solid distance performance.
Extremely forgiving on off centre strikes, out of the middle this iron is a rocket. Much like the newly released Aerojet range (opens in new tab) and other new equipment in the King range, Cobra has worked hard to improve its H.O.T face. The variable thickness across the face delivers more efficient speed from non-optimal strikes and loads of speed from middle strikes, something that was immediately visible in testing.
Specifications
Lofts: 18­°(2), 21°(3)
Shafts: N/A
Reasons to buy
+
Forgiving on off-centre strikes
+
Great distance
+
Superb value for money
Reasons to avoid
-
Looks aren't the most striking
This MacGregor V-Foil Speed Driving Iron could be a serious option to add into your bag, with the blend of iron-like workability, control and forgiveness. It might not be the most striking to look at, however, the all black color with a dash of silver below the grip is certainly very smart.
In testing the distance off the tee was fantastic when cleanly struck. Even on off-centre strikes it still performed well, with the hollow body and expanded perimeter weighting coming into its own on shots that didn't find the sweetspot. Importantly it also comes in at a very attractive price point as well.
Most Forgiving Driving Iron
The most forgiving driving irons offer more margin for error for single figure players and higher handicappers who want more forgiveness in an iron style golf club.
Specifications
Lofts: 18º, 20º, 22.5º
Shafts: PING Tour 2.0 Chrome 85, Mitsubishi Kai'Li White 80
Reasons to buy
+
New adjustable shaft creates options
+
Thinner sole more playable
+
Shorter shaft for control
Reasons to avoid
-
Large changes in lie angle when adjusting
Combining excellent forgiveness with superb visuals, the Ping iCrossover is one of the most functional clubs on this list. It is the latest in a long line of driving irons that started in 2016 with the G Crossover. Since then Ping have perfected their craft, producing hybrid driving irons to the point where we now have this exceptional offering that delivers superb playability, covering the gap between your longest iron and shortest hybrid.
The iCrossover is more of an iron than a hybrid as the hollow head has a maraging steel face that is supported by an EVA polymer in the cavity that delivers an excellent sound and feel off the clubface. The sole is a little narrower than the Ping G425 Crossover (opens in new tab) below, meaning it plays a little more like an iron, cutting through the turf better on tighter lies. Overall the adjustability this club offers, combined with its excellent visuals, feel and sound means this club has several big improvements on the G425.
Specifications
Loft : 2 4 (22º) and 5 (25º)
Shaft: Mitsubishi Diamana Limited 75
Reasons to buy
+
Supreme versatility
+
Delivers great distance
Reasons to avoid
-
Might be a little chunky for some
Joining TaylorMade's highly impressive 2022 Stealth range, the new Stealth DHY promises to pack a punch for a wide range of golfers thanks to several updates that have been made following the release of its predecessor, the SIM DHY. This is a very good looking club, with a slightly wider sole than the Stealth UDI, making it a little more forgiving. The black detailing gives it a nice, subtle edge, and it has a sleek profile at the address.
Its updates are minimal but it definitely has a few improvements on the SIM, with TaylorMade altering the center of gravity of this club, to bring it much lower, allowing golfers to launch and flight the ball with ease. Thanks to the new ultra-thin 4140 forged face, the feedback on the club is softer than normal, delivering minimal noise akin to a standard golf iron. Distance-wise, we found it carried longer than the Stealth UDI and while both feature TaylorMade's Thru-Slot Speed Pocket, which helps to deliver optimal speed on the ball, the flight is slightly higher, something you should definitely keep in mind if you play a lot of links golf. Ultimately, this is one of the best driving irons on the market as it is a very forgiving club that can add more distance to your game.
Specifications
Lofts: 16°(1), 18°(2), 20°(3), 22°(4)
Shaft: Project X HZRDUS Smoke Black graphite
Reasons to buy
+
Large head with offset hosel
+
Wide sole
Reasons to avoid
-
Looks more like wood than iron
The Titleist U505 driving iron features one of the larger heads in the category. Promoted as half iron, half hybrid it certainly lives up to that billing with a deep head and a degree of offset in the hosel to increase forgiveness.
Internal tungsten weighting and a wide sole draws the CG back to ensure easy launch. It's not the cheapest driving iron out there, but it comes with a wide range or lofts and plenty of steel and graphite shaft options so you should get a specification that is worthy of the investment.
Specifications
Lofts: 16.5°(2), 19°(3), 21.5°(4)
Shaft: Fujikura or Mizuno MFusion
Reasons to buy
+
Forgiving head
+
Easy to launch
+
Clean design
Reasons to avoid
-
Black looks may not appeal to all
-
Lacking forged feel
The Mizuno Pro Fli-Hi is meant to bridge the gap to the woods from the irons and is more of a distance club than a precision approach iron. The head is cast from 431 stainless steel and not forged. This allows a 21g tungsten weight to be placed in the sole of the club to drop the CG and improve the launch.
At impact the feel was very good for a cast club and the internal ribs helped create a pleasing sound that will not disappoint, but is not quite the same as forged. It is equally at home from the tee and the fairway and is one of the better Fli-Hi style clubs that Mizuno has created in recent times.
Needless to say the other feature we liked was the black finish which we think some will like, some won't. The grey face and top line helps you align the club at address, but this color scheme might not appeal to blade purists and for many a chrome and brushed steel look would have been just as good.
Best Driving Irons For Better Players
Better players look for driving irons that have the look and feel of a normal long iron and combine that with technology that offers a little more forgiveness. They tend to be more compact heads that allow a degree of shot shaping.
Specifications
Lofts: 18°(2), 20°(3)
Shaft: Diamana Limited Hybrid graphite
Reasons to buy
+
Extremely forgiving
+
Sounds and feels excellent
+
Inspiring looks
Reasons to avoid
-
Not a massive upgrade compared to SIM
Inspiring confidence behind the ball, the new TaylorMade Stealth UDI driving iron delivers excellent performance for those players looking to bridge the gap between their irons and their woods. It is a really well-balanced club that sounds and feels excellent on impact and we had a great time testing this club at the Marco Simone Golf Club in Rome. Standout features are its looks and feel, while the club has a new forged 4140 face that provides accuracy and distance off the ground.
It packs in bags of forgiveness and its forged hollow body construction means that the club has a larger sweet spot and optimal launch conditions compared to the SIM UDI. That also means it has an explosive feel off the clubface and allows players to fizz the ball into the air. Overall, this is an excellent driving iron, which also features on our best utility golf irons guide (opens in new tab).
Specifications
Loft: 18­°(2), 20­°(3), 22.5­°(4)
Shaft: Ping AWS 2.0 steel, PING Alta CB 70 Slate, PING Tour 85 graphite
Reasons to buy
+
Darker finish creates a more compact, refined look
+
Improved consistency from the rough
Reasons to avoid
-
Some may want a club that inspires more confidence
The Ping G425 Crossover driving iron features a thinner face and updated internal geometry to deliver the ball speeds to hit high-flying shots that land softly and closer to the hole. Forgiveness is supplied by the toe and hosel weights that expand the perimeter weighting to increase the MOI.
It is further distinguished by its functional and resilient stealth Hydropearl finish that helps repel moisture and improve performance from all conditions. The G425 will appeal to a broad player spectrum thanks to the improved looks and forgiveness for golfers seeking an iron-like club to fill the gap between their longest iron and fairway wood.
Specifications
Lofts: 18°(2), 20°(3), 23°(4)
Shaft: KBS Tour steel
Reasons to buy
+
Return of versatile notch sole
+
Great feel and sound
+
Better shaped head
Reasons to avoid
-
Can still see muscle at address, although well disguised
Forged from lighter and stronger SUP10 steel, the Srixon ZX Mk II is designed to maximise speed, forgiveness and create a feel that is up there with the rest of the forged irons in the Srixon ZX Mk II series.
In our testing, the ZK Mk II combines the best of both worlds compared to the previous two versions. It has the forgiveness of the U85 hollow head but with the sleeker ZX profile that will appeal to better players. The ZX was a lovely utility iron, but was more on the elite player side of things as it was not particularly forgiving. The greater margin for error, combined with the excellent forged feel, means the ZX Mk II should suit more single figure players.
Best Elite Player Driving Irons
Elite player driving irons have the most compact heads combined with as much technology and forgiveness as the head size will permit, They tend to be more like blades and therefore offer the most shot shaping ability, but will require an above average swing speed to get the most benefit from them.
Specifications
Lofts: 18°
Shaft: True Temper Elevate, KBS Tour, Nippon Modus Pro
Reasons to buy
+
Offers more forgiveness than previous model
+
Great feel when you connect
Reasons to avoid
-
Needs a lot of swing speed to get airborne
The PXG 0311 X GEN5 driving utility iron is the replacement for the PXG 0311 X GEN4 utility iron (opens in new tab) and brings some much needed forgiveness to the range. In our testing it was noticeably easier to hit however we should acknowledge that this club is still aimed at better players because of the size of the face.
Overall it's well made and offers the right combination of forgiveness and shot shaping that elite players require. You can also order it in the Xtreme Dark finish which uses a graphite like carbon process to create a black look that is more durable.
Specifications
Lofts: 18°(2), 21°(3), 24°(4)
Shaft: Project X HZRDUS Smoke Black Graphite
Reasons to buy
+
Good blend of power and forgiveness
+
High ball speeds
The Callaway (opens in new tab) X-Forged UT iron boasts a hollow construction along with Callaway's A.I.-designed Flash Face Cup that creates a sophisticated face design for high ball speeds. The irons are forged from 1025 mild carbon steel and inside the hollow body construction there is Callaway's urethane microspheres that dampen vibration for better sound and feel.
External tungsten weighting allows for the CG position to be optimally located for the best trajectory and launch for the target player. The Callaway X Forged UT will suit better players who like the feel and looks of a long iron but are also after a little more distance and forgiveness. A useful weapon off the tee and the deck.
Specifications
Loft: 17°
Shafts: Project X HZRDUS Smoke RDX Rescue graphite, Steel (custom)
Reasons to buy
+
Powerful feel off the face.
+
Classy blade like looks
The TaylorMade (opens in new tab) P790 UDI driving iron is one of the most compact hollow head irons on the market. The lighter SpeedFoam Air in the 2021 model saves weight and supports a thin face that can generate impressive ball speed from an elite player's swing.
Great for shaping shots and for accuracy from the tee, the P790 UDI offers precision and power in a compact head with a classic blade look.
How we test driving irons
When it comes to testing driving irons (opens in new tab) we use the same kind of process for most clubs but have to cater it slightly for each club in the bag as they all do different things.
To start we will attend product launches and speak to R&D experts to gain an understanding of the new technology and then once we have samples we will put them to the test. This usually starts with indoor testing so we can have a controlled environment with premium golf balls and a launch monitor. From there we take the clubs outside to hit on the range and out on the course. We think it is vital to do both.
In terms of driving irons, we would use them in a variety of situations applicable to the club. That means hitting them off the tee, from the ground into par-4's, in the wind and sometimes we put them to the test on links courses because that is where the advantages of a driving iron really come to the fore.
We would then collate the information and write comprehensive and honest reviews. Finally it should be said no manufacturer can buy a good review because our team tells it how it is.
What to consider when buying a driving iron
What are some of the factors you need to consider when looking to buy a driving iron? Let's take a look.
Driving iron vs long iron vs hybrid?
For a start it is good to work out which club out of driving iron, long iron, or hybrid would be the best for you. Each has a different set of positives and negatives - the hybrid is a little more versatile as you can use it well from light rough and around the greens. However, there are plenty of golfers out there who prefer an iron-like profile. In which case, the driving iron is a great option. A long iron in the bag in all likelihood signifies a player who is consistent with strike.
Course
What kind of course do you play on? We think this does play a part in the world of driving irons because if you play on a links course from day to day, then a driving iron is perfect for those low shots below the wind. Whereas if you play on a parkland, chances are a driving iron will not be as impactful in the bag.
Gapping/Loft
One of the most important things to know is how far each club in your bag goes. For example if you know there is a large gap between your three-wood and first iron then a driving iron will fit in there perfectly.
Therefore knowing the gap you need to fill at the top of the bag will give you an indication of what loft the driving iron should be as well.
Distance
Obviously a driving iron has to deliver good distance whilst also not compromising on workability. Both are important because not only only do you need to fill that gap at the top end of the bag, but you should also be able to flight the ball and move it with a driving iron as well.
Forgiveness
They may have iron club-head's but that doesn't mean they shouldn't be forgiving. Some models are better than others as we have shown above and you should be aware of which model will suit your game and ability to strike the ball better.
Versatility
It is important to be able to use a driving iron off the tee and from the ground when needed so when trying out models be sure to hit both shots. A model that can do one and not the other is pointless really. Also have a go at chipping with them too.
Looks
How do you want the driving iron to look down by the ball? Do you want it to have a sleek, small profile or look larger and more confidence-inspiring? Additionally do you want it to blend with the irons you have in the bag, or maybe you want it to match the brand of iron you have in your setup. These are all things you need to consider in terms of looks.
Budget
Finally have a think about how much you want to spend on a driving iron. There are models at most price points these days as every brand makes a utility iron so be aware of how much you want to spend.
FAQ's
What is a driving iron in golf?
Driving irons are essentially bulked up irons that are designed to help players hit the ball higher and further compared to standard long irons. As a result, and because of the materials used in construction, driving irons tend to be more forgiving than long irons, and whilst their trajectory might be lower than fairway woods or hybrids, the lower launch and landing angles mean you get more roll. This is why we often see a lot of professionals put driving irons in the bag during The Open Championship, because links golf lends itself to keeping the ball low to the ground.
Are driving irons for high handicappers?
Not necessarily. Whilst hybrids are very forgiving at the longer-iron end of the bag, driving irons are as well these days. This is all about personal preference really. Regardless of level, if you are a player who wants as much help as possible, but still wants to look down on an iron profile, then a driving iron could be the way to go. Whereas if you want a club that is more similar to a wood, then hybrids will suit you more.
What are the alternatives to a driving iron?
As we mentioned above, the alternatives to a driving iron tend to be hybrids, long irons or even more lofted fairway woods. The hybrid is probably the most versatile club because of the ability to use it off the tee, from rough and around the green. The lofted fairway wood is similar in this regard. A longer iron is the most difficult alternative to hit so tend to be suited to better players.
Martin Hopley is one of the foremost UK equipment reviewers with over 20 years' experience. As the former founder of Golfalot.com he was an early pioneer of online reviews and has also been a regular contributor to other titles. He is renowned for his technical knowledge and in-depth analysis, which he now brings to Golf Monthly.