By Bob Taylor – Head of Ecology at the Sports Turf Research Institute (STRI)
The winners of the 2012 Golf Environment awards – Thorpeness Golf Club (Environmental Golf Course of the Year) and North Foreland's Dan McGrath (Conservation Greenkeeper of the Year) – received an all-expenses-paid trip to the Algarve to view warm season best-practice golf course management.
Anticipation ran high as we drove through the magnificent array of Algarvian villas and apartments bordering the Quinta Do Lago group of golf courses. Our expectations were high as we reached the San Lorenzo clubhouse – one of the most exclusive yet friendly and unassuming golf courses in the world.
San Lorenzo is quite unique in that it is run by a golf director who has a real passion and knowledge of the environment in which the course is fitted. Antonio Sanchez comes from a farming background within the local area so has first-hand experience of the area and its wildlife. It was absolutely fascinating, uplifting and heartening for us to be guided around the course by Antonio who not only introduced our group to the many local indigenous plants that make up the body of the vegetation on the course, but also treated us to a first-hand account of their history, purpose and culinary uses within the local area.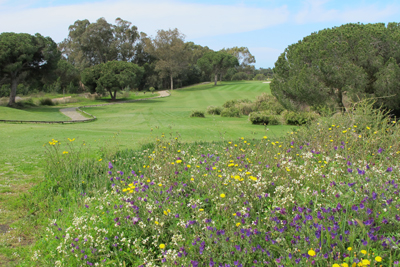 San Lorenzo
Antonio is evidently passionate about ensuring that San Lorenzo supports locally native plant species, and encouraging flowering plants through to the playing line to define and optimise individual hole interest. A major ongoing programme is aimed at eradicating invasive and alien species. San Lorenzo also supports an array of rare and unusual bird species and is indeed a paradise for any keen bird watchers. The terrestrial environments supporting the fairways provide ideal feeding opportunities for birds such as hoopoe, and other rare and attractive species like the azure winged magpie were also common.
The winners of the 2012 Golf Environment Awards left San Lorenzo uplifted and heartened by the obvious best-practice that is being implemented on one of the most well-known golf courses in Europe. Antonio was clear to point out that even though exclusive, this golf course must remain an integral part of the environment, where plants must benefit pollinating invertebrates like bees and butterflies and also the larger birds and animals that frequent these areas. In our world of increasing tidiness and manicuring, it is truly refreshing to see such a high level course setting the standard and acting as an exemplar of best practice management.
This trip also took the Golf Environmental Award winners to Onyria Palmares and Amendoeira. Onyria Palmares is managed by one of the top greenkeepers in Portugal and the golf course clearly benefits from his expertise. An array of very impressive panoramic vistas is afforded from most holes and those running along the coastline are truly spectacular.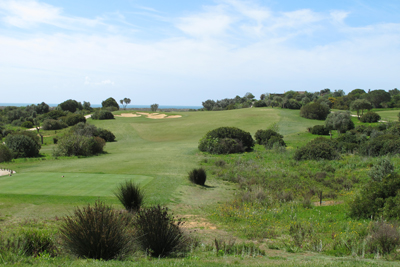 Onyria Palmares
Amendoeira – designed by Nick Faldo – was constructed on a floodplain and provides a superb example of how water can be effectively managed and controlled to reduce flooding that used to happen further downstream. Indeed, prior to the golf course being built, local flooding was a particular problem to neighbouring houses and farmland. Ian Ross is the Head Greenkeeper on the Faldo course, and he does a fantastic job in managing the playing surfaces within a desert-like environment.
Congratulations to the winners of the 2012 Golf Environment Awards and thank you to all of the participating golf clubs that supported the Awards through 2012.
Our sincere thanks also go to the Awards sponsors: County Turf, Farmura, Ransomes Jacobsen, Syngenta, BIGGA, Golf Monthly, Greenkeeping, Greenkeeper International and Operation Pollinator.