USPGA Championship Live Updates
Who will win the final Major of the season? Live updates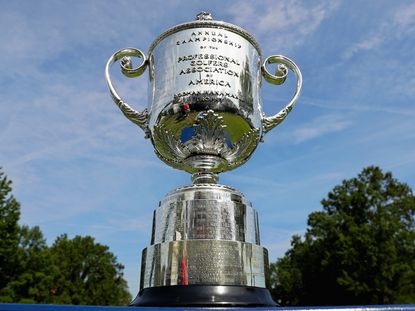 Live updates as the 100th USPGA Championship reaches its conclusion
USPGA Championship Live Updates
KOEPKA WINS THE 100TH US PGA CHAMPIONSHIP.
Koepka misses another short one. He's not been as solid from short range today by his own high standards, and the door is ajar for Scott. The Australian misses his birdie effort and that should be that.
Woods being Woods sinks his final putt to hit -14. A 64 for the former world number one in the final round. On any other day, had it not been for Koepka, well....
Koepka is putting his foot down. This has been some performance.
Woods makes a par at 17, which never looked possible after the tee shot, but it's a hole he desperately needed to birdie.
It's a two-shot lead for the unflappable Koepka who strokes his birdie effort home on 16 to take a two-shot lead into the final two holes.
Scott's chip on 16 has a look, but it's now over to his playing partner to put daylight between the pair, with Woods in need of something special on 17.
A second hand on the Wanamaker trophy is in position as Koepka fires his 4-iron to the 248-yard par-3 16th to six feet. Scott drifts right with his approach. Woods' challenge looks over as his 5-iron approach on 17 finds the sand. That's three shots on a hole he had to birdie.
Koepka gets to -15 with a terrific birdie on the par-4 15th and gets one hand on the Wanamaker trophy.
That could be Woods' challenge over as he leaves his tee shot on the par-5 17th dangerously close to the hazard, it looks in... but then again he is Tiger, and would you believe it... it's not wet. It's plugged in the hazard so he'll be trying to get it down the fairway 80 yards, which he does.
The pin-seeking continues as Koepka sticks it close at the 15th. A big putt coming up, with Scott also within range to get to -15 after a superb escape shot from off the fairway.
Woods' birdie effort at the par-3 16th comes up a fraction short and left. A good opportunity gone but it's a hard hole out the way. What would he give for an eagle on 17?
Scott holds onto his tee shot and goes left, with Koepka safely in the fairway on the 15th.
Woods refuses to go away and finds the centre of the green at the long par-3 16th.
Woods responds with another towering iron from 164 yards and he'll be back to within one shot in moments.
The Australian drops his birdie, but Koepka's can't follow him in. We're tied at the top at -14. Woods makes bogey at 14 to drop two back, his 14-footer lipping out. It's not quite a two horse race but a gap has opened...
Scott and Koepka both take dead aim at the pin on the par-3 13th to set up birdie tries.
Scott joins Woods at -13, while Koepka misses a great opportunity to restore his two-shot lead.
Woods to get within one one the par-3 13th. Makes it! Within one... can he? -5 for the round.
Thomas remains a -11 with a big save and lets out a roar. He's not giving up his title just yet. You get the feel Koepka will have to make a mistake or two, but he's certainly regained his composure after the dropped shots during the middle of his front nine.
Many fancied a strong challenge to come from Fowler today but he's +1 for his round.
Woods birdies the 12th to stay on the heels of Koepka, joining Scott at -12, still two shots back .
Woods with a pin seeker at 12 to three feet to get to -12. Thomas misses a short one to bogey the 14th. Pieters makes a seven and drops back to -10. Cruel.
Pieter's challenge looks done at the par-5 17th. Finds trouble off the tee when he would have been thinking eagle.
Adam Scott makes it three birdies in four holes to get to -12. Koepka almost holes his bunker shot but it's a good par.
No repeat of the 16th hole at the Masters for Tiger, this time his ball hangs on the lip at the 11th - and it's a good opportunity gone, the short par-4 playing the easiest on the course.
Francesco Molinari joins the party, the Open champion getting to -10 at the 14th.
Thomas on 13 with a beauty to 12 feet. Misses left and it rolls on by, but makes the return. Shane Lowry with a long birdie putt on 13 and moves to within four.
Up ahead at 16, Pieters gets it to -12. It feels as though the Belgian will need to at least post -14.
Koepka gets to -14 to regain his two-shot advantage after a sublime fairway bunker shot.
Pieters to -11, two back as the putts start to drop again. Back nine of a Major on a Sunday, here we go...
Thomas with an incredible up-and-down to make his birdie at the 8th. One shot in it at the top. Scott with two birdies in a row to get to -11.
Woods birdies the par-4 9th and it's vintage Tiger to even find the green. Big break off the tee and leaves himself with a 12-footer with a big draw round the trees. Koepka in good position, meanwhile, to get to -13.
Pieters joins Woods at -10, as does Rahm.
Koepka with a birdie on the 7th to reestablish his two-shot lead. No fairways hit but Woods is up to -10 in hot pursuit of his compatriot.
Woods on the par-5 8th - another loose drive but he finds a route to the greenside bunker and splashes out to tap-in range for birdie.
Thomas three putts from birdie range. Did not see that coming. 30 players within five shots of the lead. Can someone else make a charge with the leaders stuttering?
Thomas looks in the mood to go back-to-back after winning at Firestone last week. Eight feet to go one clear. Early days still, but he's looking good in his defence of the title.
Back-to-back bogeys for Koepka and the lead is shared at -11.
It's opening up. Koepka in deep rough, Fowler three-putts and Woods bogeys 6th.
Woods in danger of dropping at shot after finding a bunker at the par-3 6th. Thomas also in danger up at the par-5 8th. Thomas Pieters, meanwhile, gets to -9.
Lead is one after Koepka misses a rare short one. Tension, this early? Yes, very much so.
The lead is back to two as Thomas rolls one in. Woods makes another super recovery at the 5th.
Tiger with another loose drive on the 5th, heading right. Koepka also with a loose one. Woods eyeing up a high cut.
Gary Woodland slips back to -8 with a bogey at the 4th. Woods with a momentum putt... downhill, makes it. Big save, three shots back. Crowd liking this.
Justin Thomas birdies the 5th to get to -10, three back. Koepka holes a downhill four footer to par the 2nd. Woods has a putt from a bit closer to save par at the 4th.
Koepka coverts to go to -13, whilst Scott leaves his short par putt out to the right.
The leaders are off and overnight leader Brooks Koepka looks as calm as ever as he fires his approach at the 1st to eight feet. Adam Scott out of position, meanwhile, and leaves himself a tester.
Tiger Woods hits hit stiff again at the par-3 3rd. Looks like closing to within two. And does, -10.
Tiger Woods in close at the 2nd after flirting with the water.
Par on the 1st for Tiger Woods after missing a birdie from eight feet. Early birdies for Justin Thomas and Shane Lowry, who both close to within three of the lead held by Brooks Koepka.
Watch now on Eleven Sports?
This year's USPGA Championship is the tournament's 100th playing and takes place at 1992 venue Bellerive for the second time.
Once again the TV coverage will be different because for the second year in a row it will not be shown on Sky Sports.
Last year's tournament was shown on the BBC and many fans will be happy that it isn't on the Beeb again.
That's because much of the broadcast was behind the red button in standard definition due to the World Athletics Championship in London.
The commentary, which was from a studio in the UK, was criticised too.
So if it's not on Sky or the BBC this year, how will you watch it?
Don't fear, you'll still be able to get your USPGA fix. Eleven Sports (opens in new tab) have won the right to show it in the UK and Ireland.
Download Eleven Sports UK IOS App (opens in new tab)
Download Eleven Sports UK Android app here (opens in new tab).
Coverage will also be available on the Eleven Sports website (www.elevensports.uk).
Thursday and Friday's coverage will also be shown on Eleven Sports UK Facebook page (opens in new tab).
What is Eleven Sports?
Eleven Sports is a UK-based sports broadcaster owned by Leeds Utd chairman Andrea Radizzani.
It uses the 'OTT - Over The Top' method of broadcasting, which is more commonly known as streaming.
It currently operates in the USA, Belgium/Luxembourg, Poland, Italy, Portugal, Singapore and Taiwan, and the USPGA Championship golf will be the launch of the company's UK and Ireland platform.
They have also picked up the Spanish, Italian, Dutch, Swedish and Chinese football for 2018/19 and are rumoured to be taking over the UFC rights too.
As well as the football, Eleven Sports have announced the acquisition of six LPGA Tour events as well as the Golfing World magazine programme previously seen on Sky.
The LPGA Tour events they will show are:
Indy Women in Tech Championship – 16-19 August 2018 – Brickyard Crossing Golf Club, US
CP Women's Open – 23-26 August 2018 – Wascana Country Club, Canada
Cambia Portland Classic – 30 August-2 September 2018 – Columbia-Edgewater Country Club, US
Buick LPGA Shanghai – 18-21 October 2018 – Venue TBC, Shanghai, China
Toto Japan Classic – 2-4 November 2018 – Seta Course, Japan
Blue Bay LPGA – 7-10 November 2018 – Jian Lake Blue Bay Golf Club, China
Prices start from £5.99 per month (€6.99) and the company currently has an early bird offer (before 31st August) for an annual pass at £49.99 (€59.99), with the usual price at £59.99 (€69.99).
Might they be after some more golf for 2019 if next week goes well for them? Only time will tell.
Eleven Sports - How To Watch The USPGA Championship
Watch the 2018 USPGA Championship on the Eleven Sports UK&I app and website.
Download Eleven Sports UK IOS App (opens in new tab)
Download Eleven Sports UK Android app here (opens in new tab).
Coverage will also be available on the Eleven Sports website (www.elevensports.uk).
Thursday and Friday's coverage will also be shown on Eleven Sports UK Facebook page (opens in new tab).
All coverage of the 2018 USPGA Championship will be FREE through a 7-day trial to the company's online platform - Sign up here. (opens in new tab)
You can cancel at any time within the seven day period or will be charged £5.99 per month and have access to their football.
As well as the live coverage, Eleven Sports will also have comprehensive highlights on the website and apps.
Coverage will be presented by Anna Whiteley and Dominik Hoyler, with Seb Carmichael-Brown also part of the team.
More pundits, including professional golfers, will be announced soon.
Michael has been with Golf Monthly since 2008. As a multimedia journalist, he has also worked for The Football Association, where he created content to support the men's European Championships, The FA Cup, London 2012, and FA Women's Super League. As content editor at Foremost Golf, Michael worked closely with golf's biggest equipment manufacturers, and has developed an in-depth knowledge of this side of the industry. He's now a regular contributor, covering instruction, equipment and feature content. Michael has interviewed many of the game's biggest stars, including six world number ones, and has attended and reported on many Major Championships and Ryder Cups. He's a member of Formby Golf Club.