'Worth The Wait' - Golf Monthly's Open Preview
Bill Elliott discusses The Open Championship's return to his homeland after a 68-year hiatus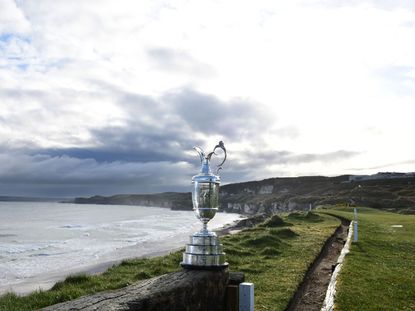 (Image credit: Getty Images)
Bill Elliott discusses The Open Championship's return to his homeland after a 68-year hiatus
'Worth The Wait' - Golf Monthly's Open Preview
The excitement is ratcheting up another notch each fleeting week for the 148th Open Championship, returning to after Northern Ireland's battered northernmost coast for the first time in 68 years. Hold on to your hats boys, hold on to your hats.
Tom Watson took time out from a reconnaissance trip to Royal Portrush recently to suggest that it will be "a raucous party out here, it's going to have a bit of a Ryder Cup atmosphere about it."
Peter Alliss, who played in his first Open when it was staged at Portrush in 1951 aged 20, failing to make the halfway cut and then watching as England's Max Faulkner won, still remembers the glory of that week. "Royal Portrush is a magnificent course, simply wonderful, and, of course, they've made some big changes that I'm looking forward to seeing. Like all great links its challenge is controlled by the weather. On the very occasional calm day it can be relatively easy, but in a decent wind it turns into a monster. I'm greatly looking forward to the week because it could be one of the best Championships ever. If any of the Irish players are seriously involved towards the end then it will be mayhem, but merry, Irish mayhem, which is the best kind."
Indeed it will. For the first time in Open history they have had to make it an all-ticket event. Over the course of this July week, 215,000 fans will descend on the place. At least 150,000 of them will be Irishmen and women. The craic will be monumental as The Open turns into one giant ceilidh. There will be a little of that 'bejasus' nonsense, but there will be a hell of a lot of fun if the weather stays on the dry side and the wind restricts itself to being a reasonable obstacle. As ever, nothing is guaranteed, except, in this case, success of one sort or another.
A course of the highest quality
It was a bit of a brave decision by The R&A to deliver an Open to Ulster for the second time but it took even more chutzpah for Royal Portrush to shoulder its way into the frame. They chose to do so because the land of my birth was almost two decades into what passes as peace in these befuddled times, and when they made this audacious decision they absolutely knew they were sitting in the middle of one of the most sensational courses in the world.
Sensational but not quite perfect. Men in blazers made the trip from St Andrews before making their slow, considered and hard-nosed way around Royal Portrush's Dunluce course. They knew it was terrific, realised it regularly figured in the top ten of any of the planet's best courses rankings, but they knew it also had its faults.
Principal amid these blemishes were the existing final two holes. They weren't awful, but they were weak and were sneered at by the rest of the bunch. Me too.
They also needed more space to erect the excellent spectator facilities that are now expected at an Open. The solution was as simple as it was brilliant. The acreage occupied by holes 17 and 18 offered the perfect setting for their staging people to strut their stuff, so they nicked two holes from Portrush's other course, The Valley. With a few strokes of a brilliant architect's pencil – a pencil held firmly and imaginatively by Martin Ebert – two problems were solved by one solution.
Since then there has been much other tweaking, with tees taken back, new bunkers placed and greens moved here and there. I look forward to seeing it all in July, but there is every sign that Harry Colt's original masterpiece has been improved to the point of total excellence to be able to stand strong against the modern elite player's power.
A long road
Of course, none of this could have been achieved without the complicity of the club's members, who have had to put up with several years of intrusion and irritating chaos. The chance of bringing an Open to their home and to Ireland as a whole was too enticing for anything other than the odd whinge. Still, it took someone with a sharp mind and sense of time and place to take the club on this extravagant and testing journey.
Step forward Wilma Erskine, the club's secretary-manager who is now in her fourth decade of stewardship. Widely recognised as a force of nature, she has persuaded, cajoled, dug her heels in and taken them out again to get this thing done, ever since the decision was made in 2006 to go for it. Even she, however, could not have pulled it off without the backing of a majority of members. Wilma steps aside at the end of the year, her life's work complete, but her and the general club's legacy promises to live on with more Opens and possibly a Ryder Cup within the next ten years. Since The Open was confirmed five years ago, the green fee has doubled to more than 200 smackers. Still they come, so if you fancy it then think about next year. Quickly.
So, hopefully we've established that the star of this show may well not be the show but the stage, the course, the punters, the atmosphere and, please, the weather. Those of you who have been to this coastline, perhaps even this course, will know the sublimely dramatic nature of the terrain and the seascape that frames it. Sweeping, antediluvian valleys through hillsides of grass and sand and always the sound of the water pounding against something or someone.
Thousands fly halfway across the world to New Zealand each year explaining that the views have to be seen to be believed. Your choice, but I'd put Ireland's northern coastline – Donegal included, of course – up against anything anywhere and it's a damn sight closer.
An unknown quantity
The course itself begins neatly enough but truly begins at the 3rd hole, where the sandhills rise, the elevation swoops and climbs and a player begins to feel their own diminutive, rather feeble, place in this majestic landscape.
Having been stretched to over 7,300 yards for The Open, it's a par of 72 and if that wind blows – "about 15 to 20mph would be perfect," says Watson – then don't expect a birdiefest. If the weather plays ball for this weekend, then four- or five-under-par might well be enough. Unusually benign conditions throw it open to a much bigger posse of players. We'll see.
The players will love it although, as ever, they will love it more if they score decently. Here's the rub: few know this course. More significantly, The R&A does not know how it will try to play it and that's important when it comes to setting it up. Martin Slumbers is head honcho at The R&A and with blessed Brexit casting a menacing cloud over things, his job has been harder than any of his predecessors when it comes to preparing this, realistically, virgin Open stage.
Back in February, with the prospect of a closed border hovering malevolently in the toxic political air, he was asked how he felt about this Open. His answer tells you all you need to know about the pressure The R&A has been under as it's worked to deliver a Championship to remember. "I'll be quite pleased when it's over," he said. Relieved might have been a better word to use, but we all get the drift. His team needed to get more than 2,000 containers across the Irish Sea and their contents into position. Some came from as far away as the Middle East. Think it's easy? Think again.
Expand Royal Portrush Course Guide – Open Championship 2019
Royal Portrush Course Guide – Open Championship 2019
Our guide to the 148th Open Championship host…
Expand Open Championship Quiz 2019
Test your knowledge of the Open Championship with…
Expand 5 Open Outsiders Worth Backing At Royal Portrush
5 Open Outsiders Worth Backing At Royal Portrush
Ahead of the most unpredictable Major of the…
Expand 5 Reasons Why Rory McIlroy Will Win The Open
5 Reasons Why Rory McIlroy Will Win The Open
Will the Northern Irishman collect his fifth Major…
Yet while that was a difficult enough challenge, it was the course that troubled him most. He had no doubts about its quality, but he worried about where to place the scenery for the big show. "The course set-up, which at the end of the day is my number one concern and responsibility, is a complete blank canvas," he said.
Veteran tour caddies have been drafted in to help, suggesting what shots the professionals would play to this point and that and where the difficulty lay. Or didn't. Coaxing a bit of rough in here or cutting it back there to encourage a risk and reward drive or approach to a green is a subtle but vital art in this complex chessboard of a game. Those decisions are now made, fine-tuning is in operation, fingers are crossed and the pubs are almost confident they have ordered enough supplies. Let's face it, they can never be sure, not in Ireland they can't.
The home challenge
Only a few players will be focused on the availability of a decent drink, of course, but they too will have serious concerns. A handful know the course well; more importantly they know what it's like in different conditions. Men like Darren Clarke – a member for goodness sake – Padraig Harrington, Shane Lowry and Rory McIlroy have real knowledge of this testing layout. McIlroy established a new course record of 61 playing as a 16-year-old amateur in 2005, a round so good it remains the far side of ridiculous, edging its way into the pink area marked sublime.
Knowledge, as ever, is power, but it is not everything and most of the probable contenders have plans to visit Portrush early and grapple with its challenges. Expect Tiger Woods to pop along one morning, unannounced, game face on, serious work in prospect. Yes, some big ones have been won by players who arrived late, who didn't know the course and who then enjoyed the best week of their careers, but these remain the exception to a very big rule.
At least McIlroy can have a proper tilt at this very windy mill. Unlike Augusta, he will be back in friendly territory with some terrific memories to help him on his way. He will also be supported more than ever in his life. This support, vocal, loud and occasionally overwhelming, has the capacity to propel him to a victory more personally significant than any he has thus far achieved. Or the sheer scale of it will weigh on him, distract him, over-excite him.
How he reacts to it all is crucial to his chances. That and a big improvement to his play from 150 yards and in. Meanwhile, I expect significant things from the more phlegmatic Harrington, who still has the game to win an Open and just might find it again in this setting and in the midst of the noise.
Long list of contenders
The same is true of Dustin Johnson and, of course, Woods. Until now, Tiger was the most single-minded golfer I have ever seen, but he is no longer alone in this focused mind category. If anything, Brooks Koepka may have overtaken him. I've been an admirer of Koepka for several years now, but his Major performances have now lifted him onto a rare plateau of achievement and concentration.
I've no idea why he is accused by some critics of being robotically boring, because to me he is the perfect modern professional. He conducts himself well, is polite to playing partners, does not appear to have a playing weakness and gets on with it. Okay, there is little discernible response at times to what he is experiencing, but so what. Not everyone has a big personality and not everyone wants to embrace public acclaim, but everyone wants to be a winner and here Koepka is your man.
There are others, many others, to consider, but until we know the draw and the likely weather, we may as well stick a pin into a very long list of potential contenders. I just did that and came out with Xander Schauffele. In my house this golfer is destined to be the next big thing. Undersized and slim, the 25-year- old reminds me of a young Gary Player, although with a more elegant swing. Could he step forward in July? Most definitely.
Meanwhile, if you're making the trip over and flying to Belfast then I urge you to take the Causeway Coastal route to Portrush. There are quicker routes, but none to compare with what is one of the great drives in the world and a journey through fantastical locations, many of which featured in Game Of Thrones. Stop at one of these, stand quietly for a while and close your eyes and you'll hear the distant roar of dragons. You will, honestly. There have always been dragons in Norn Iron, we just don't talk about them much. Anyway, they're too timid to play Portrush.
Watch and enjoy.
Don't forget to follow Golf Monthly on Facebook, Twitter and Instagram for all the latest Open news.
Bill has been part of the Golf Monthly woodwork for many years. A very respected Golf Journalist he has attended over 40 Open Championships. Bill was the Observer's golf correspondent. He spent 26 years as a sports writer for Express Newspapers and is a former Magazine Sportswriter of the Year. After 40 years on 'Fleet Street' starting with the Daily Express and finishing on The Observer and Guardian in 2010. Now semi-retired but still Editor at Large of Golf Monthly Magazine and regular broadcaster for BBC and Sky. Author of several golf-related books and a former chairman of the Association of Golf Writers. Experienced after dinner speaker.