Lucy Li, 11, Youngest Ever to Qualify for US Women's Open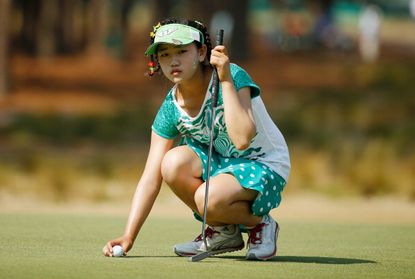 (Image credit: Getty Images)
After winning her qualifying tournament by a 7-stroke margin, 11-year-old Lucy Li is ready to compete in the US Women's Open.
One week after mystifying some of the best golfers in the world, Pinehurst No. 2 will host the US Women's Open this weekend, with an 11-year-old included in the field.
Lucy Li, born October 1, 2002, is the youngest player to ever qualify for a US Women's Open Tournament. She qualified in May at a tournament held at Half Moon Bay, which she won by seven strokes over the runner-up.
Li, a home-schooled sixth-grader, lives in Redwood Shores, CA. She got her first taste of national media attention after winning her age division of the inaugural Drive, Chip & Putt Championship at Augusta National, prior to this year's masters.
Li is not new to the youngster monicker, as she was the youngest ever to qualify for the US Women's Amateur at 10 years, 10 months and 4 days old, and was the youngest to reach the match play stage of the US Women's Amateur Public Links.
Despite the huge age gap between her and the rest of the field, Li says she isn't nervous to compete. "Right now, it's just play as well as I can, and the game's going to take me wherever it's going to take me," Li said.
As one would hope for any 11-year-old heading out to the golf course, Li said that she simply wants to "have fun and play the best I can."
Mike Smith is an American undergraduate student studying journalism and political science at the University of Wisconsin-Madison. He is spending the summer living in London, studying British life and culture and working for Golf Monthly. He is excited to gain international working experience, as his career goal is to work in sports journalism.