Yorkshire duo win American Golf 9 hole title
Luke Eustace and Mark Kelly won 3&1 in the final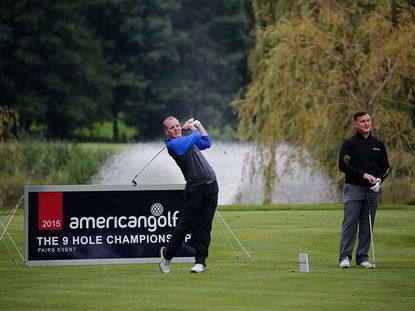 Luke Eustace and Mark Kelly beat Tom and Sam Ruddle 3&1 in the final.
The American Golf 9 hole Championship title was won by Yorkshire pair Luke Eustace and his playing partner Mark Kelly of Selby Golf Club.
It was the first staging of the tournament by American Golf, with the Brabazon course at The Belfry providing the setting.
Eustace and Kelly beat Tom and Sam Ruddle 3&1 over four nine hole rounds in the Grand Final at the weekend.
"I hope that this doesn't show that I've had a dull life, but it's easily up there with the best weeks I've ever had," Eustace said afterwards.
"We'll definitely be spreading the word about the American Golf event for next year," he added.
The pair have won a holiday to the Bahamas and a round of golf with 2014 Ryder Cup captain Paul McGinley.
WATCH: Paul McGinley swing sequence
The final saw 20 pairs compete over two rounds using betterball stableford scoring off ¾ handicap. The four pairs with the highest score moved onto the match play semi-final.
Kelly and Eustace secured their passage to the final on the last hole of their semi-final encounter, setting up the final against Broome Manor's Ruddle brothers.
Eustace hit one of the shots of the match when he made birdie after escaping from a bunker to move 2UP with just two holes remaining.
"Normally over 18 you have to plan & study where to pick your shots whereas it's a bit more fast & furious over 9 holes," Eustace said.
"Because of the short format and the early lead, we really settled in and we never felt like we were losing."
Daniel Gathercole, Head of Marketing at American Golf, said: "It's been exciting to see our ideas come to life and to realise that there is a real opportunity for us to grow the game by introducing new formats and reaching out to different types of golfers.
"We're already making plans for 2016 which will appeal to an even wider range of people."
The tournament was endorsed by England Golf, with all qualifiers needing an official England Golf handicap to be eligible to compete.
Will Medlock graduated from UEA with a degree in Film and Television before completing a Masters in Sports Journalism at St Mary's in London. Will has had work published by The Independent and the Rugby Paper.