American Golf open National Academy
The Academy is located at High Legh GC in Knutsford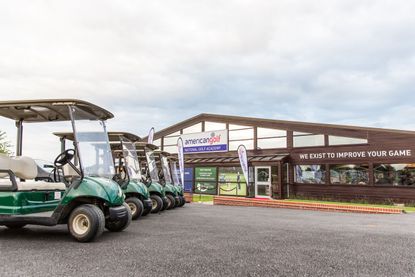 The academy is located at High Legh GC in Knutsford and was opened by footballer Shay Given.
American Golf have launced their National Academy at High Legh GC in Knutsford.
The academy has state of the art facilities and some of the UK's most accomplished coaches on the driving range.
Golfers of all abilities will be accommodated, with 9 and 18 hole courses as well as a children's course located on site.
Among the coaches is Damian Taylor, who coached American amateur Jordan Niebrugge to a T6 finish and the Silver Medal at the Open this month.
Taylor said: "Working with the team at the Academy has been great and the facilities on offer in the coaching bays are second to none.
"I had Jordan in here just before final qualifying to fine tune a few things and he's had the best couple of weeks golf of his life. "
Watch our Open video to see how Niebrugge got on
Stoke City goalkeeper Shay Given opened the academy and said he believes it has everything a golfer needs to improve.
"Having the best facilities, the right coaches and the latest technology will help anyone who is looking to improve their game, whatever the sport.
"Now I'm back in the North West I'll certainly be looking to make the most of the facility and knock a few shots off my handicap!"
Daniel Gathercole, American Golf Head of Marketing, feels the academy's ability to cater for all abilities will be a strong selling point.
"If it's the first time you pick up a club or are playing on the European Tour, the American Golf National Academy has everything in place to help improve your game.
"We have PGA Pro's, the latest technology for swing analysis and fitting, nutritionists and physical trainers to help golfers reach their peak condition and the very best equipment available so that every aspect of performance is optimised."
Will Medlock graduated from UEA with a degree in Film and Television before completing a Masters in Sports Journalism at St Mary's in London. Will has had work published by The Independent and the Rugby Paper.