Bryson DeChambeau Slams 'Childish' PGA Tour Over Unpaid PIP Money
Bryson DeChambeau says "it's more the principle" than the money as he reveals why he remains in LIV Golf lawsuit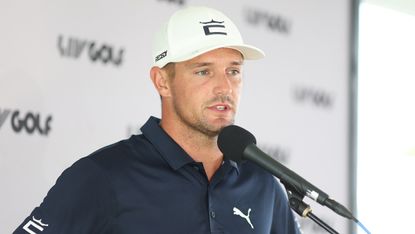 (Image credit: Getty Images)
Bryson DeChambeau says a "childish" stand-off with the PGA Tour over unpaid Player Impact Program (PIP) money is the main reason he remains in the LIV Golf lawsuit against them.
DeChambeau, who finished fifth on the PIP list last season to win $3.5m, says "it's more the principle" of not being paid rather than just missing out on the money.
LIV Golf launched a federal antitrust lawsuit on 3 August against the PGA Tour – accusing them of using their monopoly to prevent any competition – with 11 golfers named as plaintiffs.
Eight players have removed themselves from the suit, but DeChambeau, Matt Jones and Peter Uihlein remain, and now DeChambeau has revealed why.
The big-hitting American says that the reason he remains is because he is upset at not being paid PIP money he feels he is owed.
"There have been multiple opportunities for me to not be a part of it (the lawsuit), but considering the PGA Tour's actions and the way they've handled certain situations…" DeChambeau said.
"One of the reasons I'm in the lawsuit is because they haven't paid me my second half of the PIP money. The money isn't the significant part, it's more the principle.
"Over the last six years that I've had to deal with them, it's just been consistently frustration after frustration from my perspective."
⛳️🚨Bryson DeChambeau says that he's still in the #LIVGolf lawsuit on principle, because the PGAT refuses to pay him the PIP money from 2021.They will not allow him to do a First Tee appearance which would complete his PIP duties. #GrowTheGameIncredibly petty from the PGAT. pic.twitter.com/YeNc8Cg52UOctober 27, 2022
See more
Players have to fulfil certain obligations with the PGA Tour in order to qualify for the PIP money, but DeChambeau says he was blocked from attending one of these due to his suspension.
He says that after the Tour themselves told him he could not attend a junior golf event – that is now being used as a reason for him not receiving his payment.
"So I had an obligation this November, the last thing I needed to do to complete the whole thing and they said because I'm not in good standing with the Tour we're not allowing you to help out junior golfers, that just blew my mind," DeChambeau added.
"To me that's childish and it just shows where they stand emotionally. I respect it and I understand it, but when you complete something and you provided entertainment for them last year and I completed that…that's the reason why I'm in the lawsuit."
Paul Higham is a sports journalist with over 20 years of experience in covering most major sporting events for both Sky Sports and BBC Sport. He is currently freelance and covers the golf majors on the BBC Sport website. Highlights over the years include covering that epic Monday finish in the Ryder Cup at Celtic Manor and watching Rory McIlroy produce one of the most dominant Major wins at the 2011 US Open at Congressional. He also writes betting previews and still feels strangely proud of backing Danny Willett when he won the Masters in 2016 - Willett also praised his putting stroke during a media event before the Open at Hoylake. Favourite interviews he's conducted have been with McIlroy, Paul McGinley, Thomas Bjorn, Rickie Fowler and the enigma that is Victor Dubuisson. A big fan of watching any golf from any tour, sadly he spends more time writing about golf than playing these days with two young children, and as a big fair weather golfer claims playing in shorts is worth at least five shots. Being from Liverpool he loves the likes of Hoylake, Birkdale and the stretch of tracks along England's Golf Coast, but would say his favourite courses played are Kingsbarns and Portrush.