2017 Puma Golf Footwear Revealed
These new Puma shoes could be right up your street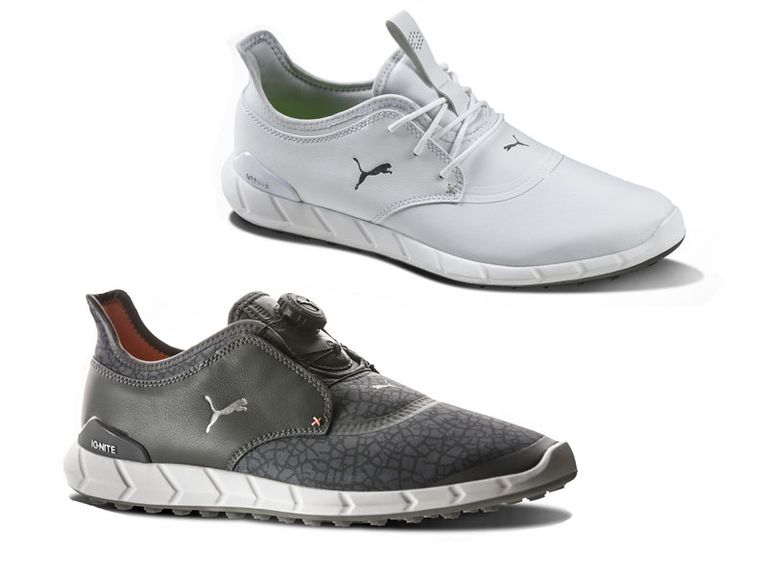 By Joel Tadman
2017 Puma Golf Footwear Revealed - Puma has unveiled some new shoe styles and models to enhance your look and performance for the rest of the 2017 season
2017 Puma Golf Footwear Revealed
Puma Golf, a brand known for its colour and style, has launched its new Autumn Winter 2017 footwear collection for both men and women.
Featuring within it are trusted technologies like the Ignite Foam cushioning for comfort, an Epic Performance Last for the perfect fit, premium materials for durability and a proprietary Disc closure system.
The Ignite Disc Extreme (above - £100) blends fashion and performance. The innovative sporty mesh upper combines with a premium leather saddle and Puma's proprietary Disc technology that tightens with a simple twist for a custom fit. They're available in four colorways in sizes 7-14.
The Ignite Spikeless Pro (above - £100) is a new design that features a sporty microfiber that combines with a textile tongue and lining for a super modern silhouette and for a comfortable and stable shoe for wear on and off course. The upper is waterproof and it comes in two colourways in sizes 7-14.
Puma's Grip Zone traction continues in this new model, comprising 39 strategically placed hexagons that provide multi-directional traction, while 24 chevron shaped lugs increase traction where it's needed most.
The iconic TitanTour Ignite Hi-Top (£160) now come in an all-white colourway. Ignite foam cushioning provides the comfort while the shoe's design naturally provides ankle stability.
Related: The best golf shoes of 2017
Rickie Fowler sported some of the latest Puma shoes at the US Open, where he was in contention throughout after an opening round 65 but eventually finished T-5, six shots behind the winner Brooks Koepka.
On the ladies side, there the Ignite Spikeless Sport Floral (£100), which features an on-trend floral graphic print in three colourways, and the Ignite Statement (£100), which is arguably one of Puma's most head-turning designs that looks more like a casual street shoe but has 39 strategically placed hexagons on the sole to provide multi-directional grip in two colourways.