Rory McIlroy's Golf Gear Through The Years
We take a look at the equipment used by Rory McIlroy in his career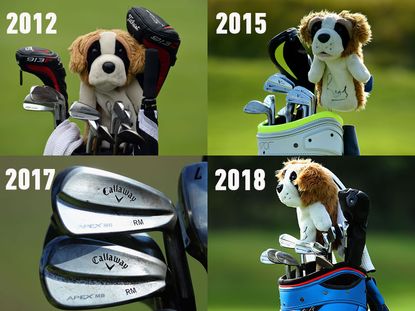 Here we take a look at the golf equipment used by Rory McIlroy in his career, starting with Titleist, moving to Nike and then TaylorMade
Rory McIlroy's Golf Gear Through The Years
Rory McIlroy turned professional in 2007 and immediately signed with Titleist, the same brand he used during his latter amateur days.
However, the Ulsterman signed with Nike in 2013 and then joined TaylorMade in 2017.
Here we take a look at the gear he's used in each season on Tour:
2005 and 2006
In the two year's prior to turning professional, McIlroy was using the Titleist 905 driver, Titleist 660 forged blades and a Scotty Cameron putter
2007
McIlroy turned pro in 2007 and was using a 907D2 driver, 906 fairway wood, 585 hybrid, 660 irons, Titleist Vokey wedges, a Scotty Cameron putter and Titleist Pro V1x ball.
2008
He had switched in the Titleist ZM Forged irons in 2008 as well as a centre shafted Scotty Cameron. In the second half of the year he added the 909 driver and a 909 fairway wood.
2009
McIlroy still had a 906F in the bag.
2010
The Ulsterman had put the new Titleist 910 driver in play alongwith a 910 fairway wood, although he was still carrying his trusty 906F. He had put in some 710MB blades as well. In 2010 he signed with Oakley to wear their apparel and sunglasses.
2011
McIlroy's clubs pictured in 2011. He won the US Open using his 906F 3 wood, the same club that he was using in his first year on Tour.
Continues below
Expand Rory McIlroy What's In The Bag?
Rory McIlroy What's In The Bag?
See the clubs Rory McIlroy currently has in…
Expand Rory McIlroy Gym Routine… Revealed!
Rory McIlroy Gym Routine… Revealed!
We discovered how Rory McIlroy keeps himself so…
Expand Tiger Woods What's In The Bag?
Tiger Woods What's In The Bag?
Check out the equipment Tiger Woods uses
2012
McIlroy won the 2012 USPGA Championship using a Titleist 913D3 driver, 906F 3 wood, 910F 5 wood, 712MB irons, Vokey SM4 wedges, a Scotty Cameron putter and the Pro V1x.
2013
In early 2013, Rory signed a full equipment and apparel contract with Nike. His setup: Nike VRS Covert driver, VR Limited fairways, VR Pro blades, VR Pro wedges and a Nike Method putter.
Although he was spotted with a Scotty Cameron blade putter at the US Open.
2014
In 2014 McIlroy added the VRS Covert Tour driver and VRS Covert fairway woods. He was using the Nike RZN Black ball.
2015
McIlroy added in the new Vapor Fly Prototype driver as well as Vapor Speed fairways in 2015. He had also put in a new Nike Engage wedge and a RZN Prototype ball.
2016
2016 was Rory's final year using Nike gear after the company announced that they would no longer make golf equipment in August.
At the time, he had a Nike Vapor Fly Pro driver, Vapor Speed fairways, VR Pro blades, Engage wedges, a Scotty Cameron Prototype putter and RNZ Platinum ball.
He put TaylorMade M2 woods in the bag at the WGC-HSBC Champions in China in November.
2017
Having used TaylorMade woods in late 2016, McIlroy surprised the world in 2017 when he turned up at the South African Open using Callaway Epic woods, Callaway Apex MB irons, Titleist Vokey SM6 wedges, an Odyssey putter and Pro V1x ball.
However, that would change in May when he signed a multi-year deal with TaylorMade to play 14 clubs and a TP5x ball. He had an M2 driver, M2 Tour fairways, RORS Proto irons, Milled Grind Wedges, a TaylorMade Juno putter and a TP5x golf ball.
2018
WATCH: 2018 Rory McIlroy What's in the bag?
Rory put in TaylorMade's new M3 woods for 2018 as well as a new Milled Grind Hi-Toe wedge.
He toyed around with a few different putters but settled for the new TaylorMade TP Black Copper Soto model which he had his best ever putting week with on the way to victory at the Arnold Palmer Invitational.
2019
For 2019, Rory added in the M5 driver as well as M5 and M6 fairway woods.
The only other changes to his setup were the addition of the Spider X putter and TaylorMade's new TP5 ball.
Related - Rory McIlroy What's in the bag? 2019
Don't forget to follow Golf monthly on Facebook, Twitter and Instagram