Need A New Golf Bag? Christmas Is The Best Time To Grab A Good Deal
Christmas is the best time to grab a bargain on a new golf bag, so here are some of the best deals we've found.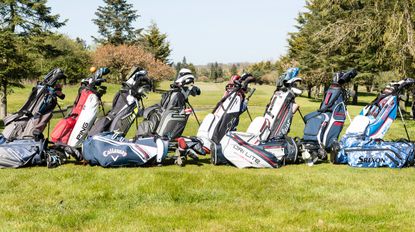 (Image credit: Golf Monthly)
Need A New Golf Bag? Christmas Is The Best Time To Grab A Good Deal
Whether you're thinking about picking up a few gifts for a golf obsessed relative or are looking to treat yourself to a cheeky present, Christmas can be an excellent time to pick up a bargain on one of the best golf bags (opens in new tab). As I'm sure you're aware, golf bags don't come cheap, particularly if you're the kind of player who likes to use a cart bag (opens in new tab). And taking advantage of any deals you can is certainly a sure fire way to help make your money go further on golf equipment.
I often say it is better to spend a little more on a top-spec golf bag (opens in new tab) to ensure you get something that is easy to carry and will provide comprehensive protection to your golf clubs. But you can also be savvy and save yourself a ton of cash by waiting for the sales and picking up a top-quality golf bag at a discounted price! In this guide, I'll be putting a spotlight on some of my favorite golf bag deals you can pick up during the holiday season! But that's not all, as here at Golf Monthly we've also been scouring the web to bring you some fantastic deals on the best Christmas golf gifts (opens in new tab) that money can buy. Check it out for savings on all kinds of golf equipment!
Best US Christmas Golf Stand Bag Deals
Best US Christmas Golf Cart Bag Deals
Best UK Christmas Golf Stand Bag Deals
Best UK Christmas Golf Cart Bag Deals
Ed has been playing golf for as long as he can remember and is obsessive about the sport. He is regularly sought after by family members and friends for advice on what equipment to buy and uses his background, having written extensively on golf in the past, to produce equipment orientated content for Golf Monthly.
Having obtained a Masters in Law with Medicine from the University of Liverpool, Ed has recently changed paths into journalism and just last year achieved his NCTJ Sports Journalism Diploma with the Press Association.
He has written for a variety of media outlets over the years and has interviewed some big names in sport, including Premier League managers, All Blacks Coaches and Grand Slam tennis superstars. He has also worked on some huge sporting events, including the 2021 Australian Open and the 2022 FIFA World Cup. And when he's not writing for Golf Monthly, you'll find him producing news and feature articles for the MailOnline's sports desk, where he covers everything from football to rugby union.
During his weekends off, you'll likely find Ed heading out for a round at one of his local golf clubs with his friends, and was, up until recently, a member at the Leatherhead Golf Club in Surrey. Ed also plays the saxophone, can tell you some pretty terrible dad jokes and can knock up a very tasty carbonara!