Find Value With These PGA Championship DFS Picks and Targets
This week the PGA Tour is in Rochester, New York, for the PGA Championship. Matt MacKay brings you the very best DFS Picks and Targets for the 2023 PGA Championship.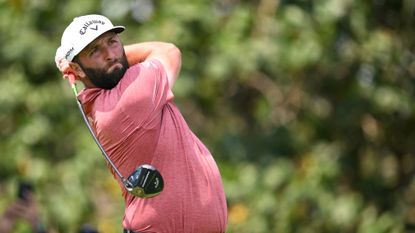 (Image credit: Getty Images)
The 2023 PGA Championship is set to get underway this week from Oak Hills Country Club in Rochester, New York. We haven't seen this site host the PGA Championship since Jason Dufner's win a decade ago. There are plenty of talented veterans still competing in the field this week from 2013, including Rory McIlroy, Jason Day, and Adam Scott. Oak Hills CC is a demanding par 70 that runs nearly 7,400 yards. Two par 5 holes evenly distributed along the front and back nine are the only birdie opportunities. Still, even these holes run long and have the Bentgrass greens flanked by undulations and relocated sand bunkers.
Don't expect a flurry of birdies from any player consistently through four rounds. The winning scorecard in 2013 was -10-under-par from Dufner, who went a scorching -7-under-par in Round 2 to climb into the lead and never look back. Scott managed a T5 finish, while McIlroy and Day wound up with T8 finishes in 2013. McIlroy won the PGA Championship in 2012 and 2014 but has yet to secure an outright win at Oak Hills. LIV golfers Dustin Johnson and Brooks Koepka are also the betting favorites to be competitive atop the leaderboard throughout the weekend. We saw Koepka and Jon Rahm battle throughout the weekend at Augusta National, with Rahm producing more birdies and clutch shots than Koepka down the stretch on Sunday to win the first major of the season.
The second major of the PGA Tour season means we're getting a loaded field to construct our DFS lineups. The number of birdies we're accustomed to seeing from players will likely drop, while the bogeys could go up. Fortunately, in DFS, bogeys are not penalized as much as birdies and eagles are rewarded, so scrambling to save par may wind up being the new premium for this week.
I've identified six of my favorite prospects to target on DraftKings and FanDuel ahead of the first round on Thursday. Keep reading to find out which golfers should be prioritized in lineups to help cash a few DFS contests at Oak Hill during the 2023 PGA Championship.
Before we get into our PGA Championship DFS Picks and Targets, make sure to take a moment to check out these awesome sports betting offers for this week. You can use one of the HUGE first bet offers to wager with more confidence on your 2023 PGA Championship selections this week.
DraftKings $50,000 Maximum Salary
Jon Rahm ($11,400)
No surprise to anyone, World No. 1 ranked golfer Jon Rahm is the outright betting favorite and the most expensive player to roster in lineups on DraftKings. The 28-year-old star golfer has four outright wins and earned his first win at The Masters just over a month ago to secure the first major of the season. Rahm's game is impeccable. Whether he's crushing the driver, dialed in with precision irons, or sinking a 20-foot putt, the Spaniard is on top of his game and tends to start and finish with a lot of red numbers. At $11,400, we're paying a premium to get Rahm into our lineups, but I'd prefer his skillset and current form to anyone else in the field at this salary.
Xander Schauffele ($9,900)
Xander Schauffele has quietly been stacking better and better finishes in his last five solo events played. The 29-year-old Californian has improved from a T39 at Arnold Palmer Invitational in early March to T19, T10, fourth, and runner-up, most recently during the Wells Fargo Championship. Schauffele has managed to collect 15-19 birdies in each of his last four events played and has logged at least 107 fantasy points in DraftKings lineups across his last two events. Schauffele went T13 at Southern Hills last season, and his precise irons ranked fourth in total strokes gained will make him an asset in every DFS lineup this week. He's a no-brainer in lineups at under a $10,000 salary on DraftKings.
Adam Scott ($7,800)
The 42-year-old Aussie has logged consecutive T5 and T8 finishes at the Wells Fargo Championship and AT&T Byron Nelson, going -8-under-par in the final round at the latter event this past weekend. Scott is available to roster at a ridiculously low salary, plus he managed a T5 finish here at Oak Hills during the 2013 PGA Championship. Adam Scott ranks inside the top 40 for strokes gained around the green and off-the-tee while also ranking highly in sand save percentage, which may wind up being a necessary skillset to possess with the relocated bunkers at Oak Hill CC. Scott has the current form and course history of being appealing, so factoring in his low salary of $7,800, he becomes a must-add prospect in DraftKings lineups.
FanDuel $60,000 Maximum Salary
Patrick Cantlay ($11,300)
One of my favorite prospects in DFS and from an outright betting context is Patrick Cantlay. He's been consistently producing T25 finishes or better across his last six events, including three finishes inside of the top five, which means the California native is getting closer to winning his first career major. Cantlay has won eight times in his career, including the BMW Championship during the FedExCup playoffs last August, but adding the Wanamaker Trophy to his collection would be a huge achievement. Cantlay is ranked sixth in total strokes gained, including eighth tee-to-green and third off-the-tee, while also ranking second in total driving and 18th in strokes gained putting. With hardly a flaw in his game, other than pace of play, Cantlay is a nice value and a quality blue-chip to lock into FanDuel lineups this week at Oak Hills.
Jason Day ($9,900)
We just watched Jason Day end his five-year win drought with a one-stroke win at -23-under-par during the AT&T Byron Nelson this past weekend. The Aussie golfer has 13 career wins, including the 2014 PGA Championship, which means Day is built for big moments against loaded fields. Don't expect 156 fantasy points on FanDuel based on what Day produced at the AT&T Byron Nelson, but he's recorded four T25 finishes, including three T10 finishes, across his past six events played. Whether we focus on his 11th-ranked strokes gained putting, 16th strokes gained approaching the green, or 15th in total driving, Day is the complete package and has a ton of confidence entering this major at Oak Hills CC, so we are obligated to invest accordingly at under $10,000 on FanDuel.
Adam Svensson ($8,400)
We're landing a cheap salary for Canadian golfer Adam Svensson ahead of the 2023 PGA Championship. Svensson's last four finishes have gone T52, MC, T41, and T27, so there isn't a lot of optimism at the moment, which is captured by his reduced salary on FanDuel. He has two T10 finishes, including outright at the RSM Classic in late 2022, while he's collected five T25 finishes in 19 events, missing four total cuts. As bad as his finishes have been recent, Svensson is ranked 33rd in total strokes gained, including 40th putting, while ranking 16th in scrambling. Scrambling will be vital at Oak Hills to save par while battling small square footage Bentgrass greens, which is a big reason why I'm recommending investing in Svensson as a strong salary-saving option at $8,400 on FanDuel this week.
Matt MacKay is an avid writer, editor, and researcher. He enjoys analyzing the game from a fantasy sports and sports betting perspective. Music is another constant in his daily life. Matt loves spending time with his wife and three pets. He likes to read, listen to podcasts, and is constantly aiming to create the most accurate and engaging content in the sports betting industry.