LIV Player-by-Player Guide for the PGA Championship
Are you looking to bet on the PGA Championship, and are wondering whether the LIV Golf players can make the same impact that they did at The Masters? Then this player-by-player guide is for you, as we break down each player's chances.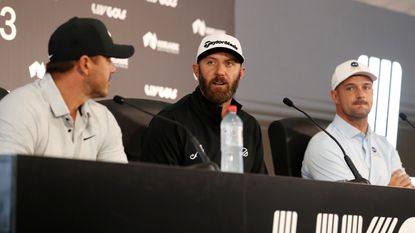 (Image credit: Getty Images)
17 players from the LIV Tour will feature in this week's PGA Championship field, one less than the 18 that played at Augusta last month. This number would have been the same had former winner, Martin Kaymer not pulled out.
The qualifying criteria has been a huge talking point ahead of this week's event, with the PGA of America reserving the right to essentially invite whoever they saw fit.

Phil Mickelson may not have been happy with those that were chosen, but the field is complete now, and it is now down to these 17 players to show that the LIV Tour features some of the world's best golfers.
Brooks Koepka (T2), Phil Mickelson (T2), and Patrick Reed (T4) all finished inside the top 5 at Augusta in the most recent major, whilst Joaquin Niemann (T16) ensured 4 of the 18 that teed it up finished inside the top 20 that week.
It might be a tougher ask for a similar result this time around, given Oak Hill is not as familiar at Augusta, but can the likes of Dustin Johnson and Cameron Smith who finished 1st and 2nd respectively at LIV Golf Tulsa last week, make an impact on this event?
Let's break down each of the 17 players in odds order, to see how what chance they have ahead of the 2023 PGA Championship.
Ranking LIV Golfers by Their PGA Championship Odds
Let's take a look at the odds for each LIV Golfer that is teeing it up at Oak Hill this week, and determine if they can be a factor.
The Favorites
Brooks Koepka (+2200) Get the best odds on Brooks Koepka at DraftKings
Best PGA Championship Finish: Win (2018, 2019)
Brooks Koepka is one of just three players on the LIV Tour to have won this major championship in the past, having won it for the first time in 2018 and then defending in 2019.
Koepka and Phil Mickelson are both two-time winners of this event, and Martin Kaymer, who is teeing it up this week, is the other LIV Golfer who has won the Wanamaker Trophy.
After winning twice on the LIV Tour, and finishing T2 at The Masters, bettors and golf fans are ready to embrace the chance of Koepka winning a major once again, and now he's healthy he clearly has every chance.
Dustin Johnson (+3500) Get the best odds on Dustin Johnson at DraftKings
Best PGA Championship Finish: 2nd/T2 (2019, 2020)
Dustin Johnson has twice finished runner-up in this event, and in 2020 he was in pole position to win.
In 2019, Johnson went into the final round seven back of Koepka, so to close the gap to two by week's end was a strong enough effort, but in 2020, he was the 54-hole leader at Harding Park, but a final-round 68 was not good enough to hold off Collin Morikawa, who closed with a 64.
Johnson would go on to win the Masters in 2020, but whilst he's posted two top 8 finishes in the Open Championship since, he's not looked the same dominant force in these major championships.
A win last week on the LIV Tour may be the spark he needs, but unlike Koepka, he is yet to show he can truly compete in majors still.
Cameron Smith (+3500) Get the best odds on Cameron Smith at DraftKings
Best PGA Championship Finish: T13 (2022)
In a year where Cameron Smith lifted the Claret Jug and posted another top 3 finish at Augusta, it is perhaps no surprise that he posted his best finish to date in this event, as he finished T13 at Southern Hills.
Smith wasn't as convicing as Koepka, Mickelson or Reed at Augusta, but his 34th place finish was solid enough, and he's finished 3rd, 7th and 2nd on the LIV Tour since.
Perhaps playing with a renewed sense of purpose after the opening major, and more importantly likely injury-free at this point, Cam Smith will be looking to better his best PGA Championship finish once again.
A Top 10 would be a great result for Smith, all things considered.
Joaquin Niemann (+9000) Get the best odds on Joaquin Niemann at FanDuel
Best PGA Championship Finish: T23
It is quite a drop from Cam Smith to Joaquin Niemann in the market, but the Chilean beat his tourmate at Augusta when finishing T16, and possesses the necessary tools to succeed here.
Since finishing 16th at Augusta, Niemann seems to have found some form on LIV, finishing top 10 in each of his past two starts. What that means for this week remains to be seen, but ultimately this is a young star, who has everything you need to contend at this event.
Two top 5's at Detroit Golf Club, another Donald Ross design may be a pointer that Niemann will like this test.
His T16 finish at the Masters was his best major effort to date and his T23 in this one in 2022 is his second best, so things are trending in the right direction for Niemann in the majors.
Talor Gooch (+9000) Get the best odds on Talor Gooch at FanDuel
Best PGA Championship Finish: T20
After winning back-to-back on the LIV Tour, Talor Gooch once again found himself in the spotlight, and whilst he couldn't complete the three-peat last week in his home state, he is certainly in form.
Gooch has two top 20 finishes in majors, one of which came in this event in Southern Hills twelve months ago, in his home state of Oklahoma.
An improvement on that effort from last year would have to be graded as a success for Gooch and a top 10 isn't out of the question.
The Longshots
Let's now look at all the LIV Tour players who are +1000 and bigger, of which there are plenty. 13 of the 18 players sit in this range, which probably tells you what is thought of the LIV players this week from a betting perspective.
Patrick Reed +11000 (PointsBet) Get the best odds on Patrick Reed at PointsBet
Best PGA Championship Finish: T2
Patrick Reed kicks us off in the triple-digit range, and he is the epitome of a player that often overcomes a lack of distance to compete at longer golf courses.
He will need to do the same this week at Oak Hill, and he will have to improve on his recent major record, which has seen him struggle to make an impact away from Augusta, since 2019.
3rd, 14th, and 12th on the LIV Tour since finishing T4 at Augusta, Reed is playing fine, but probably not well enough to be confident in him this week.
There's little chance in my opinion that he matches his best finish in this tournament to date, which is currently a T2 finish in 2017.
Bryson DeChambeau (+12500) Get the best odds on Bryson DeChambeau at PointsBet
Best PGA Championship Finish: T4
Bryson DeChambeau did have a chance to win this event in 2020, as he went into the final round two strokes back of Dustin Johnson three years ago, but I cannot see a similar outcome this week.
Yes, Bryson did improve his current form by finishing 7th last week in Tulsa, but that will likely mean very little as he looks to return to the best fields in golf.
I do not see an avenue for DeChambeau to contend this week, as he looks to further changes to his swing and overall game.
Mito Pereira (+16000) Get the best odds on Mito Pereira at FanDuel
Best PGA Championship Finish: T3
We should probably be talking about the defending champion right now, as Mito Pereira found himself one-shot clear playing the 72nd hole, and with the tournament in his hands.
Pereira found the water hazard off the tee, and continued to struggled for the rest of the hole, ultimately not only costing himself the win, but also the chance to play Justin Thomas and Will Zalatoris in the playoff.
Mito has been steady on the LIV Tour this season posting three top 6 finishes, but we didn't really see enough at Augusta to suggest he's in the form he needs to be to replicate his effort from last year.
He will likely be the second-best Chilean this week, behind Joaquin Niemann.
Abraham Ancer (+25000) Get the best odds on Abraham Ancer at PointsBet
Best PGA Championship Finish: T8
Abraham Ancer finished T8 in this event in 2021 and T9 last year, but there is very little to suggest he will match those efforts this week.
The Mexican did win the Saudi International event earlier this year, but he's been dire in every start across the LIV Tour and at Augusta since, so its an easy pass here for me.
Harold Varner III (+25000) Get the best odds on Harold Varner at PointsBet
Best PGA Championship Finish: T29
The Kid from Akron, Ohio... No, not Lebron James, but Harold Varner III. This one-time DP World Tour winner, who has also won the Saudi International is in good form, with 9th and 4th place finishes in his past two starts on LIV.
Add in a T29 finish at Augusta last time he played in this sort of field, and you have a solid top 40 prospect, but there's very little expectation for Varner this week.
Phil Mickelson +3000 Get the best odds on Phil Mickelson at PointsBet
Best PGA Championship Finish: Win (2005, 2021)
I wrote Phil off at Augusta when he came into the week at 300-1, and he finished T2. Everyone wrote Phil off ahead of the 2021 PGA Championship and he won.
That's probably all you need to know. If you like him, bet him. There is nothing to suggest he will repeat the success from a month ago at the Masters though, and he likely just excelled in familiar surroundings that week.
Paul Casey (+35000) Get the best odds on Paul Casey at PointsBet
Best PGA Championship Finish: T2 (2020)
We are not used to seeing Paul Casey at these sort of odds, but his lack of current form dictate that is where he belongs in this market, and there's little we can do to argue.
He is in this event because the organizers believed he deserved a spot after finishing T2 in 2020 and T4 in 2021, before missing the chance to return 12 months ago through injury.
Casey has been terrible since finishing 5th at the Saudi International and 4th in the LIV Tour season opener, and if he does well, it will just be a case of him channeling his former elite-level play for one spike week.
Brendan Steele (+4000) Get the best odds on Brendan Steele at PointsBet
Best PGA Championship Finish: T9
With the greatest respect, Brendan Steele is not the type of player we are missing on the PGA Tour, but he is someone that drives the ball incredibly well on his day and can keep up with the best of them tee-to-green.
That is why this has been his best major, with his sole major top 10 coming at Southern Hills 12 months ago, taking him to four top-22 finishes in this event.
He could make the weekend and crack the top 30, given his ability off the tee, and his past efforts in this event.
Dean Burmester (+4000) Get the best odds on Dean Burmester at PointsBet
Best PGA Championship Finish: T59
Dean Burmester is one player that could sneakily make an impact here, given his prowess off-the-tee.
The South African has posted three top 8 finishes in his last four starts on the LIV Tour, and we will see what that is worth this week at Oak Hill.
Look for him to post his best PGA Championship effort this week.
Thomas Pieters (+4000) Get the best odds on Thomas Pieters at PointsBet
Best PGA Championship Finish: T23
Once likely considered as a dark horse for this type of event, the excitement around a player like Thomas Pieters dampened once he decided to join the LIV Tour. He had his reasons and spoke quite eloquently on them, but it doesn't take away from the fact that he's simply out of sight, out of mind right now.
Since joining LIV he has failed to make an impact, with his 17th place finish his tied-best effort so far.
Pieters did make the cut at Augusta last month and were it not for a cold putter he may well have finished a fair amount higher than T48, but other than being long off the tee, we have very little to go by, when considering him as a contender this week.
Anirban Lahiri (+50000) Get the best odds on Anirban Lahiri at PointsBet
Best PGA Championship Finish: T5
Anirban Lahiri actually boasts a top 5 finish in this event which many will have forgotten, but it was only last year he finished runner-up at TPC Sawgrass and captured the imagination of many a golf fan.
Four times since the start of December, Lahiri has finished runner-up across the LIV Tour, Asian Tour and Indian Tour, but can he take that form into a bigger event like this?
He's cooled off the past fortnight with 19th and 13th place finishes, and he's probably not long enough to contend here.
Sihwan Kim (+250000) Get the best odds on Sihwan Kim at DraftKings
Best PGA Championship Finish: DNP
Sihwan Kim's best finish on the LIV Tour this year came last week when he finished T43 in the 48-man field. He's finished dead-last 50% of the events this year. That's all you need to know.
In addition to hosting the Lost Fore Words golf podcast, Tom Jacobs has been writing betting articles on golf for the past decade. Tom also co-hosts the DP World Tour Picks & Bets show on the Mayo Media Network, and has his finger on the pulse on all the major Tours. A long-suffering Nottingham Forest fan, Tom also enjoys watching Soccer on the weekends!