Best Novelty Golf Head Covers 2023
The best funny, cool, different head Covers for your driver, fairways, hybrids and putter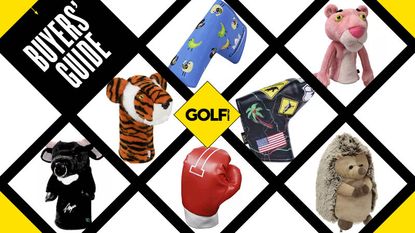 (Image credit: Golf Monthly)
Best Novelty Golf Head Covers
Golf is a very traditionalist sport, often dominated by styling that is quintessential to the foundations of the game. But in recent years, many manufacturers have started to put more modern styling elements on to the types of golf equipment and accessories they are producing. And it's fair to say that over the last 30 years, we have watched golf become a much more colorful game, with players all over the world donning new styles, brighter colors and bolder equipment. So why not add some of that to your golf game?
In the below list we've identified some of the best novelty golf head covers that will help you to stand out from the crowd. Many golfers, like Tiger Woods (opens in new tab) use novelty head covers to protect their clubs, with the 15-time major champion regularly seen using his 'Frank' head cover on his driver. In fact, novelty head covers are a lot more popular than you might think. They're great as gifts, prizes or to add some color and personality to your bag. While they might not be for everyone, with most golfers opting for a standard club head cover (opens in new tab) there is a big market out there and we've picked some of our favorites including animal covers, film characters or other covers that are equally as eye-catching to spice up your golf bag.
Additionally, be sure to take a look at our other golf gear guides to fill any gaps you have in your setup, such as the best golf accessories (opens in new tab) or best golf bags (opens in new tab).
Best Novelty Golf Head Covers
Why you can trust Golf Monthly Our expert reviewers spend hours testing and comparing products and services so you can choose the best for you. Find out more about how we test.
+ Very funny covers
+ A different emoji for each club
- Sits quite large in your golf bag
Emojis have taken over the world in the last five years and they seem to be making their way into the golfing world now, with this offering from Winning Edge.
These emoji covers are a very fun and protective club head cover you can use to keep your clubs well protected on the course. What's even cooler about these emoji covers is that you can have a different emoji for your driver, fairway woods and your putter. As the image suggests, there are three emoji designs to pick from but we do wish there were more to choose from given how many emoji faces there are on our phones!
Sesame Street Elmo Club Head Cover
+ Perfect for anyone who loves Sesame Street
+ Fantastic red color stands out on the course
- Maybe slightly hard to put on and take off
Boost your Sesame Street cred (sorry!) on the golf course with this brilliant Elmo driver head cover. Featuring a vibrant red colorway, this Elmo cover will help you stand out on the golf course and allow others to spot you from long range.
While it may be slightly harder to put on your clubs, Elmo's fluffy head will keep your driver well protected and safe from any dents or scratches. And if you wanted to fill your bag with a full set of Sesame Street characters you can grab yourself a Bert, Ernie or a Cookie Monster head cover.
NFL Set of Three Head Covers
+ Great for sports fans to show off their covers
+ An excellent present for any sports fanatic
- Not the most durable covers
Love the NFL and want to show your team support whilst out on the course?
These offerings have got you covered and whilst this set of three is a good deal, you can also get mallet putter covers with your favorite team on as well. Whether you're a Patriots fan or a Rams fan, there is a head cover for every team in the league. These are also very easy to take off and put on your driver and provide ample protection for your clubs during your round.
(opens in new tab)
Longridge Boxing Glove Wood Head Cover - Red
+ A great model for boxing fans
+ Bright red color looks great
- May slip off easily on the course
Made from durable synthetic materials, this boxing glove driver head cover is sure to take you beyond 12-rounds. It is a the perfect head cover for boxing fans and features a bright red base color that will surely help you stand out on the course.
As boxing gloves protect a boxer's hands, this head cover will too protect your driver's club head. This offering is also very reasonably priced and its red colorway looks great.
(opens in new tab)
Winning Edge Pink Panther Head Cover
+ Another funny head cover
+ Very distinctive pink colorway
- May be slightly large
A design famously used by US Open champion and 10-time LPGA Tour winner Paula Creamer, who is known as the Pink Panther. This is one of the coolest and most distinctive head covers on this list.
As golf accessories go, you can't get more unique than this fantastic offering that replicates the iconic Pink Panther cartoon.
PRG America's Florida Highway Head Cover
+ A very cool design
+ Durable and protective material
- Some will think design a bit much
PRG designs and manufactures bespoke golf accessories of the highest quality, but the company strives to deliver these with an affordable price tag.
They craft covers for putters, woods and alignment sticks as well as providing designs that vary from different parts of America. For example, you can get California and Texas highway versions of the putter above along with several other designs.
(opens in new tab)
+ Used by Tiger Woods
+ Very protective head cover
- Can get saturated when wet
Does this head cover look familiar to you? That's because this is the one that Tiger Woods uses!
Do you need any other excuse to buy it? Probably not. We like this Daphne's model so much we also featured in our guide on the best golf head covers too. But additionally there are over 175 designs to tickle your fancy and they've been going for over 40 years now. Every product carries a lifetime guarantee and they're as durable as they are fun.
(opens in new tab)
Craftsman Golf Birdie Birds
+ Very unique bird designs
+ Cool blue color
- Higher pricing point than others on this list
Every single golfer loves making birdies and these covers from Craftsman Golf can help you achieve a positive mindset. Fill yourself with confidence and hit more birdies with these fantastic looking birdie head covers.
They are available for drivers, woods, hybrids and the putter and are made of a very durable material that will keep your clubs well-protected and dry during your round.
(opens in new tab)
Odyssey Funky Golf Putter Head Covers
+ Odyssey are a very reliable brand
+ Matches well with Odyssey putters
- Higher pricing point than other covers
Odyssey is one of the most popular putter brands and these high quality, cool head covers can match your putter nicely. There are plenty of different options to choose from in blade and mallet versions. Speaking of which take a look at the best Odyssey putters too.
But as Odyssey are one of the most reliable putter manufacturers in golf, their club head covers are too very reliable and protective offerings that can add an extra glint of color to your bag.
How we test golf equipment
When it comes to product testing, our reviews and buyers' guides are built upon a rigorous testing procedure as well as the knowledge and experience of the test team. Product reviews on drivers are headed up by Golf Monthly's Digital Editor Neil Tappin, who has been a part of the team for over 15 years and is currently playing with a TaylorMade Stealth Plus Driver.
Other members of the Golf Monthly team contribute to clubhead cover testing too. All of our writers are able to efficiently test the vast majority of the biggest product releases while conveying the pros and cons of each item eloquently. Getting into specifics, we test club covers outdoors on premium drivers, to get a thorough understanding of the design features, durability and style each item offers.
Ultimately, we aim to be as insightful and honest as possible in our reviews, so it is important to acknowledge that no manufacturer can buy a good review. This is because our team tells it how it is. To learn more about our methodology, check out our guide on how Golf Monthly tests products.
What to consider when purchasing a novelty club head cover
Club head covers might not be the most technical piece of equipment or the first accessory that is on your list of things to buy, but they are a very important thing to have to protect your long-range clubs and for that reason there are several important factors to think about when purchasing your next club head cover.
1. Size
Head covers come in a variety of different sizes and shapes depending on the clubs you're buying them for. Depending on what clubs you have in your bag that need protection, you will need to think about the type and size of head covers you need. For example, you can purchase a head cover for pretty much every club in your bag from your driver right the way down to your putter. Most golfers tend to buy head covers for their driver, fairway woods, hybrids and putters, but you can get covers for your irons too, if you're concerned about scratching or denting them.
Depending on the club you're buying your cover for, you need to think about the size of the cover. Buying a cover that is too large for a certain club could mean that the cover doesn't fit well on that club, will likely fall off during your round and may even damage the club. Because of this, our top piece of advice when buying a club head cover is to always purchase a cover that is the correct size for your clubs. You may also want to consider buying a set of club head covers, which might save you more money than buying them individually. You may also want to think about how big the head cover really is. Particularly with novelty covers, they can be slightly large and take up a lot of space in your golf bag.
2. Material
Protection is paramount when thinking about the type of club head over you want to buy. Golf clubs don't come cheap, so investing in a cover that is going to keep your clubs safe from being bashed around on the course is invaluable. That's why its always wise to get a head cover that is made of a sturdy and durable material that will keep your clubs safe. Leather is perhaps one of the best covers as it can also prevent your clubs from getting wet in the rain. Cotton and wool covers may not be as advantageous in wet weather golf but they can also provide great protection to your driver, fairway wood and putter heads.
3. Durability
Some of the premium club head covers that feature the best designs don't come cheap. They can be an expensive addition to your bag and you don't want to have to be spending another $100 every other season replacing them. That money could be put towards green fees or a membership, arguably a better investment for most golfers, so for that reason, you should look to purchase a cover that is durable and will last a long time. Our top piece of advice is to look for covers that are waterproof and can withstand the rain.
4. Style
Style is another key point to remember when purchasing a club head cover. Whether you're a more traditional golfer or if you're looking for something that's going to make you stand out on the course, adding a touch of personalization to your golf bag can seriously help you feel comfortable and confident when you're on the course. Particularly when it comes to novelty golf club head covers, there are plenty of different and unique designs available, and you can even customize and come up with your own covers too.
While we're on the subject of style, why not check out some more of our guides on club head covers, including our guide on the best golf club head covers (opens in new tab) or our guide on the best head covers for irons.
FAQs
Are novelty club head covers allowed in golf?
Yes, novelty club head covers are allowed in golf. Many professional players use novelty club head covers including Rory McIlroy, Tiger Woods and Sergio Garcia.
Are novelty club head covers expensive?
Novelty club head covers aren't always expensive. You can get some great covers for excellent prices for as low as $20 in some cases. But if you want to personalise a club head cover, you can end up paying upwards of $70. Depending on what you're looking for, remember to scan the market and and find the cover that is the best price for you.
Which clubs should have covers?
All your clubs can technically have club head covers, but you should ensure that your driver, hybrids, fairway woods and putters all have a club head cover on them.
Coupon Discount Codes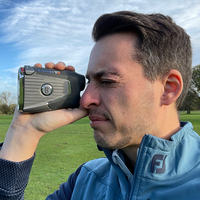 (opens in new tab)
From clubs, balls and tees, to essential sportswear and fitness products, keep it affordable with a little help from our promo and coupon codes.
A golfer for most of his life, Sam is a Senior Staff Writer for Golf Monthly.
Working with golf gear and equipment over the last five years, Sam has quickly built outstanding knowledge and expertise on golf products ranging from drivers, to balls, to shoes.
He also loves to test golf apparel especially if it a piece that can be used just about anywhere!
As a result he has always been the one family and friends come to for buying advice and tips.

He is a graduate of Swansea University where he studied History and American Studies, and he has been a part of the Golf Monthly team since December 2017. He also previously worked for World Soccer and Rugby World magazines.
Sam now spends most of his time testing and looking after golf gear content for the website. He also oversees all Tour player content as well.
Unfortunately, Sam is not a member of any club at the moment but regularly gets out on the golf course to keep up the facade of having a handicap of five.