Best Golf Books 2022
If you're looking for some inspiration for a good read or a great present then here's a great starting point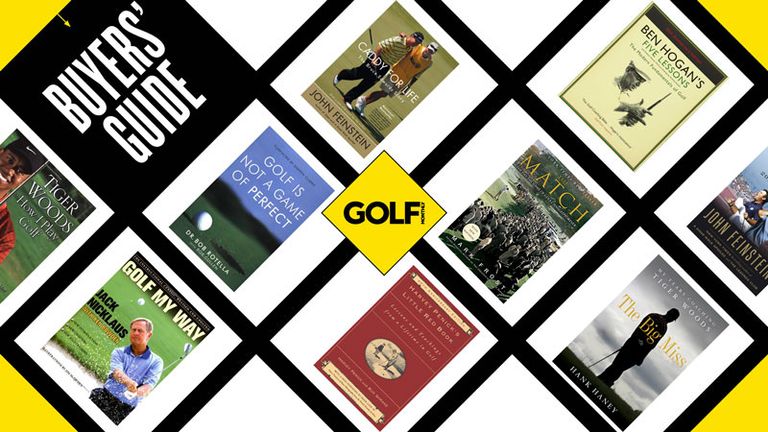 Golf Monthly Newsletter
Golf tips and expert instruction, golf club reviews and the latest golf equipment.
Thank you for signing up to Golf Monthly. You will receive a verification email shortly.
There was a problem. Please refresh the page and try again.
Best Golf Books
A good book is one of the best golf accessories that you can get, especially for the avid readers out there or those who find themselves travelling a lot. There are few things more satisfying than ticking off a classic read and we've created this list of the best golf books to point you in the right direction.
Some of the finest players to compete in the game and some truly fine authors have taken to writing and we have tried to include as many of their books as possible below. Several of them have an instructional flavour to them while others tell amazing stories.
It's not a definitive list, rather a selection of the ones we at Golf Monthly think will certainly entertain and educate. Whatever style of book you like to read, there should be something for you contained within.
And if you want more buying advice, we recommend checking out a few of the other posts below to make sure you have the perfect gift for yourself or a golfing loved one - such as the best golf bags, best golf balls, or best golf tops.
Best Golf Books
Harvey Penick's Little Red Book
This must be one of the most digestible books ever written as Penick and his co-author Bud Shrake take you through one of the greatest instruction books of all time through a collection of anecdotes.
It was only written in 1992 when Penick, who coached the Hall of Famers Tom Kite, Ben Crenshaw, Mickey Wright, Betsy Rawls and Kathy Whitworth, was in his late 80s – and he would die in 1995 just before Crenshaw won his second Masters.
It is the highest-selling golf book and is an absolute must read if you're looking for some practical and mental help which, basically, all of us are.
Ben Hogan's Five Lessons: The Modern Fundamentals of Golf by Ben Hogan
If ever there was a player that you would want to pick the brains on the golf swing it would be Ben Hogan, who many still regard as the greatest ball striker of all time. Ask Jack Nicklaus who he thinks is the best swinger ever and he'll tell you it's Hogan.
The nine-time major winner believed that any golfer with a modicum of skill could break 80 and in the Five Lessons he breaks down the swing into five parts – grip, stance, backswing, downswing and the swing process.
In each chapter he explains and demonstrates each part of the swing with clear illustrations and, along with Penick, it is the most thumbed golf illustration book of all time. It was initially released as a five-part series in Sports Illustrated in 1957.
Given how good this book is, it is probably one of the best golf training aids you can buy!
Golf Is Not A Game Of Perfect by Dr Bob Rotella
All Rotella books are worth a read and he's pretty much the go-to name in golf psychology - ask Padraig Harrington how important he's been for his career. He's also worked with the likes of Nick Price, Darren Clarke, Graeme McDowell and Rory McIlroy.
Through a collection of brilliant and fascinating anecdotes Rotella will help the casual golfer to learn from the greats of the game and it's all very easy to follow rather than needing a degree in psychology to unravel it. You'll read this and then want to read it all over again and then find yourself dipping back into your favourite and most relevant chapters in the years to come.
Every Shot Counts by Mark Broadie
For years we've been hearing about Mark Broadie's excellent and fascinating Strokes Gained analysis and Every Shot Counts is a must read for every golf nut. Broadie, a professor at Columbia Business School, helped the PGA Tour develop their stats programme and now every player and coach relies on these to make improvements. Here he uses analytics from the financial world to uncover the game's secrets. It answers great questions like what part of Tiger Woods' game made him a winner and how much emphasis we should put on certain parts of the game – eg Broadie only puts a 15 per cent importance in determining a player's score with their putting.
Frost is best known as the co-creator of Twin Peaks but his contribution to golf writing is immense. The Match is set in 1956 at Cypress Point, one of the most iconic and beautiful courses on the planet, and the story of the greatest private match is then told through the recollections of the four players.
The match was pulled together when Eddie Lowery, once upon a time caddy to Francis Ouimet, claimed that two of his car salesmen – US Amateur champion Harvie Ward and the young Ken Venturi – could beat anyone. Fellow millionaire George Coleman then turned up with Ben Hogan and Byron Nelson.
Other outstanding golf books by Frost are The Greatest Game Ever Played and The Grand Slam.
To The Linksland by Michael Bamberger
Bamberger wrote this after caddying the 1991 season on the European Tour and then playing the linksland in Scotland. The journeyman Peter Teravainen, a practising Buddhist and graduate from Yale, was his player and the story takes them through Europe and into the lives of those playing the tour in the early 90s.
In Scotland Bamberger meets John Stark, a teaching pro at Crieff GC, and a mystic who taught the American that 'to feel the proper tempo of a swing, you have to hear the swing'. From there he tackles the likes of the Old Course, Cruden Bay, Prestwick and Royal Dornoch with the new 'secret' before a ground-breaking trip to Machrihanish.
A great book for your golfing soul from a journalist who remains at the top of his game to this day.
The Golf Round I'll Never Forget by Matt Adams
How good is this? Fifty of the very best recall their most memorable round and there are some incredible inclusions. For example Arnold Palmer reflects on his final round at Cherry Hills where he beat Ben Hogan and Jack Nicklaus for his only US Open win in 1960, then there's Jack Nicklaus' all-time Masters win in 1986 at the age of 46 as well as the Tiger Slam where Woods got his educated hands on all four majors at the same time. From a European perspective there are memories from Sergio Garcia, Padraig Harrington, Tony Jacklin plus many more from around the world. Adams draws out the best bits from the best rounds and there are also some fantastic photos and scorecards to look back on and enjoy.
The 500 World's Greatest Golf Holes by George Peper
There are few things better than poring over some incredible photos of the best golf holes on the planet. This brilliant coffee table offering puts forward 500 of the most iconic holes from the likes of Pebble Beach and St Andrews to some of the lesser known greats like Yarra Yarra in Australia. The editors have narrowed it down to their favourite 100 and it makes for a great debate as, like with all these things, it's a very subjective topic. They also put together some fun lists like the 'best of the best' and the most scenic or heroic. There are nearly 800 colour photographs to enjoy here and the top 18 even have full schematics.
Golf My Way by Jack Nicklaus
How could you not include a book from the leading major winner of all time? Unlike other books by the Golden Bear, which have focused solely on tips, this gives us a proper look into his approach to the game.
New material has been added to include a 'Reflections and Recommendations' chapter which tells the reader why he added a certain element to his game and how his mental game evolved over the years. If you think how fascinating is in a 10-minute chat on Sky Sports then this promises to be an enlightening read, how could it not be?
The Big Miss: My Years Coaching Tiger Woods by Hank Haney
This might not have lived up to the hype but it's a great reveal into certain aspects of Tiger's swing and life after their six years together - TW himself called it 'unprofessional and very disappointing. I think people understand this book is about money'.
If you want a few tidbits, Woods is allegedly a bad tipper, he was put out by Ian Poulter 'mooching' a lift on his private jet, he thinks Phil Mickelson is 'too opinionated' and, while Haney is quick to point out how grateful he is to work with Tiger, he picks plenty of holes in his character. As for Tiger's indiscretions Haney is quick to point out that caddie Steve Williams was ignorant of anything.
Ahead of his resignation, Haney, in a series of texts, wrote to Woods, 'I feel like I have been a great friend to you, I don't feel I have gotten that in return'. Which probably explains plenty.
Zen Golf by Dr. Joseph Parent
Dr Joseph Parent is both a noted PGA Tour coach and a respected Buddhist teacher. In this book, he teaches golfers how to play with more consistency and less frustration, and consequently how to lower their scores.
Specifically, Dr Parent's PAR approach (preparation, action and response) will guide readers through the various aspects of their game, whether amateur or professional, and a glance through the contents should be enough to garner significant attention.
Chapters such as 'How to get from the practice tee to the first tee', and 'You produce what you fear' will hit home with many golfers, as they did with us.
How I Play Golf by Tiger Woods
Possibly one of the best golf books out there in terms of instruction, Tiger Woods reveals the five secrets to his amazing success in this book. It features a combination of physical, metaphysical and psychological practices that he used daily to stay at the top.
Released in 2001, a few months after the 15-time major champion completed the "Tiger Slam", this book uses a mixture of text, pictures and slow-motion photography to help golfers find success at whatever level they compete at.
FAQ's
What is the best golf book of all time?
The impossible question! This is all down to taste but there have been some of the best books ever written when it comes to golf. A good starting point would be to look at John Feinstein and Mark Frost offerings who tell a story like nobody else and they have documented some of the most amazing stories in the game and some of the most colourful characters. Harvey Penick's Little Red Book is genuinely beautiful and shows off a very different game to the one that we see today.
Can you learn from a golf book?
People will argue that video is the best way to digest golf instruction but many of us learn better from the written word and all the game's greats have shared their nuggets through a collection of books. Ben Hogan's Five Lessons is the all-time classic and you still won't go very wrong by poring over this while there are so many fantastic mental-game books. Dr Bob Rotella leads the way in this market and has done for years and this is a great way to kickstart your thinking on a certain part of your game.
Mark has worked in golf for over 20 years having started off his journalistic life at the Press Association and BBC Sport before moving to Sky Sports where he became their golf editor on skysports.com. He then worked at National Club Golfer and Lady Golfer where he was the deputy editor and he has interviewed many of the leading names in the game, both male and female, ghosted columns for the likes of Robert Rock, Charley Hull and Dame Laura Davies, as well as playing the vast majority of our Top 100 GB&I courses. He loves links golf with a particular love of Royal Dornoch and Kingsbarns. He is now a freelance, also working for the PGA and Robert Rock. Loves tour golf, both men and women and he remains the long-standing owner of an horrific short game. He plays at Moortown with a handicap of 6.