The Masters Weather Forecast 2020
We take a look at the weather forecast for the November edition of The Masters.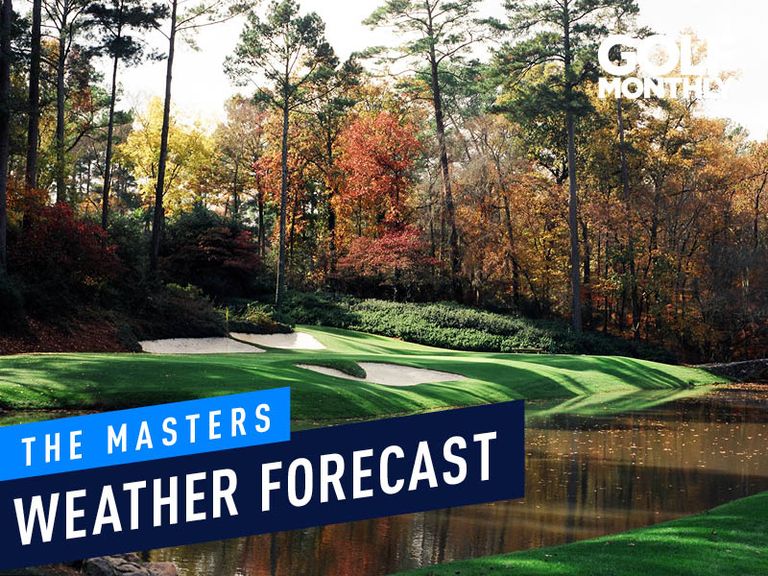 (Image credit: Getty Images)
By Sam Tremlett
We take a look at the weather forecast for the November edition of The Masters.
The Masters Weather Forecast 2020
The final men's Major golf tournament of 2020, The Masters is upon us in a completely different part of the year.
Traditionally the world of golf descends on Augusta National in April however with the Coronavirus having such a huge impact on every walk of life, the tournament got moved to November.
Related: Black Friday Golf Deals – Don't miss out
As you would expect, the state of Georgia looks rather different in those two months in several ways - one of those being the weather.
Bearing that in mind let's take a look at the weather forecast for the week shall we?
The Masters Weather Forecast 2020
Interestingly the weather forecast predicted by many experts is that in terms of temperature, this November Masters could look rather similar to an April one.
The original belief was that it was going to be a lot colder which would therefore mean the ball was not going to fly as far which would prove advantageous to the big hitters like Bryson DeChambeau, Tony Finau and others.
However the temperatures for the week will be in the mid-to-high 70's.
Thursday morning was very bleak and saw play be delayed, and it probably won't be until Saturday's third round until things get back on schedule.
Friday
Friday is set to be a very pleasant day with winds of just 5-10mph from the NW moving WNW later in the evening. It will be as warm as 79F around 3pm.
Saturday
Mostly sunny and cooler with highs of just 70f compared to 79 on Thursday and Friday. Wins NE shifting E 6-12mph.
Sunday
Cloudy and warmer with highs of 78f. Winds SW 5-10mph shifting W from 7-14mph.
Related: How Can I Play Augusta National?
If any of the above forecasts change, which they could easily do, we will update this page as soon as possible.
Titleist Pro V1 Balls
£41.95 £36.95 at Scottsdale Golf
Without doubt one of the best balls out there, the Pro V1 is below £37 at the moment - a real bargain. It's also in the sale in the yellow colour, too.
Under Armour Elevated Tour Baseball Cap
£30 £18.90 at Scottsdale Golf
Coming in size M/L, this Under Armour baseball cap is available in both grey and navy with over £11 off its usual price of £30.
Callaway Chrome Soft Golf Balls $47.99 $39.99 with Worldwide Golf Shops
Save eight dollars today on Callaway's Chrome Soft golf balls. A model that proves popular out on Tour, the ball is constructed with an improved urethane cover which delivers increased ball speed on full shots while providing even softer feel and more control around the greens.
Make sure you follow Golf Monthly on Facebook, Twitter and Instagram for all the latest Masters 2020 news and stories.