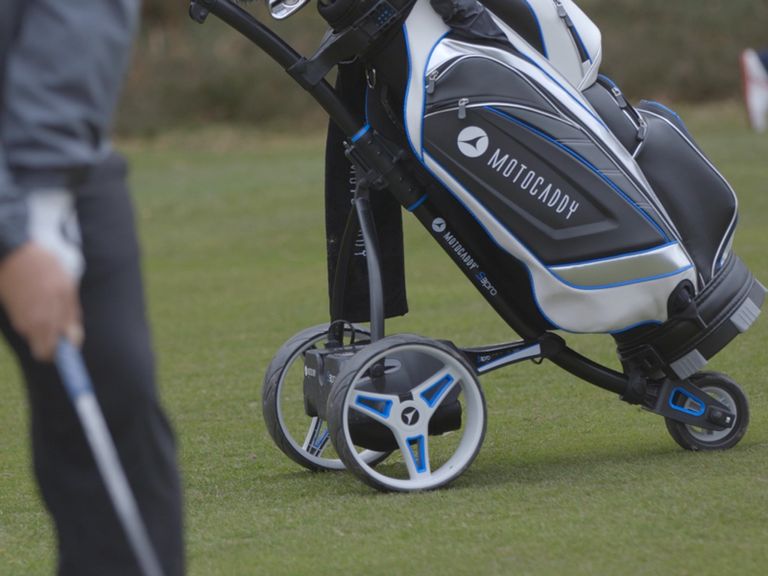 Motocaddy has a reputation for producing reliable, easy to use electric trolleys. The S3 Pro adds to that legacy. The performance is excellent and whilst the added extras might not be worthwhile for everyone, they have been designed with the golfer in mind. They are easy to use and add to the experience of 18 holes without creating any unwanted complexity.
Reasons to buy
+

The new colour screen is the main talking point here unlocking a host of features the golfer will enjoy. From the ability to send the trolley forward to charging your phone through the central console, there is much to admire.
Reasons to avoid
-

The added extras come at a cost so it is well worth looking at the list to get a feel for how much use you will get from them.
By Neil Tappin
The Motocaddy S3 Pro trolley is packed with user-friendly features for 2016 including a new colour screen, soft touch ergonomic handle and universal battery tray.
Motocaddy S3 Pro Trolley Review – Key Technology
This sleek trolley features low profile wheels and the company's excellent Quickfold system but the real benefit for the S3 Pro lies with the extra features. The ability to measure distances, the USB charging port, cartlock pin security system, battery meter and lost ball timer are all integrated into the simple, ergonomic handle.
Motocaddy S3 Pro Trolley Review – Our Feedback
There is no doubt the Motocaddy S3 Pro is an excellent trolley. First and foremost it is light and easy to manoeuvre. No matter how undulating your golf course, it chews up the terrain and makes getting round the course far less tiring. However, these benefits are just as well defined in the new and less expensive S1 model by Motocaddy. The extra price-tag here comes courtesy of the added features and the digital display looks great and the features are all easy to use. The ability to send the trolley forward a certain distance might not be new but it's a feature we really like and its easy to use here.
Motocaddy S Series Bags
If you are thinking of investing, we would recommend the lithium battery version. It is more expensive but it is much lighter and charges very quickly. You can lift the trolley in and out of your car without the need to remove the battery. Motocaddy also so it's more reliable and they offer an extended warranty. For us, the lithium battery version also makes the trolley easier to manoeuvre and therefore easier to use.
More on the Motocaddy S Series Trolleys
It might not be the smallest trolley on the market once folded down but it is neat and low profile which means that most people should be able to store it without much trouble. An excellent trolley at a good price given the added extras on offer!