Was This Open Too Big For Rory?
Rory's dream of winning the Claret Jug at Portrush this week turned into a nightmare after just one swing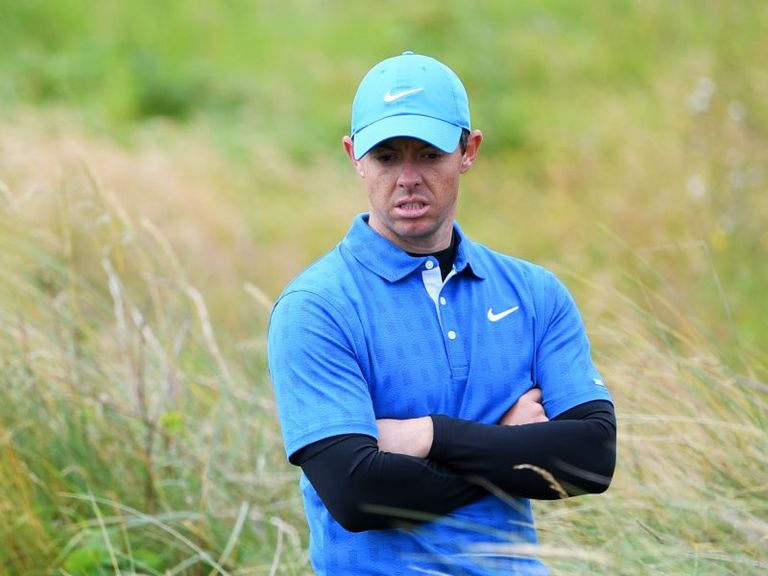 Rory's dream of winning the Claret Jug at Portrush this week turned into a nightmare after just one swing
Was This Open Too Big For Rory?
'I've always felt I've played my best golf when I've been totally relaxed and loose,' said Rory McIlroy on the eve of a tournament he has been building towards since it was first announced the Open would be returning to Royal Portrush after a wait of 68 years.
Sadly, the only thing loose on the 1st tee was McIlroy's opening shot. His ball flew left and finished out of bounds. More mistakes followed and the end result was a calamitous quadruple-bogey eight, which stunned the huge galleries into silence.
McIlroy had been trying — and failing — to convince everyone that this Open did not feel so different from any other. Then, with his very first blow, he succeeded in puncturing the balloon of expectation that had been rising steadily above the Dunluce links.
The glaring error on the 1st was compounded when he failed to make birdie on the gettable par-5 2nd and then went through the back of the 3rd on his way to a bogey.
Five over par after three holes was the stuff of nightmares — not least when many in the field were getting into red figures on the opening stretch of holes.
On the short par-4 5th, which had been yielding plenty of birdies early on, McIlroy was again wild off the tee, and was perhaps fortunate to find his ball in the cabbage behind a scoreboard.
Birdies on the 7th and 9th gave his army of fans something to cheer about, but it was impossible not to feel like here was another example, and a particularly painful one, of McIlroy reversing out of contention in a major.
A four-putt, double-bogey five on the par-3 16th hole and a triple bogey seven on 18 dispelled any doubts. After signing for a 79, his worst round of an Open since his opening 79 on the way to missing the cut at Muirfield in 2013, McIlroy conceded that his chances of victory had gone.
Is there any way back? 'There's definitely a way back to Florida,' he said with a rueful smile.
McIlroy had played the first and last holes of his round in a combined seven over par, buckling under the weight of expectation rather than being inspired by it, as others seemed to be.
Continues below
Expand The Open Championship Leaderboard 2021
The Open Championship Leaderboard 2021
Check out the latest scores from Royal St…
Expand McDowell Boots Bag After New 2019 Rule Ruins Round
McDowell Boots Bag After New 2019 Rule Ruins Round
G-Mac's ball on the 18th hole was found…
Expand McIlroy Crumbles At Royal Portrush In Open First Round
McIlroy Crumbles At Royal Portrush In Open First Round
The four-time Major winner's first round at Royal…
Darren Clarke got the tournament off to the perfect start by birdieing the opening hole in the very first match out. Playing alongside Irish amateur James Sugrue, the man who lives in Portrush and has been as prominent as anyone in the promotion of this Open, got to three under after six holes, which briefly put his name at the top of the leaderboard.
Handed the role of honorary starter, Clarke was able to play with some of the freedom that McIlroy talked about. And when things got more difficult, he still managed to hold on.
After walking up the 18th to huge applause, the 50-year-old put the finishing touches on a very creditable level par 71 — a score matched by Sugrue, the recently crowned Amateur Champion from County Cork.
Graeme McDowell, who grew up playing these links, was the next to make the home fans dream, getting to two under par at the turn before sparking a huge roar with another birdie on the 14th.
Shane Lowry, who was born in County Offaly, was available at around 50-1 before the tournament, but made a nonsense of those odds with a round of 67, four under par. It put him at the top of the leaderboard, and plenty will be checking his odds now.
For McIlroy, though, it all seemed too much. Paul Casey, one of his playing partners, spoke of his entry into the amphitheatre of the first tee feeling like 'a very significant moment'.
And yet McIlroy's recent record in the Open suggested that Irish golf fans were entitled to be confident. In addition to his wire-to-wire win at Hoylake in 2014, he finished tied-5th in 2016 at Royal Troon, tied-4th at Birkdale a year later, and tied second 12 months ago at Carnoustie.
The figures do not tell the whole story, however. At Troon McIlroy was 11 shots behind the leader Henrik Stenson going into the final round and finished a distant 16 shots back, although the Swede did post the lowest 72-hole total in Open history.
At Birkdale, McIlroy was 10 shots behind Jordan Spieth after 54 holes, largely thanks to his Thursday front nine, which saw him make five bogeys in his first six holes.
At Carnoustie, the Ulsterman was a model of consistency, finishing two back thanks chiefly to a putter that refused to do justice to his imperious long game.
It's a similar story at The Masters. Strong final rounds at Augusta National in four of the last five years tend to gloss over the fact McIlroy had all but played himself out of contention on each occasion.
The world number three had talked of trying to keep things 'low key' this week, and of being determined to 'look around and smell the roses'. If it sounded suspiciously like he was lowering expectations, his golf suggested he was right to do so.
'I want to keep reminding myself that this is bigger than me. This is bigger than me,' he had said at his press conference on Wednesday. Sadly, it seems he was right.
Expand David Duval Has 14 On Par-5 Seventh At The Open
David Duval Has 14 On Par-5 Seventh At The Open
After starting well the American had a poor…
Expand The Inside Story Of Rory McIlroy's 61 At Royal Portrush
The Inside Story Of Rory McIlroy's 61 At Royal Portrush
The Northern Irishman broke the Dunluce course record…
Expand The Open Championship Leaderboard 2021
The Open Championship Leaderboard 2021
Check out the latest scores from Royal St…
For all the latest Open news, check the Golf Monthly website and follow our social media channels