Play the English Challenge Pro-Am at Stoke by Nayland
The English Challenge is the only European Challenge event held in England, held at Stoke by Nayland in Essex you could get involved by playing in the event's pro-am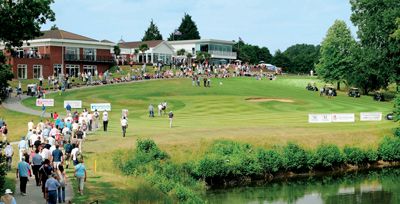 By Tom Clarke
Stoke by Nayland Hotel, Golf & Spa is offering a fantastic opportunity for keen amateur golfers to play a round with a high-profile professional.
The prestigious English Challenge - being held on the 26th to 29th July - is the only European Challenge Tour event that takes place in England, and is expected to attract thousands of visitors to Essex and will also be televised in 50 countries.
A major fixture on the international golf calendar, the English Challenge will see around 160 golf professionals from around the globe competing for a €160,000 prize.
They will play on the resort's famous 18-hole Gainsborough course, which is set in a designated 'Area of Outstanding Natural Beauty'. With its undulating fairways, a variety of water hazards and picturesque lakes, this 72-par course has been ranked amongst East Anglia's finest by the PGA.
Golf fans will be pleased to hear that spectators can attend free of charge and, for those who want to make a day of it, Stoke by Nayland Hotel Golf & Spa is running special hospitality offers during the four-day event, which include a three-course lunch and traditional afternoon tea.
Even more enticingly, there's the opportunity of a lifetime for keen golfers, as they can actually take part in the Pro Am, playing alongside professionals. During this day-long event on Wednesday 25th July, they will get the chance to play the Championship Gainsborough course in peak tournament condition with one of the European Challenge Tour's top 30 world-class pros in their team.
The finale to this amazing day will be a four-course gala dinner with entertainment - and another chance to rub shoulders with celebrities from the golfing world and a fantastic opportunity for memorable corporate hospitality!
For further details about the English Challenge, either about spectating or taking part in the Pro Am, visit www.stokebynayland.com