Sandy Lyle Gets 147th Open Championship Underway
Sandy Lyle Gets 147th Open Championship Underway at Carnoustie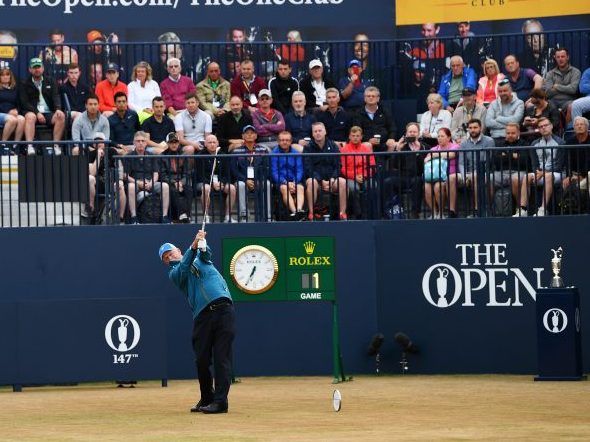 (Image credit: Getty Images)
Sandy Lyle, the Champion Golfer from 1985, gets the 147th Open Championship at Carnoustie underway
Sandy Lyle Gets 147th Open Championship Underway
Sandy Lyle, the Champion Golfer from 1985, got the 147th Open Championship at Carnoustie underway with a sweetly struck iron down the middle of the baked fairway.
On a clam morning, Lyle was one of a number of players to take advantage of the perfect scoring conditions, making birdies at the fourth and sixth, before coming unstuck on the back nine.
But, playing alongside Martin Kaymer and Andy Sullivan, Lyle was given a warm reception as he made his way onto the tee shortly before 6.30am.
It was 23 years ago when the Scot edged American Payne Stewart by a single stroke to take the Claret Jug at Royal St George's.
Expand Open Championship Weather Forecast 2019
Open Championship Weather Forecast 2019
Wind? Rain? Sun? Check out the Open weather…
Expand The Open 2018: How to pick a Carnoustie Champion
The Open 2018: How to pick a Carnoustie Champion
This year the Open Championship 2018 will return…
Expand The Open Championship Leaderboard 2021
The Open Championship Leaderboard 2021
Check out the latest scores from Royal St…
The 1988 Masters champion may be a big outsider to add to his two Majors this week, and Carnoustie may even represent his farewell to golf's oldest Major - after turning 60 in February his exemption is in his final year.
Open farewell? Sandy Lyle steps onto the first tee knowing it could be his final Open Championship
Lyle caught the attention with his putter over the opening holes, putting the flatstick, with a u-shaped dip on the shaft, to good effect.
But as he struggled on the back nine, there were a number of other players taking strides towards the top of the leaderboard.
South Africa's Erik Van Rooyen set the pace, reaching the turn in 33, and there are further signs former Green Jacket winner, Danny Willett, is ready to challenge again after a major slump in form dating back to his triumph at Augusta.
England's Willett bogeyed the first but picked up three shots in a row from the 4th, before adding another birdie at the 10th.
However, with windier conditions expected for the afternoon starts, Carnoustie is unlikely to remain generous for too long.
The Golf Monthly crew are at Carnoustie all week so check out the Golf Monthly website and the social media channels for all the latest.