Golf's Distance Debate - What The Game's Key Figures Have Said
The issue of driving distances is back in the headlines, but where do the game's biggest names stand on the subject?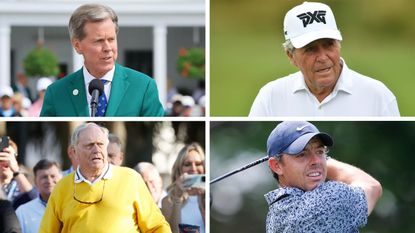 (Image credit: Getty Images)
One of the game's longest-running issues, the driving distance debate, is back in the news following its governing bodies confirming golf ball bifurcation plans to counter the issue.
While the game's present-day big hitters have ensured the subject is never far from the conversation, the debate has been rumbling for decades, with 18-time Major winner Jack Nicklaus even raising it as far back as the 1970s.
But what are the opinions of the leading figures in the game? Unsurprisingly, there is a division between those who feel a rollback of equipment is long overdue and others who feel the subject is overblown.
In Favor Of Change...
Jack Nicklaus
Nicklaus first raised the issue of increasing distances in the 1970s, and the ensuing decades have not changed his opinion that a rollback is necessary. In 2022, he said: "For all concerned, for the ball to come back to bring a lot of things back into perspective is very important for the game of golf. I think something will get done, it's just how long will it take for them to research the problem?"
Gary Player
The nine-time Major winner made a bold prediction in 2022, saying: "If we don't do something about the ball, it'll go 500 yards".
As to what to do about it, Player has a suggestion: "Cut the ball back 50 yards, only for the pros. Not for members, let the members play with anything, let them keep the long putter against their chest, don't stop them playing, they are two different games. They don't want to acknowledge that but they are. Just go and watch Koepka if you think you are playing the same game."
Paul McGinley
Europe's 2014 Ryder Cup-winning captain has spoken out in favor of bifurcation, where pros use different equipment to amateurs, saying: "Personally I would hold the top level where it is now, absolutely make it stringent so they can't go any further in terms of technology but at the same time I would open up the doors for amateurs to use different, and the technology companies to create different, new ways, new golf clubs and new balls that will help the amateur play a game that is incredibly difficult."
Sir Nick Faldo
In response to a tongue-in-cheek suggestion from Scott Hend to play without tees, the six-time Major winner wrote on Twitter: "Hello! I remember getting shot down with this idea years ago! That would instantly bring back striking skills under pressure! I'd love to see who's good enough to drive 320 off the deck on a Sunday afternoon, more power to them if they can!"
In 2020, he also suggested a change in the driver face: "If we brought the size of the face down so there were some serious mishits… so the sweet spot for the pro is a real sweet spot, not a sweet face - that's what it is now. It's the whole thing!"
Mike Davis
The former USGA CEO also hinted at changes as far back as 2018. He said: "We do not think that distance is necessarily good for the game. The issue is complex, it's important and it's one that we need to, and we will, face straight on.
"We look at other sports and say they haven't had to change their arenas. Tennis courts are the same size as the tennis court was, football fields haven't had to go to 130 yards in length, the basketball courts are the same, the soccer fields are the same - you're not watching stadiums get changed because of equipment. Unfortunately that is what's happened in golf. It's not as if it's stopped, it's continuing to go. And that's concerning."
Fred Ridley
The Augusta National chairman, while not explicitly suggesting a rollback, nevertheless voiced his concerns on increasing distances in 2021, saying: "We hope there will not come a day when the Masters or any golf championship will have to be played at 8,000 yards. If there is no action taken, for whatever reason, then we need to look at other options with regard to our golf course and what we can do to continue to challenge these great golfers and maintain the design integrity that was initially adopted by Mr [Bobby] Jones and Mr [Alister] MacKenzie."
Patrick Cantlay
It's not just the game's officials and elder statesman who think change is necessary, either. The 30-year-old eight-time PGA Tour winner also can't see how the current trend can continue. He said: "Theoretically, the golf ball needs to go shorter. Every golf course I go to has different tee boxes farther back than even four or five years ago when I visited the golf course.
"It's getting to the point where the tee boxes are already to the perimeter of the property, so much so that Augusta National has been buying up all the adjacent pieces of property so they can put more tee boxes and change the holes. That's not sustainable. Not only that, if pace of play is one of your biggest concerns, how many golf courses do I go to on Tour where the tees are 100 yards back? They can't keep going in this direction."
Against Change...
Rory McIlroy
For others, the issue is not as significant as some suggest. One is the four-time Major winner, who, in 2021, declared the R&A and USGA's Distance Insights Report, published the year earlier, "a huge waste of time and money".
He said: "I think the R&A and USGA are looking at the game of golf through such a tiny little lens that what they're trying to do is change something that pertains to 0.1% of the golfing community.
"99.9% of people that play this game play it for enjoyment, they play it for entertainment, they don't need to be told what ball to use or clubs to use. I mean, we have to make the game as easy and as approachable as possible for the majority of golfers. So honestly I think this distance insights report honestly has been a huge waste of time and a huge waste of money because that money."
Eddie Pepperell
A pro who sees the increasing distances as an inevitable consequence of improved technology is the DP World Tour player, who said: "Regardless of what happens with the technology, there seems to have been a paradigm shift in golf whereby the key factor, certainly in terms of ambition, is to hit the ball further and further. I don't see that changing and I don't see any prospective technological rollbacks changing that – a product of shifts in the game but also driven by things like data."
Justin Thomas
The two-time Major winner pointed to the improved fitness of golfers as a reason for the increased distances. He said: "I think distance is what it is right now because of us, and I think because of a lot of the players are taking the training and becoming more athletes and becoming stronger and more optimal in their distance. It is what it is. I mean, if you give us different stuff we're still going to try to find a way to hit it as far as we possibly can."
Thomas also doesn't agree with a rollback of the ball. He said: "I don't think there's any reason or it's not necessary at all to change the golf ball. I am fine with them maybe not going any farther with it, but I think Tiger said it a while ago that they missed that opportunity probably 20 or so years ago."
Jon Rahm
The Spaniard is in agreement with Thomas, saying technological advances make a negligible difference to distances, but increased physicality is key: "Why is everybody so obsessed with distance? I could simplify it since Tiger. There's better ways to screen the human body. There's better ways to make people workout in the gym to make the sequence better, and make themselves more efficient.
"Technology is just a little bit better. I get it, but overall, we're all better athletes. It happens in every single sport. There's actually a tech talk about how much better athletes are nowadays for the most part, but then technology is allowing for these things."
Ernie Els
Meanwhile, the South African sees changes in course conditions as the answer: "Equipment improvements and distance are here to stay. Full stop. We need a 'serious' premium on accuracy. Golf courses don't need to be longer. Make the Tour rough knee high, fairways fast and firm which is fair for all players."
Lee Westwood
The LIV Golf player weighed in on the distance debate in 2021, and didn't see an issue. He said: "I think golf's in a good place, I don't know what everybody is panicking about. I think it's exciting to watch right now, there are a lot of combinations.
"You've got Bryson, obviously, and then I suppose myself who is nearly 48 and can still contend with people like Dustin Johnson and Collin Morikawa who won last week. He's a young lad who hits it a long way, but you wouldn't say he hits it miles. Then you've got Rory and people like that; Rory's game is great to watch. So golf is in a healthy place if you ask me. I don't see the big problem that everybody is making out."
Somewhere In The Middle...
Tiger Woods
Meanwhile, the 15-time Major winner has concerns about exactly where you would start to rollback the equipment. He said: "You're not going to stop the guys who are there right now. Guys are figuring out how to carry the ball 320-plus yards, and it's not just a few of them. There's a lot of guys can do it. That's where the game's going. There's only going to be a small amount of property that we can do, we can alter golf courses. I just don't see how they can roll everything back.
"I would like to be able to see that, as far as our game, but then we go back down the road of what do you bifurcate, at what level? So that's a long discussion we've had for a number of years, for 20-plus years now, and I think it's only going to continue."
Bernhard Langer
Elsewhere, the German legend sees the game's big-hitters as a positive, while acknowledging there is an issue. He said: "People came out to watch John Daly because he could hit it really far and if you take that away, then you make the game maybe less attractive. But at the same time, you're making some golf courses obsolete in terms of the distances that they're hitting it and golf becomes a little more expensive because you used to have 7,000 yards of golf, now you need 8,000 yards."
Mike has over 25 years of experience in journalism, including writing on a range of sports throughout that time, such as golf, football and cricket. Now a freelance staff writer for Golf Monthly, he is dedicated to covering the game's most newsworthy stories.
He has written hundreds of articles on the game, from features offering insights into how members of the public can play some of the world's most revered courses, to breaking news stories affecting everything from the PGA Tour and LIV Golf to developmental Tours and the amateur game.
Mike grew up in East Yorkshire and began his career in journalism in 1997. He then moved to London in 2003 as his career flourished, and nowadays resides in New Brunswick, Canada, where he and his wife raise their young family less than a mile from his local course.
Kevin Cook's acclaimed 2007 biography, Tommy's Honour, about golf's founding father and son, remains one of his all-time favourite sports books.