Jon Rahm Weighs In On The Distance Debate
Speaking on the Fore Play Golf Podcast, Rahm believes that the length of courses is 'feeding' players to 'hit it longer'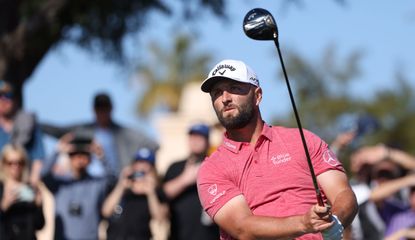 (Image credit: Getty Images)
Jon Rahm has questioned the obsession of 'distance' in golf and has even said that, if the obsession gets worse, it will become a real hindrance as courses will get longer, as will the players.
Speaking on the Fore Play Podcast (opens in new tab), Rahm questioned "why is everybody so obsessed with distance?" before adding that "I could simplify it since Tiger. There's better ways to screen the human body. There's better ways to make people workout in the gym to make the sequence better, and make themselves more efficient."
The Spaniard also stated that technology isn't exactly making the big difference as it is only a "little better" and that it's the athletes who are improving by getting bigger and stronger, with a similar pattern occurring within a lot of other sports such as Tennis, Athletics and American Football.
Jon Rahm's take on the distance conversation. Do you agree? pic.twitter.com/OWTZ4i3TwNFebruary 4, 2023
See more
"Technology is just a little bit better. I get it, but overall, we're all better athletes. It happens in every single sport. There's actually a tech talk about how much better athletes are nowadays for the most part, but then technology is allowing for these things.
"They said, if Jesse Owens and Usain Bolt on their records would have run together, the difference would have been minimal, minimal right, and that was in 1936. So compared to user involvement in 2009 I mean, just think about (American) football players, it's the same thing. Basketball hasn't changed since the 80s, so it's going to happen to every sport. Tennis, you watch McEnroe to how they're playing Wimbledon. It's a completely different sport." Rahm continued.
As golf evolves, so do the courses. In recent years, we have seen some of the world's best courses extending their layouts to accommodate for the distances that some players are hitting the ball, an example being the 13th at Augusta National, which you can see below.
In the podcast, Rahm even suggested that these ideas are the reason that golfers feel the need to hit the ball further. It's the courses that are "feeding them".
"Now, in our case, I think what they're doing, which is trying to stretch golf courses, is only going to feed into people hitting it longer, period. It's getting to a point where if you have long rough and 520 yard par 4s, you're going to need to hit it 340 because otherwise you're not going to get to the green in any other way.
"So they're feeding it into us that we are needing to hit it longer. And I think it hinders the game when they try to roll back the ball and change things, with the technology of the clubs. We're going to get to a point where I will be the smallest on Tour. You're gonna get people who are six-foot-five, JJ Watt looking people, who are going to be hitting it 380 down the centre, like it's eventually going to get to something like that." Rahm added.
The former World No.1 isn't alone with his views on distance, as six-time Major champion, Sir Nick Faldo, has previously expressed his concerns about how far players are now hitting the ball and even pitched the idea of decreasing the size of driver heads for professionals.
Cieran joined the Golf Monthly team having previously written for other digital outlets like Reach PLC and Northern Golfer. After studying Journalism at Northumbria University, Cieran went on to complete an MA at the University of Sunderland. A big golf fan, he currently plays at Blyth Golf Club, where he holds a handicap of 8. Citing his favorite golfer as Tiger Woods, Cieran regards himself as the best snap hooker of a ball in the North of England.