Which Golf Trolley Is Right For You?
We consider the pros and cons of both push and electric golf trolleys to help you choose the model that fits your needs the best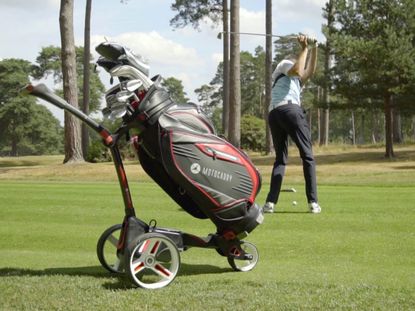 We consider the pros and cons of both push and electric golf trolleys to help you choose the model that fits your needs the best
Golf trolleys have gone from being a niche product used by senior players to commonplace among golfers of all ages across the world. This is because the benefits of using a modern-day golf trolley are plentiful - they even have the potential to lower your scores.
When you consider a typical golf bag weighs 10kg, carrying it uses approximately 30 per cent more energy than if you were to use an electric trolley. This loss of energy can affect your concentration, leading to poor performance on those last few holes when you're starting to feel the strain. Carrying your bag, or even using a pull trolley, can also increase the risk of back, shoulder and knee injuries as well as muscular imbalances.
Using a push or electric golf trolley means you'll preserve more energy during your round and you can also be better prepared for the weather, as you can transport your waterproofs with ease and attach accessories, like an umbrella holder, to your trolley to protect you from the elements while leaving your hands free for other important tasks during the round.
Push and electric golf trolleys come in many forms. The type you choose should depend on the course you play, the level of features you look for and the space you have at your disposal – both in your car and wherever the trolley is stored at home. Here are eight scenarios, of which we're certain one or two will apply to you, to help choose your perfect match.
1. Lack of storage space
For many golfers, car boot space is at a premium, especially when you consider you need to fit in your clubs and other items at the same time when travelling to the course. But fear not, as many trolleys fold down extremely compact in just a few simple movements to fit in the smallest of spaces. Push trolleys will tend to fold down smaller than electric trolleys, as they don't have to cater for a battery, but there are some electric trolleys that can fold down just as small as most push trolleys.
2. The latest technology
The technology and features built into modern day trolleys these days is genuinely mind blowing. If you want the very best, you should be choosing an electric trolley with a lithium battery, as they are very lightweight and extremely durable. Modern-day electric trolleys can now provide GPS distances on the handle's screen, as well being able to measure shots, provide phone notifications, hole information and a USB charging port.
3. Easy to use
Eliminating faff from your round of golf doesn't mean you should ignore an electric trolley as many of them are incredibly simple to set-up and operate. Once you get into the habit of charging your battery after every round, using an electric trolley can be as simple and stress-free as using a push trolley, plus you're expending less energy through not having to exert manual power. If you're on a budget, you may sacrifice some of the more cutting-edge features, but there are plenty of great value, entry level electric trolleys out there that will get you to your next shot with the minimum of fuss.
Related: Motocaddy S1 Electric Trolley Review
4. Hilly courses
If you tend to play courses on undulating terrain, you're going to want to opt for an electric trolley to take the strain off your body. Some electric models also feature a parking brake that enables you to securely park your trolley on a slope, leaving you free to hit your next shot without worrying about the trolley rolling away into a lake! The most advanced electric trolleys also boast a feature that ensures the trolley travels at a consistent speed of your choice while going down the steepest of hills.
5. Taking more control
As golfers, we often find ourselves in tricky situations where a traditional electric trolley could slow down play. Perhaps we've hit a drive into the middle of the woods and the terrain is particularly harsh, or maybe we've approached the green from the opposite side to where the next tee is located. Remote-controlled trolleys allow golfers to be able to manoeuvre the trolley from a distance. So when you've hit your shot from the woods, you can walk towards the green and guide the trolley up the fairway to meet you. Or when walking to the green with your putter in hand, you can guide the trolley towards the next tee. Not only can they save time but they're also incredibly fun to use and you'll certainly be the envy of your fourball when they see yours in action!
6. Flat courses
Push trolleys are better suited to flatter courses because they are always easier-to-use when you don't have to push them up lots of hills. They will put a considerably lower amount of strain on your body during your round than carrying, especially if you have a lot of gear packed in your bag. The bearings on the wheels of modern day push trolleys are very smooth, meaning you'll be surprised at how easy they are to move. Push trolleys also have features like ball, tee and scorecard holders, adjustable handle height and a foot brake, that aren't typically found on electric trolleys.
7. Not ready for an electric trolley
While we've already highlighted the benefits of an electric trolley, we know there are some golfers out there who won't be converted from good old-fashioned pushing power. That's not necessarily a bad thing as the modern push trolley does still tick an awful lot of boxes. They tend to feature great storage options on the console unit, fold down smaller than most electric trolleys and boast added simplicity when it comes to assembling it upon arrival at your golf course.
8. On a tight budget
Carrying is of course the most cost-effective way of transporting your bag around the course but we've already highlighted the damage this may do to your body and your scorecard. Consider that a new golf trolley doesn't need to break the bank. In fact, you can pick up a decent new push trolley for under £120, and just think of all the energy you'll save ready to conquer that tricky tee shot on the 18th hole?
Articles created in partnership with Motocaddy.