PowaKaddy Touch Electric Trolley Launched
This electric trolley matches your pace thanks to simple touch functionality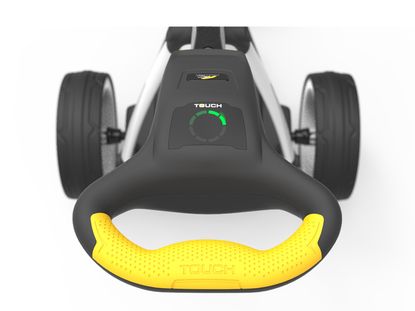 The new PowaKaddy Touch electric trolley matches your pace thanks to simple touch functionality on its handle
Having stepped things up in the last few years since its relaunch, PowaKaddy looks to have again made great strides with its latest release, the PowaKaddy Touch electric trolley.
As its name suggests, the new model starts moving and matches your pace once you place a hand on the grip and start walking, in a design that echoes the popular GoKart electric trolley
The PowaKaddy Touch electric trolley then continues to travel at the same speed even when your hand has been taken off the handle. To make the trolley stop, you simply touch the grip and stop walking.
A clever LED display turns green when the trolley is moving and then red once it has stopped, while a button beneath the handle provides a discreet way to put it in standby mode during lost ball searches or waits between shots.
Away from its headline functionality, new low-profile wheels with yellow trim combine with yellow finishes on the front, rear diffuser and handle for a modern look, as you can see above.
As you'd expect, a number of popular features seen in the PowaKaddy FW3 and PowaKaddy FW7 models return, including the Plug'n'Play battery system that houses a lithium battery and eliminates fiddly connectors.
There's also a USB charging port for powering smartphones and GPS devices as you play, and a sleek, lightweight chassis with a simple three-way folding mechanism, as showcased below.
Discussing its latest addition, PowaKaddy R&D manager Andy Thompson told GM: "Golfers of all ages and abilities will love how simple and intuitive the PowaKaddy Touch electric trolley is. It simplifies controlling the trolley's speed and allows them to concentrate fully on their game.
"Crucially, all the technology is out of sight and out of mind, so it really is as simple as touch and go. That's important – you can have a lot of innovation and exciting features, but the trolley needs to perform perfectly."
PowaKaddy Touch electric trolley specifications
Available in April 2016, the PowaKaddy Touch electric trolley will come in a Polar White or Classic Black frame with yellow trim.
Price options include £399.99 (standard battery), £549.99 (lithium battery) and £599.99 (extended range lithium battery).
Jake O'Reilly specilaises in equipment coverage, and joined the Golf Monthly team in 2013. Before this he graduated from the University of Huddersfield with a Sports Journalism and Media degree, and worked at a number of British golf magazines. Follow Jake on Twitter
@jake0reilly