Motocaddy M1 DHC Electric Trolley Revealed
Now you can get a compact folding electric trolley with a brake and downhill control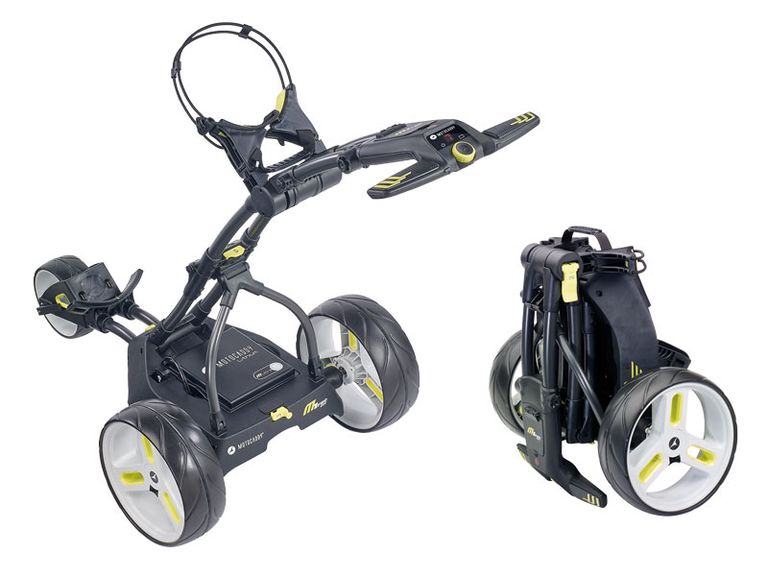 By Joel Tadman
Motocaddy M1 DHC Electric Trolley Revealed - New compact-folding model also offers proven downhill control and braking in expanded DHC range
Motocaddy M1 DHC Electric Trolley Revealed
Following on from the successful introduction of the S1 DHC – Motocaddy's first Downhill Control electric trolley - one of the UK's leading trolley brands has added a second model, this time to its compact-folding M-Series range.
Motocaddy's S1 DHC electric trolley has a host of innovative features
The new M1 Pro DHC incorporates the same features as the M1 PRO, including the three-point folding system that enables the trolley to fold over 40% smaller than standard models. But it can also maintain a constant speed while moving down a gradient - thanks to a special single motor that offers downhill braking, coupled with an electronic parking brake.
The trolley's power output is adjusted automatically to control the rate of descent without the golfer having to make any changes to the pre-hill speed setting, while the simple to use electronic parking brake will hold its position on the steepest of slopes thanks to a solenoid braking system.
"As well as the obvious advantage of greater control on undulating golf courses, the downhill control function is very easy to use and the S1 version has been extremely well received by UK golfers," said Motocaddy Sales Director Neil Parker.
"So much so, that we quickly made plans to apply the same level of sophistication to the M-Series range and we're proud to offer two distinct models in the electric trolley market capable of tackling steep gradients with ease," he added.
Additional features on the M1 Pro DHC include an integrated Accessory Station; Adjustable Distance Control (up to 50 yards); speed and battery indicators; handle height adjustment; compatibility with the Easilock bag-to-trolley connection system; and a quick-access Device Cradle, designed to hold a range of GPS units that can also be powered from a patented USB charging port.
The M1 Pro DHC trolley is available early March in a new Graphite colour with Standard Lithium battery that includes a full 5-year warranty at a RRP of £549.99, or £599.99 for the Extended Lithium version.
For more information on all Motocaddy trolleys, bags, batteries and accessories, please visit www.motocaddy.com.